Scottish tennis risks squandering Andy Murray's golden legacy – Martyn McLaughlin
The Lawn Tennis Association, whose chief executive was paid £572,000, gave £2.2m in funding to Tennis Scotland last year
It is hard to believe, but today marks a decade since Andy Murray made history by becoming only the second-ever Scotsman to win a Wimbledon singles title, ending Britain's tortured 77-year wait for a men's champion along the way. His maiden victory at a Grand Slam on home soil confirmed his status as a generational talent, and signposted a transformational shift in the sport of tennis. Or at least, it should have done.
Ten years on, Murray remains an idol, having overcome injury to remain competitive at a high level. In the twilight of his glittering career, he has plenty to give, and nothing to prove. If only the same could be said of the authorities tasked with seizing upon his astonishing individual legacy.
The 36-year-old's mother, Judy, a tireless champion for the sport in her own right, once gave voice to her fears that when Andy and his brother, Jamie, eventually retired, there would be "nothing to show for it". Increasingly, such an ominous prediction looks spot on.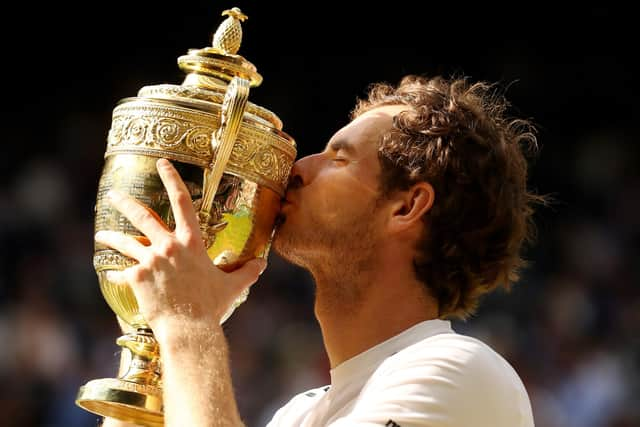 The excoriating truth is that the Lawn Tennis Association, Tennis Scotland, sportscotland, and other agencies have failed in their duty to take advantage of Murray's success, or that of Jamie, or Gordon Reid, the multiple Grand Slam-winning wheelchair tennis player. It would be naive to suggest that it is easy to produce world-class players capable of emulating even half of what Murray has achieved. Even so, the milestone ought to prompt searching questions of what exactly has been done to boost interest in the game in Murray's homeland.
Much backslapping followed the news last year that club membership across Scotland had reached an all-time high of 74,560, and while that spike is commendable, it belies long-standing structural failings. Consider the major announcement by the LTA and sportscotland in December 2016, a year in which Murray claimed his second Wimbledon men's title, earning him top spot in the world rankings. The two bodies announced a historic £15m Transforming Scottish Indoor Tennis initiative in partnership with Tennis Scotland to double the number of covered courts from 112 to 225 over the next five to ten years.
"The time is right to seize the moment and capitalise on the Andy and Jamie Murray effect," Michael Downey, the then chief executive of the LTA, explained. "We must create a lasting legacy with a purpose-built plan for Scotland." Six and a half years on, I asked how that legacy was looking. It turns out the first ten courts under the initiative have yet to be completed, but are due to open this summer. Separately, some 21 new covered courts across Scotland have been delivered via a mix of private and public funding.
Progress is glacial, and there remains wider questions about the financial support. Tennis Scotland received £2.2m from the LTA last year. That might be up compared to previous years, but considering the LTA's revenues totalled nearly £80m, and its chief executive, Scott Lloyd, took home a pay packet of £572,000, it still feels insufficient.
There is no doubt that when Murray eventually calls it a day, he will be remembered as a great. But he, and his country, deserve more than the piecemeal legacy that exists at present.
Comments
 0 comments
Want to join the conversation? Please or to comment on this article.