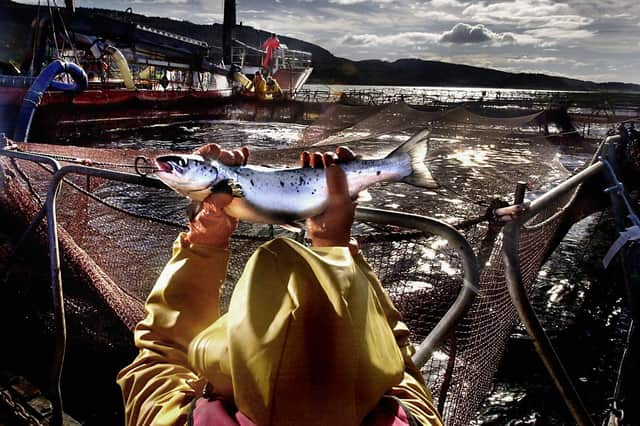 While you read this, probably at home with your family, hard-working farmers are out there looking after their fish. Our success is a 24/7/365 business, requiring an immense effort from the hundreds of people working in Scotland's remotest communities – often in the harshest conditions – including the skippers and marine operatives, the country's most-qualified vets, the fish husbandry experts who help to hatch and rear salmon that can thrive in the cold fresh waters off the west coast, and the 10,000 workers in hundreds of supply chain companies that help get salmon from egg to plate.
It also involves the efforts of government ministers in Edinburgh and London, our international partners, and the tens of thousands of restaurateurs, fishmongers and chefs who serve up one of the most nutritious foods we can eat. Working together, we are collectively part of a global success story which now delivers an extraordinary £760 million for the Scottish economy.
That includes a direct economic contribution of £303 million in gross value added (GVA), up nearly a fifth on pre-pandemic levels, with the supply chain further supporting jobs in every part of Scotland, and employment costs benefitting local communities and companies all year round. All this has been achieved by a dedicated workforce despite the incredible challenges of Covid and Brexit. By tapping into salmon farming's full potential, I'm confident the 'blue economy' can deliver even greater benefits for local communities – and could be worth £1 billion to the Scottish economy in just a few years.
Demand for our product remains strong at home and abroad. Scottish salmon exports recovered to near-record figures in 2021, increasing to £614 million. Scottish salmon remains the UK's biggest food export, followed by bread and pastries, chocolate, cereals, and cheese. We don't expect to repeat last year's record-breaking performance in 2022, but the sector remains very strong and international demand remains high – particularly in France, where Scottish salmon is recognised by chefs, restaurants and consumers as the best in the world.
Meanwhile, sales of all salmon in UK shops are running at £1.2 billion a year, making up nearly 30 per cent of total fish sales – an increasing proportion and cementing salmon's place as the UK's most popular fish. A high level of domestic seafood consumption is not only healthy for the population, but it will also help the economy in some of the most rural areas of Scotland combat the challenges being faced by many at this time.
Scottish salmon is also widely accepted in our farming regions with a clear majority supporting salmon farming in their local communities. An opinion poll published this year confirmed that the majority of Scots who live near salmon farms support what we do. Residents said that farms provide jobs for local people, help to improve the local economy, and provide a high-quality product that Scotland can be proud of. And 2022 also marked the 30th anniversary of Scottish salmon being awarded the Label Rouge accolade.
Our popularity further extends to the planet's best chefs, which is why Salmon Scotland was recently accepted into the prestigious Worldchef group in recognition of the extraordinary quality of our high-protein fish and we look forward to engaging with top chefs at home and abroad over the next 12 months.
The coming year will not be without its economic challenges. So it's imperative that governments tap into the full potential of the Scottish salmon sector.
For the Scottish Government, that means a more streamlined regulatory framework that is more transparent and efficient, removing unnecessary planning delays and the bureaucracy generated by too many quangos. We are fortunate to have strong support from Scottish ministers – but that doesn't always translate to the way that government in Edinburgh operates.
We have put forward a sensible proposal to redirect millions of pounds which currently head to Crown Estate Scotland coffers and invest that money in housing in the communities where we farm, providing affordable housing for local workers.
Delivering regulatory reform is what will enable Scotland to compete with our international rivals, as well as enable the Scottish Government's ambition for the sector between now and 2050. We would also welcome an approach from policymakers and regulators based on evidence, science and facts – not perception and pandering to campaign groups which attack the sector.
As for the UK Government, following an unprecedented period of political turmoil, we need ministers to address the post-Brexit challenges our sector faces. There is low unemployment and extremely limited labour availability in areas where our businesses operate.
A more enlightened approach to immigration is vital to assist business, and we want to make progress on digital export health certificates in 2023. Next summer, it is also imperative that we do not see a repeat of the cross-channel delays which affected us and so many other businesses.
The Brexit vote is in the past, but trade is about the future. So we need the UK Government to put its shoulder to the wheel and supercharge our trading relationships with our most important markets.
With a long recession ahead of us, few sectors are as well placed as ours to help the country through this – and then deliver our recovery and renewal. Given the ever-growing global population, the blue economy has to be the future. Salmon from Scotland is key to that. That is both the prize and the opportunity ahead of us.
Tavish Scott is chief executive of Salmon Scotland