Scottish Rugby: Ruth Davidson's non-executive director role sparks uproar that similar appointments of ex-SNP MSPs do not – John McLellan
If it's all about political impartiality, where's the outrage at SNP MSPs in similar sporting roles and why play Flower of Scotland before matches?
Two years ago, there was outcry when a leading politician and former MSP landed a new job running one of Scotland's high-profile sports. A petition was launched to block what angry opponents claimed was an inappropriate and divisive appointment of someone who brought no obvious knowledge to the game.
As some readers might recognise, the above is true except for the small detail of the date, with nationalist ultras this week trying to prevent former Scottish Conservative leader Ruth Davidson taking up a non-executive directorship at Scottish Rugby. As of yesterday morning, the petition had raised 9,000 signatures on the altogether spurious pretexts of conflict of interest, lack of relevant experience, impact on public perception and, most risible of all, undermining diversity.
It needn't have bothered because the author, one Scott McCarthy, made no pretence his objection is about anything other than her political background, claiming that "as a prominent politician affiliated with the Conservative party, she holds strong political biases that may influence decision-making within the SRU".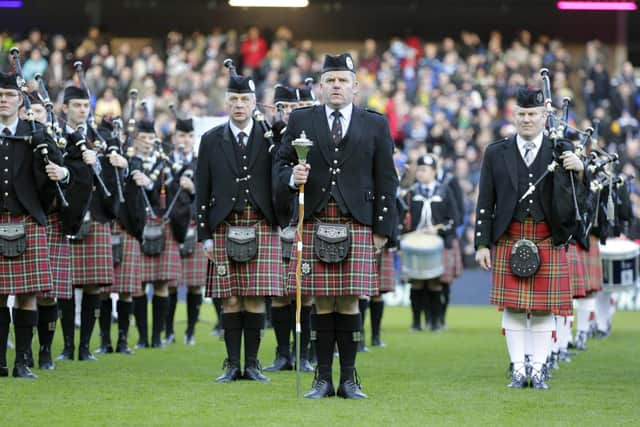 Apart from obviously not knowing the single-minded Scottish Rugby chief executive Mark Dodson, or understanding the role of non-execs, Mr McCarthy didn't explain how this influence would be brought to bear, just that "it is essential that individuals in such positions remain impartial and focused solely on promoting fair play and development". How her political affiliation prevents this is anyone's guess, but then "strong political biases" is what the petition is all about, part of a wider, insidious campaign to marginalise anyone in Scotland with a Conservative outlook as being traitorously "unScottish". The comments accompanying the petition are nothing new or unexpected, from people who won't eat Tunnock's teacakes or Baxter's soup on principle, the kind of thing which accompanies any of Ruth Davidson's contributions to social media, but unpleasant all the same.
Social media abuse was cited by SNP MP Mhairi Black as one of the reasons she has decided to stand down and there is no question nationalist politicians are also subjected to hatred and threats, and her colleague Stewart Hosie, who is also standing down, repeated calls for a change in the way public debate is conducted. Perhaps the levels of vitriol are directly proportionate to profile, and no Scottish politicians have had higher profiles than Ruth Davidson and Nicola Sturgeon, and to a lesser extent Mhairi Black, but there is no doubt social media abuse comes with the territory for everyone involved in political debate. As social media publicity is also part of politicians' jobs, they can ignore but not avoid the extremes of adverse reaction.
I can only presume that when she was a government minister, former SNP MSP Aileen Campbell also came under attack, especially as minister for public health and sport in 2016 she oversaw a 22 per cent cut of £16 million in direct funding for alcohol and drug treatment and support services, at a time when Scotland's toll of drug-related deaths was spiralling to the highest in Europe, where it remains to this day. Her reward was promotion to a full Cabinet position as Secretary for Communities and Local Government in 2018, but she stood down at the 2021 election, understandably seeking a better work-life balance with her young family.
Three months later, she was unveiled as the new chief executive of Scottish Women's Football and given her stint with the sport portfolio it wasn't a bad appointment, and as the profile of the women's game has risen considerably since she took over, she can claim to be doing a good job. And that brings me back to this column's introduction. Read a different way the inaccuracy changes; a high-profile politician in a very divided country was indeed appointed to a senior position in a major sport ─ not just one of a handful of non-execs, but actually running the organisation despite lacking obvious experience of managing a business ─ but there was nothing like the furore which has greeted Ruth Davidson's appointment and no petition of which I'm aware to withdraw the job offer.
That's the way it should be, with politicians able to take their bulging contacts books and knowledge of how government works with them into other roles which suit their interests without being subjected to further abuse. Similarly, the organisations they are joining should be able to benefit from their experience without being threatened with boycotts, however futile. Perhaps I will be proved wrong, but I'd be very surprised if the SRU was so concerned about the threat to international attendance and other revenues that Ruth Davidson is sent homeward tae think again. Although I can think of one splenetic nationalist who used to make a living from rugby who will be happy to stay away, I'd be very surprised if many of those who claim they will never darken Murrayfield's doors again have been there that often or have recently set foot inside a rugby club at all. And I'd be surprised if there is any club which would not be very happy to welcome Ruth Davidson and her fellow new appointee Mike Soutar to a match.
It might be impossibly idealistic to argue sport should always be above politics ─ as Novak Djokovic repeatedly demonstrates ─ but in transcending politics it can't be beyond politicians. The Royal Family is above politics, but I'll bet my house on Princess Anne not being a republican Scottish nationalist, and I'm not conscious of any petition to have her removed as the SRU's patron. And yes, she does seem to sing along to Flower of Scotland, although as she can trace her ancestry to Mary, Queen of Scots, she can claim it makes no odds to her if Scotland can "be a nation again".
If the campaigners genuinely want impartiality, they can follow the legendary Jim Telfer's advice and petition for the removal of the "embarrassment" of The Corries' divisive dirge before every match. And he's no Tory.
Comments
 0 comments
Want to join the conversation? Please or to comment on this article.