Scottish independence: Why a cross-party movement with the credibility of the Constitutional Convention is necessary – Joyce McMillan
It's exactly nine days since Ipsos Mori published its historic poll placing support for Scottish independence at 58 per cent, the highest level ever recorded by a major polling organisation; and ever since, ripples have been spreading through Scottish and UK politics at unusual speed.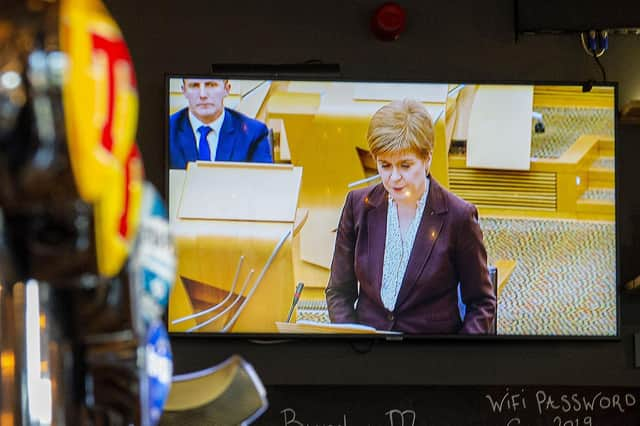 On the unionist side, the reaction is a familiar one. From the Conservatives comes the usual combination of scare-mongering about Scotland's poverty and dependency, and hints of bribery with Westminster gold; and from Gordon Brown, the usual chat about an as yet imaginary federal Britain – although this week's events suggest that as with Scottish independence, the diehard Tory centralisers of the present government may now be beginning to make the case for devolution in England all by themselves.
On the pro-independence side, by contrast, the response is both far more diffuse, and much less predictable. Steady-as-you-go types like the First Minister, and her leading economic advisor Andrew Wilson, are naturally delighted that their strategy seems to be working, and determined to carry on with their reassuring, middle-of-the-road vision of independence, offering maximum economic continuity in all matters including currency.
Last weekend, though, when Andrew Wilson gave a jovial interview predicting that if it follows this path, Scotland could be independent by 2026, the response was notably explosive. Some yes supporters were warmly appreciative of his comments, and some wanted a serious discussion of the policy issues he raised; while some of the noisier voices were angered and frustrated by his cheery establishment gradualism, and one complained that the piece should have come with a content warning, since it actually used the phrase "chic man-cave" to describe Wilson's garden-shed study at his Edinburgh home.
Ill-tempered factionalism
Now the temptation for unionists, observing all this, is to assume that the current cacophony of different voices coming from the independence camp is a weakness to be exploited; and it's certainly no secret that the SNP, despite sky-high poll ratings, is currently riven by ill-tempered factional spats.
In truth, though, any campaign for independence commanding majority support in Scotland is bound to be a hugely diverse one. It should match, and surpass, the diversity of groups represented in the Constitutional Convention of the 1990s, an alliance that embraced opposition political parties, local authorities, churches, trade unions, women's organisations, small business alliances, environmental groups and community groups, and which, though sometimes criticised as unrepresentative, proved tremendously effective in generating a plan for devolved government that commanded 75 per cent popular support in the 1997 referendum.
And it should be robust and unapologetic about its internal differences on many issues; its aim, as a campaign, is to achieve Scottish independence, not to pretend that everyone in Scotland agrees about everything, or even about independence itself.
What is undoubtedly lacking at the moment, though, on the independence side of the argument, is any group with the heft and credibility that the Constitutional Convention acquired, after 1989, to begin the process of writing the credible plan for change which the 58 per cent of Scots expressing support for independence now need and deserve.
Many assume that, as with the Scotland's Future document of 2013, the drafting of the plan should be a job for government, or for the SNP; but even if Nicola Sturgeon's Covid-beset government had any appetite for the job, the last thing the Yes movement now needs is a plan drafted by one party, and probably only by the dominant faction in that party.
A viable progressive project
There is, after all, no shortage of thinking about Scotland's future lying around the political landscape. The 2018 report of the Scottish government's Sustainable Growth Commission, chaired by Andrew Wilson, is a hugely valuable contribution to debate, although it is now often seen as lacking the radicalism demanded by the huge crises of recent years.
The work of the left-wing think-tank Common Weal also contributes massively to the debate; and there are many other organisations, from All Under One Banner to the network of local Yes groups founded in 2014, all of which have plenty to offer, but none of which seems likely to take on the role of writing a new independence manifesto around which this necessarily disparate movement can convene.
Now it may be that none of this matters; that by the time it comes to the Holyrood election of 2021, or any future referendum, a majority of Scottish voters will be so keen to escape the clutches of Westminster government in its current state that they will vote for the proverbial lamp-post wearing an SNP rosette.
That is not, though, how Scottish elections generally go. It is true that for most Scots, allegiance to the Union has always been more conditional, and less emotive, than for the currently dominant strand of opinion in England. It has been about economics, opportunity, and a sense of the British state as a viable progressive project; and it is because the British state is currently failing that test that support for independence is so high.
That strong streak of economic pragmatism, though, also makes demands on the independence camp; and strongly suggests that if the Yes movement wants to build on its strong position now, then it needs to start work soon on generating a new, better and more thoroughly-argued prospectus for independence, to inform and galvanise the debate over the next few years.
And it needs, most urgently, to find a way of convening, as a movement, to produce that kind of galvanising document; or face the risk of failing to take the current surge in support for independence at the flood, and transform it into a positive plan with the weight and energy to change minds, and eventually to change lives.
A message from the Editor:
Thank you for reading this article. We're more reliant on your support than ever as the shift in consumer habits brought about by coronavirus impacts our advertisers.
If you haven't already, please consider supporting our trusted, fact-checked journalism by taking out a digital subscription.
Comments
 0 comments
Want to join the conversation? Please or to comment on this article.