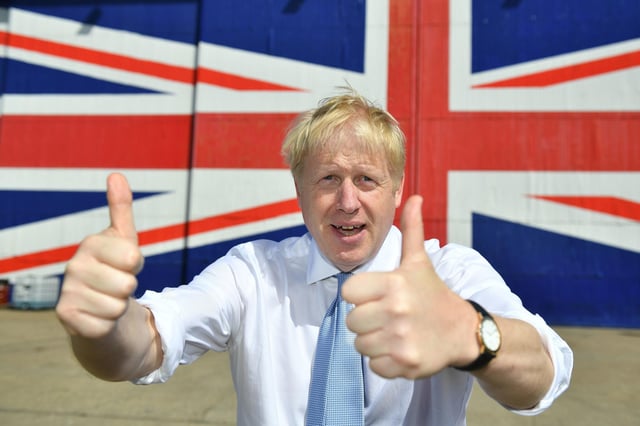 Boris Johnson's government is dragging Scotland in directions it has not chosen to travel, but independence supporters must be patient and keep working to win over more voters to their cause (Picture: Dominic Lipinski/WPA pool/Getty Images)
From the fact of Brexit itself, to this week's breathtakingly insensitive announcement of an actual increase in Britain's vast stockpile of nuclear warheads, held at Coulport on Loch Long, the conduct of Boris Johnson's government is clearly dragging Scotland in directions it has not chosen to travel, and has in some cases clearly rejected.
Every gratingly reactionary announcement from Downing Street – now to be made, Trump-style, from a thoroughly un-British-looking windowless briefing bunker – only adds to the sense that while talking a noisy game about their determination to preserve the Union, the present UK government is in fact only interested in asserting its dominance over Scotland, regardless of the views of those who live here; and for those already convinced that Scottish independence offers the chance of a better future, the sense that we are now wasting precious years in a deeply damaging Union with no viable future, can become almost overwhelming.
Hence the intense pressure on Nicola Sturgeon from within her own party to make strident announcements about holding a second independence referendum with or without Westminster's agreement; and hence the growth of a faintly comical range of splinter parties peopled by those who argue that the current SNP leadership no longer really want independence, and are ignoring obvious paths to freedom.
The problem with this intense row within the independence movement, though, is precisely that it is a debate among those who have long supported the idea of Scottish independence; and therefore, by definition, a debate that does not include a good 50 per cent of Scottish voters.
Where they notice them at all, the impact of these disagreements on those as yet unpersuaded by the arguments for independence is likely to be entirely negative, in that it both exposes divisions within the SNP, and suggests that the party might be prepared to cut a few dangerous corners on the road to its goal.
And the majority within the SNP who are fully aware of that unpersuaded half of the electorate – a majority which clearly includes Nicola Sturgeon, as First Minister and leader – are both understandably reluctant to hold a rushed second independence referendum that could easily be lost; and acutely conscious that although independence enjoyed an unprecedented poll lead for almost six months this winter, those numbers still seem fragile under pressure, whether it comes from legitimate criticisms of an SNP government that has been in office for 14 years, from recent barrages of negative UK media coverage, or, in one recent poll, from the simple device of asking people whether they want to stay in the UK, rather than whether they want an independent Scotland.
To put it bluntly, in other words, support for independence which has never yet reached 60 per cent in any poll, and which can so easily be derailed or diminished by factors which are barely relevant to the substance of the question, is simply not yet strong enough to carry Scotland through what would doubtless, after 314 years of union, be a difficult and complex transition to independent status.
And if those arguments for patience and gradualism hold true for the path to any future independence referendum, then they also apply, crucially, to the long process of disentanglement and negotiation that would follow any independence "yes" vote.
At every step, the path to independence for Scotland should represent a rebuke to the shoddy, shambolic and infinitely damaging conduct of Britain's Brexit process. It should be founded in the strong, positive arguments for independence currently being advanced through campaigns like Gordon Kemp's Believe In Scotland, based on a clear manifesto, and negotiated in careful and meticulous detail over several years, in order to avoid the kinds of sudden shock lately inflicted, for example, on many British businesses affected by Brexit.
Above all, its ultimate aim should be not a world of empty bluster about freedom and sovereignty, but a close relationship with our nearest neighbours founded on a basis of mutual recognition, equality and respect. In the world of the 21st century, absolute national sovereignty is a dream for fools and charlatans; and any future Scottish government, negotiating a final independence deal, should demonstrate that it understands that, at every turn in the road.
At this fraught moment in its history, in other words, the Scottish independence movement faces the awkward paradox that those who shout loudest about independence now, and are most likely to shout "betrayal" at others, are in fact the ones most likely to undermine the progress of support for independence, and return the SNP to the political wilderness; whereas those who take a patient and unhurried approach are the ones most likely to attract and build the kind of solid base of public support, across all walks of Scottish life, on which an effective transition to independence can be built.
This week, in the Guardian, the veteran commentator Martin Kettle suggested that, like the UK government's current talk of "global Britain", Brexit itself was always more of a dream than a policy.
And supporters of Scottish independence will now be selling their cause short, if they fail to take the time to make it clear to Scottish voters that Scottish independence is not only a dream, but a well-evidenced possible future, already being lived out by other countries of similar size all around us, here in northern Europe; and one that may soon be within our grasp, if advocates for independence can find the wisdom to stay calm, prepare well, and keep making the arguments, until – with a little help from the Tories at Westminster – they finally become irresistible.
A message from the Editor:
Thank you for reading this article. We're more reliant on your support than ever as the shift in consumer habits brought about by coronavirus impacts our advertisers.
If you haven't already, please consider supporting our trusted, fact-checked journalism by taking out a digital subscription.