Scottish independence: SNP should adopt 'Good Neighbour Doctrine' to ensure close relations with UK after independence – Stewart McDonald
A strong bond between an independent Scotland and the UK would reassure both the EU and Nato
In 1975, as the march of history was leading Scotland to a political crossroads, one Gordon Brown – then a 24-year-old doctoral researcher – took it upon himself to breathe some fire into the constitutional debate. Brown, rejecting the "false and sterile" binary between the unionist defence of the status quo and the SNP's vision of an independent Scotland, argued that progressive voters "cannot give unconditional support to maintaining the integrity of the United Kingdom… without any guarantee of radical social change".
Half a lifetime has now passed since The Red Paper on Scotland was published. Those same years have transformed Gordon Brown from a young Jacobin into an elder statesman whose decades-long commitment to public service gives us the measure of a man who is deeply invested in the slow, quiet work of building a better world. Throughout those years, however, Brown's views on the future of the Union seem scarcely to have changed – a fact laid bare in his article published in this newspaper earlier this week.
Almost five decades after he first advanced this argument, Brown wrote last week that "now [!] there is another route to change that is an alternative to the SNP's policy of total separation". He then went on to correctly diagnose the grotesque maldistribution of political and economic power in the UK, and its hyper-centralisation in one city in the far south-east of Britain, as the root of many of this country's problems. And he was also right when he stated that UK citizens "desperately need new modern institutions… so that the way we run ourselves is more democratic, less corrupt, and more responsive to the wishes of people from across our diverse nation". Indeed, there is little in this analysis that would give any reasonable person cause to demur.
Brown's 'unionism with Scottish characteristics' is undoubtedly a noble doctrine. Its tragedy comes from the fact that its main proponent is no longer a young radical cobbling together a pamphlet from a student flat, nor is he like the other academics and policy experts who offer political advice from the sidelines. Brown was Prime Minister for three years and Chancellor for a decade following Labour's landslide victory in 1997, when they commanded the largest majority seen in the House of Commons since 1945.
The creation of the institutions of devolved government by that 1997 Labour government was a remarkable achievement – and one with Brown's fingerprints all over it. If that Labour government, intellectually led by a man whose political career was in large part driven by a desire to redistribute economic power, was not able to remedy the structural factors driving the British state towards its dissolution, does anyone seriously believe that Keir Starmer can?
Instead, five decades of Brown's abortive attempts to breathe life into a sclerotic union-state reveal a simple truth: the only way that Scots will see the redistribution of power needed to make their communities more resilient, more productive and more prosperous is through choosing self-government.
However, what Brown, in his call for new institutions, does make clear is that good government, fruitful collaboration and successful policy delivery cannot simply be willed into existence. As the slow wilting of the Union demonstrates, political success in a modern state depends on the creation of institutions and formal agreements explicitly designed to foster trust between parties with fundamental political differences and facilitate more effective, cooperative working relationships. Designing, building and maintaining these institutions are at the heart of delivering good government.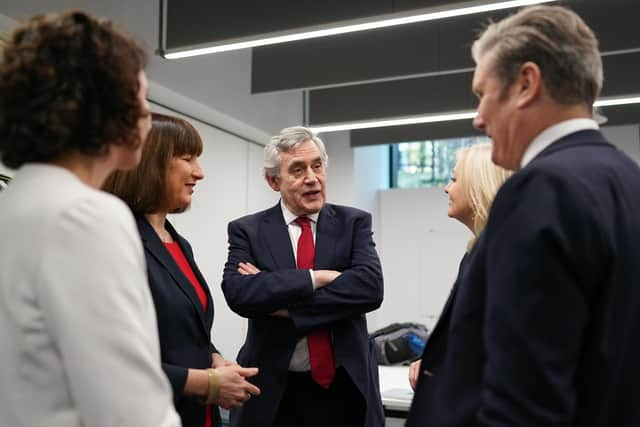 This fact will also be true after a future independence vote. It is often said that the simple facts of geography and self-interest – to say nothing of our shared culture, language and history – would demand that the relationship between an independent Scotland and the remaining UK be one of the closest in the world. These factors, however, will only be the beginning.
As my party continues to advance the positive case for independence, we should not be shy in articulating our vision for the future relationship between iScotland and rUK and offering a sketch of the kinds of institutions, frameworks, treaties and doctrines that we think would be needed to establish that new relationship. Not only does this make our prospectus more credible to voters at home, but it would act as a positive confidence-building measure across the European Union and Nato that an independent Scotland will be a good northern neighbour to one of their longest and most well-established partners.
For inspiration, we might look to the annual Franco-British summits, which bring heads of government together to engage in discussions on a substantive work programme, or to the UK's relationship with Ireland, which is mediated on multiple levels through fora such as the British-Irish Council and the British-Irish Parliamentary Assembly. We might also consider how Scotland and rUK could collaborate on research, security, energy, and all the other areas in which a true partnership of equals – the kind that will only come with independence – could flourish.
While we don't quite need to go picking out wallpaper for future embassies just yet, I believe that fleshing out a "Good Neighbour Doctrine" would represent a solid step forward when it comes to building a credible vision for an independent Scotland. Most of all, however, I want to stress the important role that institutions play in shaping our political future and to suggest that we think afresh about the kinds of institutions that we need to create to build a prosperous and secure Scotland, not least in the wake of Europe's security order being redrawn, heightened tensions with China, rapid technological development, an unforgiving climate crisis and tough global economic headwinds. One glance at the economic stagnation, political disenfranchisement and sense of missed opportunities that permeate the Union today should serve as a reminder of what happens when governments forget that task.
Stewart McDonald is SNP MP for Glasgow South
Comments
 0 comments
Want to join the conversation? Please or to comment on this article.