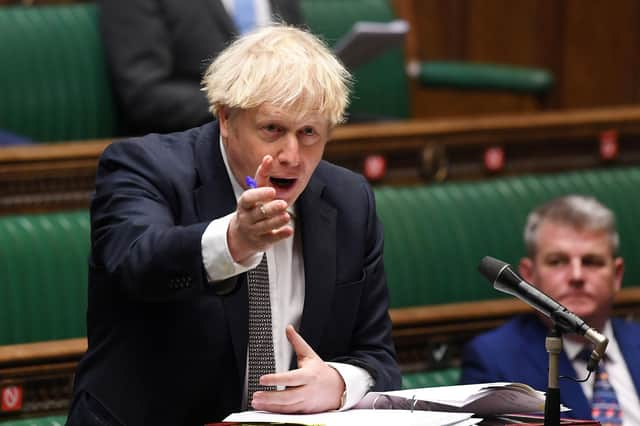 Boris Johnson should be a one-nation Conservative and shun ideas of turning post-Brexit Britain into 'Singapore-on-Thames' if he wants to reverse rising support for Scottish independence (Picture: Jessica Taylor/UK Parliament/AFP via Getty Images)
For nationalists, it is the latest in a series of polls putting support for independence above 50 per cent and suggests they are winning over the hearts and minds necessary to turn their dream into a reality.
For unionists, in Scotland and the rest of the UK, it should be yet another a wake-up call.
They might seek consolation in another figure in the poll, by Savanta/ComRes, which found just 22 per cent saying independence was among the three most important issues currently facing Scotland, with the economy, Brexit and health understandably the most common choices. However, the survey suggests the SNP will win a clear Scottish Parliament majority in May with 71 seats and their priority is crystal clear.
One problem for the unionist cause is that their champions either lack the profile to significantly change public opinion – Scottish Tory leader Douglas Ross seems like an effective and decent politician but it takes time to build that all-important recognition factor – or have the platform but lack the popularity. The poll found Boris Johnson's personal rating was minus 44 per cent, compared to Nicola Sturgeon's plus 28.
However, what really matters is not personality or nationalistic passion, but politics. For years, those on the left in Scotland have been moving towards independence as they gradually give up on the idea of the UK to such an extent that they are prepared to take the considerable leap of faith required to embark on the creation of a new nation state.
If Johnson leads 'Brexit Britain' towards the 'Singapore-on-Thames' vision held by some right-wing Conservatives, he will speed up that process. If he also continues to refuse to allow a referendum, what is still a trickle of people into the Yes camp could become a flood. An authoritarian government standing in the way of the 'will of the people' will only harm the unionist cause.
However if Johnson moves towards the centre ground and governs in the style of a moderate, one-nation Conservative, then Scottish concerns about the demise of liberal Britain may subside and there is still every chance it will remain 'one nation'.
A message from the Editor:
Thank you for reading this article. We're more reliant on your support than ever as the shift in consumer habits brought about by coronavirus impacts our advertisers.
If you haven't already, please consider supporting our trusted, fact-checked journalism by taking out a digital subscription.