Scottish independence: Plan to hold second referendum next year before we've healed from Covid is unbearable – Susan Dalgety
I can't have been the only person to raise a cheer round the breakfast table yesterday morning when reading The Scotsman's front page headline.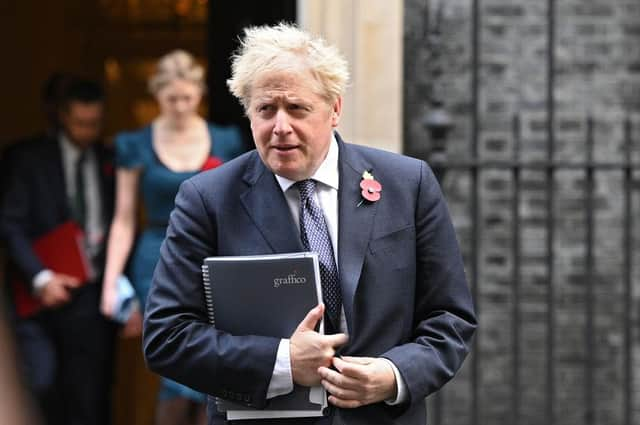 Holding a second Scottish independence referendum in 2021 might be clever politics, exploiting Boris Johnson's unpopularity in Scotland, but the nation needs time to heal from Covid first, says Susan Dalgety (Picture: Leon Neal/Getty Images)
"New hope as every Scottish adult promised vaccine by spring," read the splash, and as I perused the story, I could feel my spirits rise. The first doses of the vaccine will arrive in a couple of weeks' time. Hurray!
One million Scots will be given a Covid-19 vaccine by the end of January. Hurray! And everyone over the age of 18 will be offered it by spring 2021! Hip, Hip, Hurray.
I resisted the temptation to break out the Christmas fizz, settling instead for a second cup of strong black coffee and started dreaming of life post-vaccine.
Vaccine won't cure all ills
"I can book my husband's 60th birthday treat in Paris," I mused. "I can go back to Malawi," I smiled. "And visit my family in Dumfries and Galloway without breaking the law. I can throw out all my masks, even the nice ones. And spend hours over lunch with friends, with at least one bottle of red wine – each. Life will be wonderful…"
Then I stopped. Life will be wonderful for some people, those lucky enough to have been able to earn a living from their hastily constructed home office since March.
Life will be wonderful too for those of us who didn't catch the virus, or didn't have to bury a loved one who died from it.
Yes, life will go back to a wonderful mundane normality for millions of Scots in 2021. But for millions more, life may never return to how it was before Covid.
Scotland faces an epidemic for which there is no miracle vaccine. The virus has devastated our hospitality industry, from Michelin star restaurants to local pubs. Tens of thousands of Scots will lose their jobs, as businesses built up over years collapse.
Nation's mental health is shaky
Many of our most vulnerable children have had their life chances reduced even further, as schools struggle to cope with sudden closures, blended learning and the omnipresent risk of infection. Imagine the fear of a 16-year-old school leaver with few qualifications trying to find a job or training opportunity at this time, or the isolation of a disabled child trapped in their home for months on end.
Thousands of Scots – as many as have died from Covid – are at risk of dying from cancer which, a year ago, would have been treatable. Official figures released this week show that cancer diagnoses fell by about 4,000 between March and June when compared with 2019, as our NHS was forced to focus on the pandemic.
And the nation's mental health is, at best, shaky. As a Scottish government report published last month stated, "the pandemic has tested everyone's emotional resilience, and will continue to do so – the process of recovery will not be a linear one."
Nor will it be a short process. It may have only taken us a few weeks to go from the first case of Covid in Scotland to full lockdown, but it will take years to recover from its terrible impact on our economy, our health service and our collective well-being.
Indyref2 next year?
So now is surely not the time for politicians, from our First Minister down, to start whipping up support for a divisive vote on whether Scotland should leave the UK. Some senior nationalists have even suggested there should be a referendum in less than 12 months' time.
"That referendum will take place and we need to plan that that referendum must take place in 2021," Ian Blackford MP, leader of the SNP at Westminster told the Sunday National last week.
No matter where you sit on the constitutional debate, the prospect of a referendum next year is surely too awful to contemplate.
As Scottish Labour's new constitutional spokesperson – and the man who should be the party's leader – Anas Sarwar told the BBC's Debate Night on Thursday, the next five years must be about healing the nation.
He said, "…we need to rebuild our economy, get people back to work, fix our education system, confront the mental health pandemic we are going to face, and fix our NHS system so we never again have to choose between treating a virus or treating cancer. That should be the project for the next five years."
Exploiting Johnson's unpopularity
By coincidence, a few hours earlier another leading Labour figure, former First Minister Jack McConnell, told an audience of education experts that, in the wake of Covid-19, there must be a "radical rethink" of Scotland's education system, once the envy of the world.
He set out a five-point plan for change, including a shake-up of Curriculum for Excellence, a return to an independent inspectorate and, crucially, targeted action for vulnerable children, including mentors, tutors and IT support.
"Our children and young people have had a terrible year in 2020, so let's resolve to give them hope from 2021," he concluded.
As Sarwar told Debate Night, we have all been through a trauma this year, the likes of which none of us have experienced before.
The prospect of going straight from lockdown into a battle for our nation's soul, without spending time to heal our broken society, is unbearable.
An early referendum is clearly a move to exploit the unpopularity of Boris Johnson, but while it may be a clever political tactic, any politician who puts their own partisan ambitions before the needs of vulnerable children, cancer victims and families facing financial ruin is as self-centred as they come.
Those calling for a referendum before we have fully recovered from the pandemic simply do not have the best interests of the Scottish people at heart, no matter how often they wave our national flag in our face.
A message from the Editor:
Thank you for reading this article. We're more reliant on your support than ever as the shift in consumer habits brought about by coronavirus impacts our advertisers.
If you haven't already, please consider supporting our trusted, fact-checked journalism by taking out a digital subscription.
Want to join the conversation? Please or to comment on this article.