At no time in recent memory have opposition leaders and MSPs sounded so forcefully dutiful. Sturgeon's announcement prompted similar tweets and party statements – we're different, politics is tricky, and all the best for the future. Only Tory leader Douglas Ross bucked the saccharine trend to say Sturgeon has presided over eight years of constitutional malaise at the country's expense.
Many SNP supporters offered their painfully cloying stories and tributes. Others seemed aggrieved. After all, the leader who has served longest as First Minister has all but abandoned them with the road to independence strewn with more confusion than ever. The deposit return scheme and gender recognition reform, to say nothing of Scotland's health and cost-of-living crises, are unresolved Gordian knots.
Sturgeon's resignation speech was a rambling oscillation between the personal, the political and the party, with some superficial comments about the state of political animus in Scotland. This from the leader who said she "detested" Tories and was elated when Lib Dem leader Jo Swinson lost her seat in 2019. There was no real reason given for her departure beyond what might be called the Jacinda Ardern effect. Maybe Sturgeon had simply had enough, just like her New Zealand counterpart.
Likely front-runner successors for the leadership mantle are Constitution Secretary Angus Robertson and Finance Secretary Kate Forbes. Both are safe hands but lack their predecessors' electrifying magnetism, clinical takedown, and bombast. Salmond and Sturgeon carried their parties and the Yes movement often by sheer personality alone. Neither Forbes nor Robertson would be able to do the same even if they had the same one-track obsession with independence.
Sturgeon, in recent weeks, looked increasingly as if she was losing the mantle of Scotland's best political communicator. The First Minister in years past would never have been boxed in by as innocuous a logic loop as the 'de facto referendum' general election gambit. Tactics, with no overriding strategy for realising independence, have been headaches for activists forced to accept their leader's heart was not radical enough.
So what next? What is needed is a quiet candidate with a pragmatic instinct to rebuild the intellectual case for independence. Deputy First Minister John Swinney, if persuaded to reconsider his decision not to stand, or Energy Secretary Michael Matheson would offer a much-needed reprieve if the SNP is to lick its wounds gracefully, bide its time and avoid pursuing a slipshod bid for independence with no strategy.
Whoever the next leader is will have to be conciliatory to a degree not seen in their leaders for years. Refraining from banging the independence drum could be the party's reset. They will have to commit to rebuilding the case, and the economic argument, all while reforming and fixing neglected policy areas like health and education.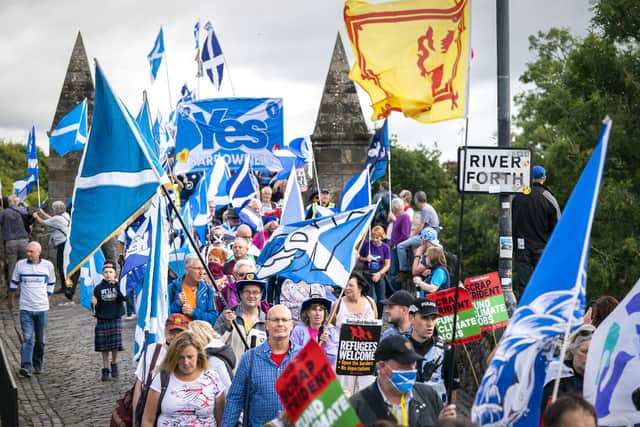 And if a brewing SNP civil war may seem problematic, it is nothing next to the titanic issue of untangling the SNP and the broader Yes movement. Sturgeon noted the ludicrous Supreme Court challenge last year "galvanised" the Yes movement across Scotland. But Salmond said his successor's resignation leaves them with "no strategy".
Even if a sensible, mollifying figure were elected, nothing would placate the Yes campaign's need to drive forward. A choice between a consolidating leader, rightly taking stock and weighing the next steps to achieve independence, and one with a consensual style could fracture its base. Yes voters will want the trappings of SNP policy while punishing Sturgeon, and potentially her successor, for betraying what they see as unprecedented opportunities to demand independence from Westminster.
The Yes movement has never become an entity to be courted like a caucus or trade union. Years have been wasted not moving Yes Scotland away from being a civic extension of the SNP and transforming it into an organisation that can function separately from the party's fortunes. Academics, entertainers and others who felt out of place within a political party would have found themselves at home in a civic movement. The Scottish Greens don't have the infrastructure or talent to stand in for the Scottish Government.
And what the SNP requires is no longer what the Yes movement needs – and Sturgeon finally clocked this. The party needs a stable and minimally divisive national figure to chart the course to a second independence vote. This will take time. The Yes movement is less a political scalpel and more an emotional wave. For them, it is do-or-die time.
Critics too often accuse the SNP of being cultish. A key takeaway from the Sturgeon era is you cannot govern while holding independence sacrosanct above all else. You can support it and push for it, but to make every other policy portfolio secondary, or to promise things will improve when independence is achieved is an utter fallacy.
More focus should be centred on protecting the Yes movement from the inevitable mud-slinging of an SNP leadership contest. Only then can the party rebuild to benefit everyone while they remain in office. That requires an as-yet-unseen demarcation, but it will have to happen quickly.
Unionists hoping for the end of independence with the departure of Sturgeon may well get it. Not because Sturgeon was so integral but because the party, and the movement, elevated up a single person without thinking she might quit on them.
Memes are already doing the rounds joking if Sturgeon does not like the results of her resignation, she can just do it again. Whatever you think of her decision to ignore the 2014 referendum result, her party and the wider Yes movement have a great deal of soul-searching to do after this loss. And there will be no blaming Westminster if they get their next move wrong.