Scottish independence: If Scotland 'breaks free' from UK it faces bankruptcy and EU can't afford to let it rejoin soon – Jim Duffy
I missed that whole Freddie Mercury thing. Queen, the band that he fronted, were just not my cup of tea. Such a wide, eclectic group of songs and stage performances that I simply did not appreciate.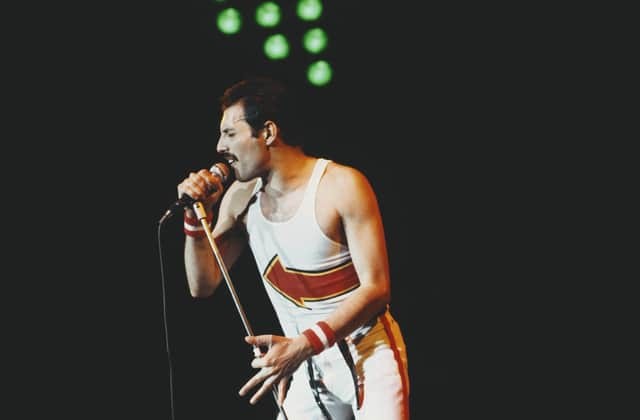 That said, I'm getting into their groove now and love to bang on the Sonos and yank up the sound. One of their songs, I Want to Break Free, is awesome with the volume cranked up. Powerful, creative and stoked with emotion.
This week as I danced around the living room to it, imagining I was at Live Aid, back in the day, it made me feel a wee bit sorry for and a wee bit angry at Nicola Sturgeon. Unfortunately, her vision of breaking free will quite literally kill off Scotland.
Now I don't want you to think that Nicola comes to mind when I get the air guitar out. Far from it. But, on this occasion I was looking out over the River Tay with lovely red clouds about it and thought how wonderful it looked.
I was happy to be in Scotland and while Boris Johnson doesn't butter my parsnips, I do like the thought of being part of the United Kingdom. I think Scots are generally happy with the current set-up. So, why spoil it?
Scotland is doing just fine and now that England is out of Europe, we can grow together along with Wales and Northern Ireland. But, Nicola wants to ruin all of that by creating a bankrupt country that possibly has one of the worst national anthems in the whole wide world to boot.
That "wee bit hill and glen" doesn't help with the arithmetic when it comes to funding and running a country. We will need a lot more than that if we are to make it in the big wide world.
Don't take my word for it. How about the word of some well respected professor from a Scottish university to back up my rantings.
Piotr Jaworski, an economics professor at Edinburgh Napier University, has put on record that an independent Scotland would just not cut the mustard financially left to its own devices.
He said: "We will either go bankrupt or we will have to cut our spending." What? Cut our spending, mate? This is the SNP we are talking about. And as a soon we become a communist country if we gain independence there are a lot of comrades to feed. No, no, no, we cannot do that. So, that leaves one other choice according the learned Napier University professor. We go down the toilet.
Of course, that's not the master plan from inside the policy machine at SNP HQ. The big thinkers there have Europe and Aunty Christine in their crosshairs. Good old Christine Lagarde, the president of the European Central Bank and her money-printing cabal keeping Europe afloat and the southern European countries lined up like Oliver Twist begging, "please Miss, can I have some more?" Yes, you can as long as you pay homage to Frankfurt and the covenants and conditions we lock you into.
The analogy I would use is a junkie constantly going back to the same dealer, but getting inferior product on each return visit. Oh dear Nicola and all those Spads who are telling her it will be OK. You see, I do feel sorry for her. She will be at the back of the queue with a begging bowl out.
I've suggested this here before. But, now that we have Scottish academia backing it up, I feel emboldened and vindicated. Let's continue on this theme. Why would Europe not accept us with open arms just to stick it to the English after Brexit?
Two reasons. The first is that current members of the European Union have separatist issues on their own soil. They do not like independence-type gigs and will fight against other countries who support such notions.
Spain is not particularly happy with Scotland after it quashed the Catalan independence attempt, while Scotland appeared to support it. So, don't think for one minute it will vote in favour of Scotland getting in on the Frankfurt euro-crack house. Spain will usurp any attempt by Scotland to join the euro and present its begging bowl.
And second, the current European debt is out of control. Like so many other Western governments and financial organisations, it thinks it can print its way out debt and re-flate the economies of its members. This while interested rates are at zero and negative.
In short, Lagarde is out of bullets and, like all central banks, is brutally exposed. Therefore, adopting a "bankrupt" Scotland will not look all that appealing. Another mouth to feed via increasing debt and certain deflation. This door is firmly closed Nicola, there's no "jammy piece" here. And your Spads should be reinforcing this.
Alas, emotion, the power of the cult and the Braveheart movie "history" lesson will no doubt colour so many folks senses that independence and breaking away from England will be a close-fought battle. But with diminishing oil prices, no gold reserves and lots of SNP supporters' quaichs to fill up after a successful vote, I'm not sure I'd actually want to be First Minister on day one of an independent Scotland.
Empty coffers, a potential central bank that is itself skint, years of dissembling and administration, and some hostile European chums knifing us in the back to get to the front of the euro giveaway line is not a great way to kick off a new chapter for Scotland.
Some people won't be told though. This could get ugly…
A message from the Editor:
Thank you for reading this article. We're more reliant on your support than ever as the shift in consumer habits brought about by coronavirus impacts our advertisers.
If you haven't already, please consider supporting our trusted, fact-checked journalism by taking out a digital subscription.
Comments
 0 comments
Want to join the conversation? Please or to comment on this article.