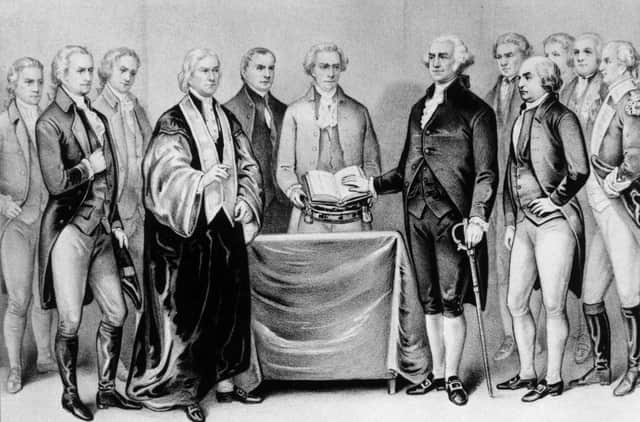 Is a Western a Western without a showdown? One look to Boris Johnson's trip to Scotland confirms the genre is alive and well. There was a palpable feeling that "there ain't room in this town for the both of us".
It's now an insurmountable challenge to make Johnson and senior members of the UK Government "welcome" in Scotland. Even the most devout unionists can tell there's a vocal hostility usually reserved for highly controversial foreign dignitaries.
The issue is far less about Scottish nationalism, the SNP and devolution. We need parity at a UK level that gives equal value to the constituent parts of the country. Federalism would redress that. National parliaments in full control of their own affairs would remove the very real sting of being governed by "another country". It's England that will lose the Union at this rate, and it will have nothing to do with calls for Scottish independence.
But it never had to be this way – different tiers of government don't need to get along, but they do need to be equal parts in the system. Often it seems that Scotland's unionists are the most devout supporters of the United Kingdom in contrast to sentiments south of the Border. If that's indicative of the problem, it's also a testament to Scotland spending at least a century reflecting on how Great Britain should be structured.
And yet the English political class is not acknowledging the obvious challenge of England's diminished representation and power. Scotland once had to battle for home rule vehemently. England is now in the exact same position, but is not tackling the issue head-on. It lashes out with madness like Brexit while ignoring the underlying issues of representation and control in the UK itself.
David Cameron's call for "English Votes for English Laws" in 2015 was a weak effort to plaster over these failures even before the Brexit vote. Perplexingly, the English themselves failed to ascent to devolved assemblies for the North East in a 2004 referendum. Another vote previously, in 1998, might have produced a mayor and London Assembly, but mayorships and regionalism never took hold.
A state of total denial has taken hold all while targeting Scotland's "freebies" in health and tuition. The idea that Scotland is to blame for the UK collapsing is absurd when there are a mere 59 MPs in Scotland, 40 in Wales and 18 in Northern Ireland, while England has 533.
Johnson comes to Scotland as a leader of a Conservative Party in denial. Westminster is in denial. UK opposition parties are in denial. The bottom-heavy structure of the UK makes it impossible to achieve an equilibrium that answers "the English question".
How do you ever ensure a fair representation of Scots in a UK Government again? How do you ensure the English have control over their own affairs? How do each respect a fair and balanced federal UK Government?
At the moment, it's a vicious cycle – England doesn't embrace its own devolution, and no-one seems serious about federal reform.
The narrative tends to focus on Scotland itching for separation. Never enough attention is given over to what would happen if the entire UK was transformed, and how that lack of overall change is the issue.
There is much to admire in the spirit, if not the execution, of the American political tradition. Founding Father James Madison envisioned the burgeoning United States to have a democracy that innately mistrusted itself. No branch of the executive had to trust the other, but their power had to be constrained.
In 1786, Madison, along with John Jay and Alexander Hamilton, articulated the American political ideal in the Federalist Papers: "The accumulation of all powers, legislative, executive, and judiciary, in the same hands... may justly be pronounced the very definition of tyranny. The defect must be supplied by so contriving the interior structure of the government, as that its several constituent parts may, by their mutual relations, be the means of keeping each other in their proper places."
The Americans have had 300 years to reflect on this. Winston Churchill himself was among the first federalists in 1913, calling for the "establishment of a federal system in the UK, in which Scotland, Ireland and Wales, and, if necessary, parts of England could have separate legislative and parliamentary institutions".
Scotland dragging a political anchor?
The concern now is whether it's too late. The lag on English enthusiasm for devolution or federalism is alarming compared to the support for Scottish independence and Brexit nationalism. And the Union will likely be long gone before these issues are tackled. It took decades for a serious, legitimate and immutable campaign to realise a dedicated Scottish Parliament.
Consider the Campaign for a Scottish Assembly and Claim of Right in 1988; the Constitutional Convention in 1989; the publication of 'Scotland's Parliament, Scotland's Right' in 1995; the 'White Paper on Scotland's Parliament' in 1997 right through to the Consultative Steering Group on the Scottish Parliament in 1998. All to say nothing of the speeches, protests, debates and news coverage that shifted political culture. It didn't happen overnight.
It is impossible to stand behind a prime minister when he repeatedly uses "we" in addressing the country during national emergencies but only means England and Wales. If England refuses to rise and campaign for its own devolution; if it refuses to see a new parliament for its own affairs, then it is Scotland that will be stuck dragging a political anchor – not the other way around.
Even metaphorically, Winston Churchill was right when he said "we shape our buildings, and afterwards, our buildings shape us". But is there enough time to rebuild the house?
Alastair Stewart is a freelance writer and public affairs consultant. Read more from Alastair at www.agjstewart.com and follow him on Twitter @agjstewart
A message from the Editor:
Thank you for reading this article on our website. While I have your attention, I also have an important request to make of you.
With the coronavirus lockdown having a major impact on many of our advertisers - and consequently the revenue we receive - we are more reliant than ever on you taking out a digital subscription.
Subscribe to scotsman.com and enjoy unlimited access to Scottish news and information online and on our app. With a digital subscription, you can read more than 5 articles, see fewer ads, enjoy faster load times, and get access to exclusive newsletters and content. Visit www.scotsman.com/subscriptions now to sign up.
Our journalism costs money and we rely on advertising, print and digital revenues to help to support them. By supporting us, we are able to support you in providing trusted, fact-checked content for this website.