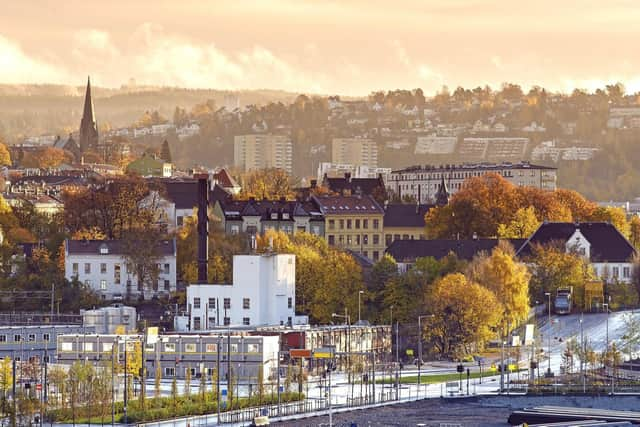 This time, Holyrood can invoke the 2018 report of its Sustainable Growth Commission, chaired by SNP finance expert Andrew Wilson. The pre-Covid report draws comfort from the fact that a number of smaller countries have developed advanced and successful economies, in particular the Nordic states.
In this image, the SNP offers a vision of an inclusive, highly educated society of social equals, welcoming inward migration to address Scotland's demographic woes and driving a thriving, knowledge-based and export-led economy. This environment, coupled with the excitement of independence and the resumption of EU membership, could indeed attract a boost in foreign investment.
Leaving the UK would bring freedom from 'big-state spending' on issues like defence, or on a large, national infrastructure and a global presence. Instead, Scotland could target its own spending more precisely on its needs, the report argues.
But independence will also attract additional expenses. For instance, in 2014, the SNP foresaw building 70 to 90 diplomatic missions around the world and a commitment to a development budget of 0.7 per cent of national income – all costs presently borne by the UK.
In fact, Scotland may well end up subsidising UK services which it cannot itself afford. For instance, short of establishing a Nato-compatible army, navy and air force at the cost of unending billions, Scotland may want to rely on a continuing UK security umbrella while building up its own, more modest establishment for fisheries protection and customs patrols.
And independent Scotland would lose the block grant from Westminster – £36.2 billion out of Scotland's 2020 budget of £49.25 billion. In addition to other top-ups, this year Westminster added an extra £1.1 billion to support Scotland during the Covid crisis. Such an emergency blanket would fall away with independence.
Covid recession
Could this be balanced by fully sovereign taxation, customs and other charges flowing straight to Edinburgh? Scotland already received further tax powers in 2016, after the first referendum. Moreover, additional public functions have been devolved, shifting attendant funding to Edinburgh. Hence, independence may not yield the hoped-for bonanza of extra fiscal income.
At present, some 61 per cent of Scotland's economic output is absorbed by the rest of Britain – triple the amount of trade with the EU. According to a controversial report from the London School of Economics, a hard EU border between Scotland and England would bring a loss some £11 billion annually for the Scottish economy.
The Wilson report assumes that Scotland's foreign exports would need to rise from 20 per cent at present to around 40 per cent to balance this potential loss and emulate the Danish model. This would take a decade or so, leaving a major gap in the meantime.
Wilson also requires gross domestic product (GDP) to grow steadily at a rate of around three per cent for many years to come. Yet, the economy is heading for a Covid recession. Public debt is rising to previously unimagined levels with tax income falling. And the economy has yet to feel the full adverse impact of Brexit.
Oil and gas alone will not bring salvation. North Sea reserves are dwindling, prices are staying low and Scotland is aiming for a carbon-neutral future.
Not like Ireland in 1973
Renewed EU membership would not instantly fix the problem either. Brexit has led to a loss of the inflow into Scotland of an estimated £5 billion over the 2014-20 EU budget period. At present, the UK government is making up this loss – a commitment that would vanish upon independence.
EU membership may be some time in coming and would not restore the full Scottish net gain obtained before Brexit. Previously, the UK paid the membership dues while a good slice of the EU benefits flowed to Scotland. After independence, Holyrood would first have to pay into the EU coffers from its own budget, before receiving funds from Brussels in return.
True, Ireland's EU membership transformed its moribund economy. But this conversion into a tiger economy occurred when growth was strong and the major European economies were rich. By now the new members in Eastern Europe are already draining much of the available EU support. And Scotland has already been a member for decades. It is not in the position of playing massive catch-up like Ireland in 1973.
How about economic and social transformation on credit? For now, Edinburgh is not empowered to present a deficit budget. Still, its overall expenditure would have incurred a debt of over eight per cent of its GDP had Scotland been outside of the UK. This year, this figure is set to rise to an extraordinary level of 27 per cent. The EU expectation is a maximum figure of three per cent.
Moreover, Scotland would be left with its share of the UK national debt. In cases of state divorce, this tends to be apportioned according to population numbers.
Balancing financial risk against an attractive vision
A House of Lords study of 2014 found that Scotland would have inherited debt of 123 per cent of its GDP at the time of the first referendum – double the internationally accepted target of around 60 per cent. By the end of last year, the UK national debt was £2.1 trillion or 99.4 per cent per cent of GDP, yielding a Scottish share of around £180 billion, rising rapidly.
Scotland would likely keep the pound, at least for an extended transition period. This would mean that it would lose any influence over its monetary policy. This seems risky, given the separate path towards a successful small economy that is envisaged, as opposed to the needs of the far larger UK economy. Moreover, Edinburgh would need to raise credit from outside lenders, increasing the price of further debt for an untested new state.
Overall, the vision of a Scandinavian Scotland is certainly attractive. But Scotland is already running a disguised deficit and the intended additional investments in education, infrastructure and business development to bring about this transformation will be very large.
The question is whether the Scots are willing to bear the financial exposure and risks during the lengthy transition, especially after the Covid shock which has been cushioned by the larger UK economy. Moreover, significant additional costs will persist, even if the transformation succeeds. The Scots may not find it easy to swallow the permanently super-high tax rates extracted from their Scandinavian counterparts in order to fund their admittedly good life.
Marc Weller is professor of international law and international constitutional studies at the University of Cambridge and a barrister at Doughty Street Chambers
A message from the Editor:
Thank you for reading this article. We're more reliant on your support than ever as the shift in consumer habits brought about by coronavirus impacts our advertisers.
If you haven't already, please consider supporting our trusted, fact-checked journalism by taking out a digital subscription.