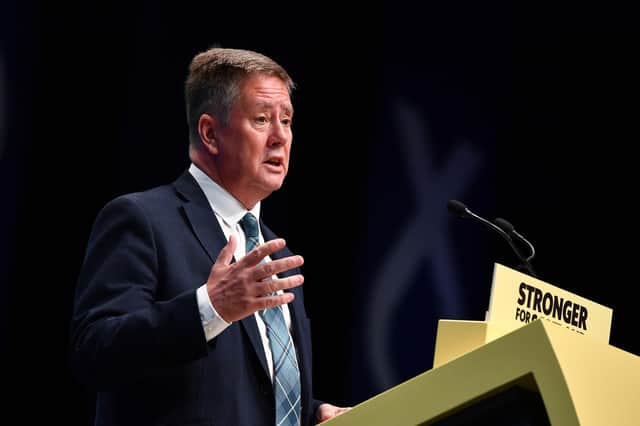 SNP depute leader Keith Brown was quickly to dismiss the Cabinet Office's 'Union Directorate' as arrogant and clueless (Picture: Jeff J Mitchell/Getty Images)
But the latest misstep is a prat-fall so easily avoided that it is hard to believe it was not actually deliberate.
An advert seeking applicants for four senior jobs within the Cabinet Office's "Union Directorate" – designed to make "the benefits of the Union clear, visible and understood" – says candidates must possess a number of qualities such as "good political judgment, curiosity and independence of thought". They must also "enjoy bringing new ideas and perspectives into public policy development" and have "personal presence".
These and other requirements are outlined under a section introduced with the words "You will: ..."
However, following this list, the advert states: "Desirable: have understanding of policy issues relevant to Scotland, Wales and Northern Ireland."
It might have overly restricted the field to demand policy expertise in all three parts of the UK, but surely a degree of "understanding of policy issues" in at least one should have been considered essential. Anyone in Britain with more than a passing interest in politics would have some idea.
The advert could have been more carefully worded, but instead needlessly created an open goal for the Union's nationalist movements with SNP deputy leader Keith Brown duly seeking to take advantage by labelling this as a sign of "Westminster arrogance" and dismissing the unit as "clueless".
The blunder comes amid concern about a lack of Scottish input into the unit following the sacking of its head, former Scottish Conservative MP Luke Graham, who was replaced by Vote Leave campaign veteran Oliver Lewis.
This is a curious choice, given Scotland's decisive vote in favour of staying in the European Union. It may prove to be a difficult task for a Brexiteer to change the hearts and minds of recent converts to the independence cause who viewed Brexit as the final straw and now see 'Scexit' as the only route back into the EU.
Lewis is presumably an astute campaigner but, whatever his talents, he will need help from people who understand Scottish politics if the Union Directorate is to have any significant impact.
A job advert might seem like a small thing, but such details, and an understanding of how they might go down with the public, really do matter.
A message from the Editor:
Thank you for reading this article. We're more reliant on your support than ever as the shift in consumer habits brought about by coronavirus impacts our advertisers.
If you haven't already, please consider supporting our trusted, fact-checked journalism by taking out a digital subscription.