Scottish independence: Boris Johnson's refusal to allow a referendum is playing into Nicola Sturgeon's hands – Scotsman comment
It was a spurious argument for some unionists to suggest that a low turnout in the Scottish Parliament elections would undermine the SNP's mandate to hold an independence referendum.
The number of voters is indicative of interest in the issues at stake; those who fail to vote simply allow their future to be decided by others. And so, it is equally misguided to suggest that the record turnout gives added weight to the nationalists' arguments.
However, that will not stop them from using it against Boris Johnson as they try to pressure him into allowing a second vote on leaving the Union.
In an interview with the Telegraph, the Prime Minister sought to stand firm on his refusal to allow one, saying he thought "a referendum in the current context is irresponsible and reckless".
But telling a London-based newspaper that he will ignore the re-elected SNP government in Edinburgh and its demands for a democratic vote is not good enough.
It suggests he is only interested in speaking to a friendly audience south of the Border, when he should be trying to change opinion north of it.
But retreating to the bastions of his Conservative heartlands, pulling up the drawbridge and "just saying no" to indyref2 will certainly achieve one thing – the strengthening of the resolve of those who already support independence.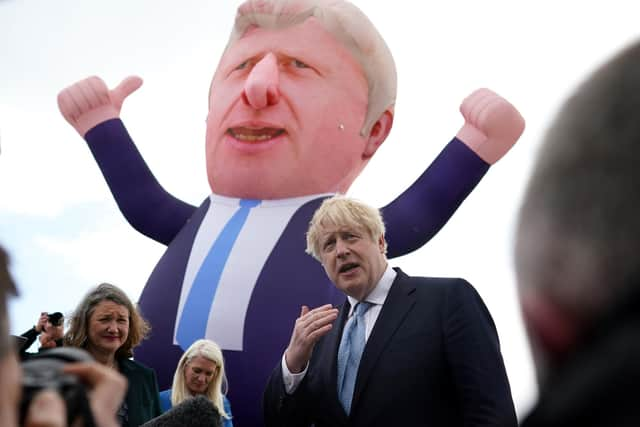 With some justification, the SNP will hammer home the message that Johnson's refusal is an undemocratic outrage to fire up their base.
More importantly, it may also help to persuade some undecideds, particularly on the political left, that Brexit Britain – almost a new nation itself after our departure from the EU – is not for them.
Johnson's strategy is playing into the hands of his opponents by allowing the debate to be polarised into a binary choice between the status quo and the SNP's optimistic vision of a Scandinavian-style future.
This may be more of a mirage – the SNP's own Growth Commission report suggested Scotland would face years of reduced public spending after independence – but it could start to sound increasingly appealing to voters given the UK will soon need to begin paying off the vast debts run up during the Covid crisis to the inevitable nationalist complaints about "Tory austerity".
Rather than just trying to block the SNP, Johnson and the unionist camp need to seize back the initiative and offer a brighter vision of their own.
There may well be a majority in favour of constitutional change in Scotland, but that does not necessarily have to be independence.
Changing the constitution to a federal system could allow Scotland to have the kind of control over its own affairs that many people want. Done well, home rule has the potential to be a form of independence that would satisfy a sizeable portion of nationalist voters – particularly in these troubled times – retain many of the Union's benefits and avoid the damage to the economy that leaving the UK would unquestionably cause.
At the moment, Johnson appears intent on refusing to take part in a democratic trial of strength on independence. But all that will do is leave the field clear for the nationalists to deploy arguments, spurious or not, that will further boost the turnout – and mostly in their favour.
A message from the Editor:
Thank you for reading this article. We're more reliant on your support than ever as the shift in consumer habits brought about by coronavirus impacts our advertisers.
If you haven't already, please consider supporting our trusted, fact-checked journalism by taking out a digital subscription.
Comments
 0 comments
Want to join the conversation? Please or to comment on this article.