If misjudged, it invariably ends in disaster, but it can also provide the foundations for a surprisingly swift and decisive victory.
It is unlikely that Boris Johnson possesses the patience or discipline to master such a strategy, but the bishops and rooks who surround him appear to be agitating for a more assertive approach to the constitutional stalemate that is Scotland.
There are increasing noises that the Prime Minister may seek to call the SNP's bluff and call a snap referendum on Scottish independence in an attempt to seize momentum and settle the issue once and for all.
The proposal has been gaining traction in Tory circles in Edinburgh and London. One Holyrood candidate told the New Statesman that they were "coming round" to the idea of an immediate vote, while a senior UK Cabinet minister informed the Sunday Times: "I don't see how we keep saying 'no' forever. The time to do it would be in the middle of economic chaos, not when it's all looking rosy."
For the moment, it remains a nascent theory, one trickled down back channels, tentatively hinted at in interviews, and framed as one of many things which could be on the table at Downing Street. It may be no more than kite flying, and the fact that even those giving voice to the suggestion anonymously remain circumspect is telling.
It is not a new idea. A decade ago, David Mundell intimated that a snap vote could wrongfoot the SNP after its decisive victory at the Holyrood elections, and even when the party formed a minority government four years earlier, Labour's Jim Murphy tried unsuccessfully to convince Gordon Brown of its merits.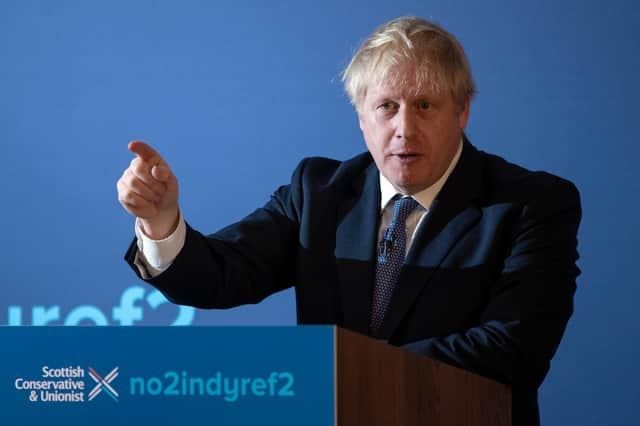 Yet there is something so recklessly desperate and dangerous about the latest iteration of the proposal that suggests Mr Johnson is its originator. After all, his general election triumph in 2019 was viewed by many senior unionist figures as the gravest threat to the centuries-old alliance in modern history. Perhaps he is simply finishing what he started.
Like the Europe question before it, the issue of Scotland's place in the Union is fast becoming a structural problem of the Conservatives' own making. It failed to anticipate the shifting political dynamics in Scotland following the no vote in 2014, and instead blithely presumed it would be business as usual. As a result, it has simply parked the Routemaster, dismissing any and all calls for a new referendum.
The likely prospect of an SNP majority next month means that tactic is unsustainable. Only last week, Ciaran Martin, a former constitution director at the Cabinet Office, and someone directly involved in the Edinburgh Agreement, observed that simply blocking a second referendum regardless of mandates would mean the Union would no longer be sustained by consent, but by the force of law alone.
Mr Johnson has done little to demonstrate an appreciation of the democratic reality in Scotland, let alone an understanding of it, but he and others in his Cabinet may be slowly coming round to the view that if a battle lies ahead, it might be best to launch a preemptive strike.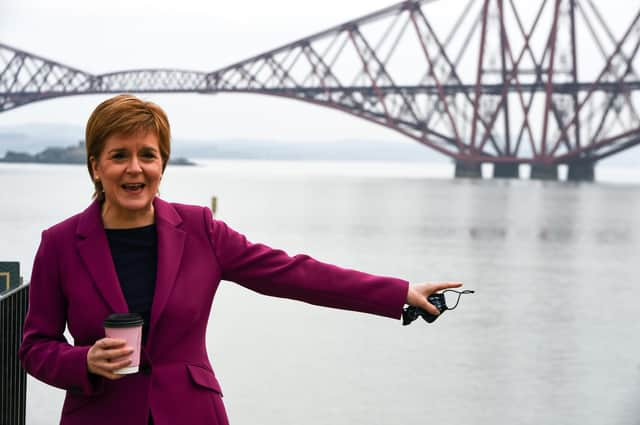 It is worth remembering that another referendum need not necessarily follow the template of the first. Mr Martin has pointed out that Whitehall gave serious consideration in 2011 to running it under Westminster law, before relenting. That decision was taken under a different government, and a very different Prime Minister.
The tectonic plates of the independence movement have also shifted, with First Minister Nicola Sturgeon facing pressure from within the SNP and Alex Salmond's Alba Party to match Mr Johnson's bellicose brand of unionism with increased aggression.
The demographics underpinning support for independence shows that time is on the SNP's side, but patience is finite; Downing Street may optimistically wonder whether those internal forces could prove Ms Sturgeon's undoing.
The murmurings of a snap referendum suggest that an antithetical tactic is also being considered to achieve the same outcome, but it seems to have emerged from a position of panic, rather than strength. Even someone as careless as Mr Johnson must realise it would represent the greatest political gamble since David Cameron demonstrated the dangers of staking a nation's future on an assumption.
That punt failed because it lacked a detailed, persuasive, and positive vision of Britain's place in Europe. If the Rev I M Jolly-style remarks of the Cabinet minister who spoke to the Sunday Times is any guide, the fight plan for Scotland remains as negative as it was in 2014, when the pro-union side triumphed in spite of its arguments, not because of them. Its position has been weakened since by Brexit, whose architects must now seek to dismiss the very arguments around sovereignty they employed when it was politically expedient to do so.
A referendum, especially one in which the terms, timings, and process were led from Westminster, would also be inordinately damaging for Douglas Ross. Then again, given Mr Johnson appears to have difficulty remembering the name of his Scottish counterpart, and he may not be unduly worried about the fallout.
Were a snap vote to be held over the next year, the outcome is anyone's guess. The circumstances of it, however, would undoubtedly benefit Ms Sturgeon. There is historical precedent for an English Prime Minister dictating matters to a Scottish electorate, and having already set out its plans for a referendum by 2023, the SNP could turn the tables and accuse the UK government of jeopardising the Covid-19 recovery.
For the moment, it seems both sides view the price of defeat as too steep to risk chasing the spoils of victory. Mr Johnson may try to seize the initiative by playing his hand, but it is Ms Sturgeon who holds the aces.
A message from the editor:
Thank you for reading this article. We're more reliant on your support than ever as the shift in consumer habits brought about by coronavirus impacts our advertisers. If you haven't already, please consider supporting our trusted, fact-checked journalism by taking out a digital subscription.