Scottish independence: A credible economic case for leaving the Union remains as elusive as ever – Murdo Fraser
The prize for the shiniest brass neck in Scottish politics this year must go, once again, to Scotland's First Minister.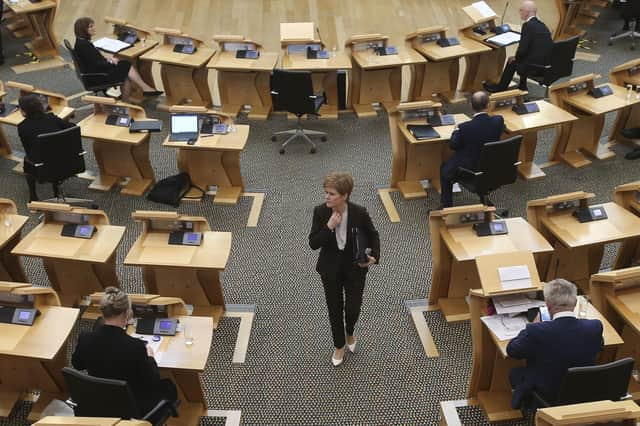 Last week Nicola Sturgeon condemned Prime Minister Boris Johnson for preparing for a no-deal Brexit, claiming she had "suspended" her independence campaign because of Covid-19.
This news will have come as a shock to observers of Scottish politics. It was, after all, just last month that the First Minister announced that she was asking civil servants to prepare a draft Bill for another independence referendum.
Barely a debate or statement goes by in Holyrood without one of her ministers calling for independence. And, right across Scotland, prospective SNP candidates for Holyrood are busy selling themselves to the party membership on the basis of their enthusiasm for a separate Scotland. If this represents a suspension in the SNP campaign, I would hate to see it going full tilt.
What is missing, still, from this new push for separation is a credible economic case. We now know the 2014 prospectus, premised as it was on an oil price in excess of $110 per barrel, has been exposed as bogus. Yet, six years on, nothing credible has emerged to replace it.
Quebec-style capital flight
In an interview at the weekend, the SNP's last standing economic voice, former MSP Andrew Wilson, gave us some glimpses of what this new case might look like. There was, however, very little in what he said that would form the basis of a credible economic platform.
Wilson did accept there was a risk of people moving their money out of the country as happened in Quebec in advance of its 1995 referendum. With uncertainty over the currency that might be used post-independence, and concerns over the size of the fiscal deficit, it is certain that there would be substantial capital flight, coupled with the relocation to south of the Border of significant parts of the vital financial services industry. These two factors combined would make the financial challenges facing a newly separate Scotland much more severe than we can currently imagine.
The currency issue is a key difficulty for the pro-independence campaign. With a currency union with the rest of the UK already ruled out, the preferred option seems to be "sterlingisation", at least in the short term – in other words, using the pound on an informal basis, with no central bank, lender of last resort, or currency reserves. A host of economists and currency experts have already pointed out how damaging adopting the "Panama option" would be for the Scottish economy.
Professor Anton Muscatelli of Glasgow University has dismissed it as "a potentially unstable currency regime". Leading currency specialist Professor Ronald Macdonald, also of Glasgow, has said: "A form of sterlingisation along the lines of the system run in the Isle of Man seems to suggest that the Scottish Government have rather lost the plot in terms of the currency debate." And Martin Wolf, chief economics commentator at the Financial Times, has stated: "Neither Scotland's financial institutions nor its government would enjoy a lender of last resort, with lethal consequences in a crisis."
Tax rises and spending cuts?
It is not just on currency that we have unanswered questions. We know from the Gers figures that, in the last financial year, the gap between the amount spent by governments for the benefit of the people in Scotland was £15 billion more than what was raised in taxes.
Last month the Scottish Fiscal Commission estimated that, in the current financial year, additional spending by the UK government to deal with the Covid-19 pandemic was around some £16 billion. The final total in the current financial year is likely to be well in excess of this, taking the notional fiscal deficit for Scotland to somewhere close to 20 per cent of GDP, or even higher. With the economic shock and the capital flight that would be caused by a vote for separation, that figure is only likely to increase.
That takes no account of the substantial currency reserves that would need to be held if a new standalone Scottish currency were to be established, which Professor MacDonald has stated could be at least £30 billion, and potentially ten times as much.
We are none the wiser as to how the SNP would try and fill that gap. Despite continually telling us that in an independent Scotland they would make different choices, we have no inkling of what these might be. At least under Alex Salmond's leadership there was a policy to cut corporation tax by three per cent below the UK rate – classic "Laffer curve" economics – but even that has been abandoned, with simply nothing to replace it. Would spending be cut, taxes increased, or a combination of both? We simply have no idea.
A very hard sell
Nor is it enough for SNP ministers to simply dismiss the deficit, as they currently do, by saying that the UK runs one too. The credibility of the pound sterling, the UK's long track record as an issuer of government bonds, and the strength of the City of London as a financial sector, combine to put the country as a whole in a very different position to a new state with none of these assets.
Against this backdrop, it is not surprising that it is almost impossible now to find a single credible voice in the fields of finance, academia or business prepared to speak out in favour of the economic benefits of separation. It now looks a much riskier prospect than it did even in 2014.
Recent opinion polling would suggest that there are those who see independence as an attractive option in the abstract. But with no answers to the many hard questions around currency and finances, if we ever do come to another referendum it is going to be a very hard sell for those arguing for the break-up of the United Kingdom.
Murdo Fraser is a Scottish Conservative MSP for Mid Scotland and Fife
A message from the Editor:
Thank you for reading this article. We're more reliant on your support than ever as the shift in consumer habits brought about by coronavirus impacts our advertisers.
If you haven't already, please consider supporting our trusted, fact-checked journalism by taking out a digital subscription.
Comments
 0 comments
Want to join the conversation? Please or to comment on this article.