Scottish Government's Visitor Levy Bill: This tourist tax is just a backdoor way to fund basic services – John McLellan
Councils will simply switch their budgets round to meet their own priorities
Change out of your workin' pants, The Boss is here tonight. Harry Styles was just keeping Murrayfield warm for Bruce Springsteen and the stadium will be packed with thousands paying tribute to a master of the Great American Songbook.
He's only playing four UK dates and, as of Sunday, there were only a few seats left at the opposite end of the ground from the stage, £130 a pop for essentially watching the show live on big screen TV. There will still be exorbitant tickets available on the secondary market, what used to be known as touts, but like Beyonce two weekends ago, for the faithful it's about being there no matter the view or the cost, and with such a limited opportunity to see him on what could be his last British trip, the audience will be from far and wide.
They are the perfect argument for what is perceived as a pain-free revenue-raiser, the tourist tax, which came a step closer last week with the publication of the Scottish Government's Visitor Levy Bill. After all, what's a couple of quid for an overnight stay if you've paid at least £130 for a ticket?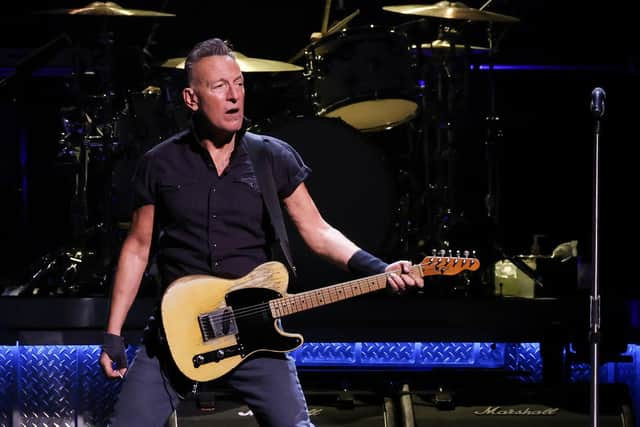 Most of us have anecdotes about paying local tourist taxes in places like Venice, Paris, and Barcelona, a momentary wince on checking out at the unexpected extra, but then a shrug of the shoulders because the experience has usually been good. Unless you've been stung elsewhere (as we were for €100 on our first trip to Rome for not knowing the local system about stamping bus tickets), the majority don't mind, and even if you do there's nothing you can do about it.
Tourist taxes are so widespread they make little difference to future holiday plans, and Edinburgh is a good example of where the product on offer will almost always trump small costs. If you and the boys from Ponytpridd have always come up for the rugby, you're not going to stop because the cost went up by the price of a pint in the Café Royal. The same goes for a weekend at the festivals, with prices for three nights' city-centre hotel accommodation for two in August now starting at £1,000.
The proposed legislation empowers local authorities to introduce a tourist tax should they choose to do so, and as Edinburgh's administration has been champing at the bit for years, it's a given it will be introduced in the capital as soon as possible, probably 2026 at the earliest for the new laws to be enacted and the required local consultation completed. Any revenue must be spent on services "substantially for or used by persons visiting the scheme area for leisure purposes", so this definition would include the £3m Edinburgh Council will spend this year on cultural grants, £1.9m of which will go to the International Festival alone.
Edinburgh's Hogmanay would certainly qualify, with 74 per cent of its audience coming from outside the Lothians but at a cost of just over £800,000 to the council. For capital residents, there should be few negatives if it means nearly £4m can be spent on other services currently being slashed to cover a shortfall of over £50m.
Edinburgh had expected to raise around £15m from a flat £2 per person per night, but as the new legislation is based on a percentage of the accommodation cost, the expected revenue is more complex to calculate as it will vary with the season as well as type, but of course it's not just free money because Edinburgh expects the system will cost £500,000 a year to run, with estimated start-up costs of around £460,000.
But for that investment, there is no cast-iron guarantee the money raised will not indirectly be clawed back by the Scottish Government, through either reducing the block grant each council receives or some other means, despite an insistence from SNP public finance minister Tom Arthur at the press launch last week that there was. "It will be revenue raised by a local authority and it will be retained in full by that local authority," Mr Arthur insisted, without there being any such guarantee in the legislation. I have no reason to doubt Mr Arthur's sincerity, but he is not a Cabinet member and won't be public finance minister forever, so the promise must be in the legislation, or it's virtually worthless.
Even if it is, councils like Edinburgh will simply switch their budgets round to meet their own priorities, so although they will be able to use the tourist tax revenue to cover their tourism-related expenditure like the Festivals, there is no onus on them to augment existing expenditure so it will just be a backdoor way of funding basic services. The chances of Edinburgh Council reinventing Marketing Edinburgh, the destination promotions agency it arrogantly dismantled in 2019 in the mistaken belief that tourism growth was everlasting, are zero.
But what of those gathering the booty, the businesses which will need to meet compliance rules every bit as stringent as VAT and submit quarterly returns? The Scottish Government's financial background paper accompanying the legislation estimates small-to-medium-sized business will incur set-up costs of between £3,000 and £10,000 per business, but accepts it could be more, with an annual cost of up to £400 to file returns. With no hint of grants to cover these costs, in effect it's a tax on hospitality businesses as well as the visitors, and after the pandemic nightmare and the ongoing uncertainty of the botched deposit return scheme, the sector, in Edinburgh particularly, must feel under siege.
It might be palatable if there was any chance their investment in time and hard cash would see a marked improvement in their business, but instead it looks like they are being used to paper over widening cracks in public services despite record levels of taxation. As The Boss might have sung, the Scottish Government just taxes all that heaven will allow.
Comments
 0 comments
Want to join the conversation? Please or to comment on this article.