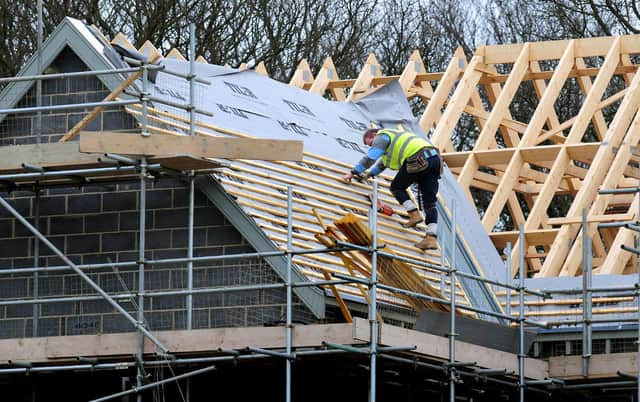 The Scottish government plans to set a target for all new homes delivered by registered social landlords and local authorities to be zero emissions by 2026 (Picture: Rui Vieira/PA)
Of course, these are anything but normal times, and in the past year our homes have taken on a different, even more significant purpose as a sanctuary, serving for many of us as our places of work or home-schooling as we all stay home to stay safe.
Recovering from the Covid-19 pandemic is one of many challenges we will face over the coming years. Others, particularly tackling climate change and supporting our ageing population, are likely to demand our attention for decades, and as we rise to these challenges, ensuring that everyone has a home that meets their needs is vital.
It was with these longer-term issues in mind that we have developed our first long-term housing strategy. Housing to 2040, published last week, is a detailed document showing how we want our homes and communities to look and feel by 2040.
At the heart of it is a simple idea: that everyone, no matter their stage in life or where they live, should have a warm, safe, accessible and affordable place to call home.
Achieving this idea will make for a happier Scotland, but it will also help us to build a fairer, healthier, more equal one. When housing is more affordable, people have more to spend on other priorities, helping to reduce poverty, improve educational outcomes and build more vibrant, cohesive communities.
We have already delivered almost 100,000 affordable homes since 2007. Building on this progress, Housing to 2040 sets an ambitious target to deliver the same amount by 2032, with 70 per cent of these being for social rent.
Delivering these homes will be beneficial to Scotland's communities and will provide a significant economic boost, supporting a total investment package of about £16 billion and up to 14,000 jobs a year.
Supporting Scotland's renters is another priority. We will develop a new strategy to support a fair, equitable rental sector, offering choice that meets people's needs.
Tenants will be closely involved in the development of the strategy with our existing national network of social rented tenants working alongside a new tenant participation panel for the private rented sector.
Subject to the outcome of the forthcoming election, we will introduce a new Housing Bill early in the next parliament to take forward reforms in the rented sector and increase the rights of tenants.
As well as focusing on affordability, we want to ensure all housing in Scotland is good quality. We will bring in a legally binding housing standard covering quality and accessibility for all our homes, working with local authorities, registered social landlords, private landlords, home owners and communities to drive improvements to the quality of homes both owned and rented.
Scotland already has some of the strongest rights in the world for people experiencing homelessness, but challenges remain in ensuring that people can realise their housing rights, that they are effective in practice and that judicial remedies are available where they are breached.
To ensure Scotland can realise the right to adequate housing, our strategy includes plans for a comprehensive audit of our current housing and homelessness legislation.
This will help us to identify where there are any gaps in current domestic legislation and where remedies for violations of housing rights can be strengthened. It will also help us to assess how well current legislation protects marginalised groups and people with protected characteristics.
Alongside this, we will continue with our work to end homelessness and rough sleeping once and for all, with a particular focus on preventing people from losing their homes in the first place.
A report commissioned by the Scottish government and published last month highlighted the importance of public services working together to prevent homelessness, and we look forward to working with our Homelessness Prevention Review Group to progress this important work and taking forward a duty to prevent homelessness.
Well-planned building will be vital to Scotland's progress towards meeting its ambitious climate targets, as will upgrading our housing. We are now consulting on plans to decarbonise heating in all homes and are setting a target for all new homes delivered by registered social landlords and local authorities to be zero emissions by 2026.
We have also written to the UK government urging them to reduce VAT on renovations and energy efficiency measures to help support a green recovery and level the playing field with new-build homes.
By improving energy efficiency we can help to make people's home warmer and cheaper to heat. Decarbonising Scotland's domestic and non-domestic buildings will also bring an economic boost to Scotland as a whole, with about £33 billion in investment from public and private sources estimated to be needed over the period to 2045.
This transition is likely to support about 24,000 green jobs a year as investment reaches its peak towards the end of this decade.
This is only a snapshot of our plans to ensure everyone can access housing that meets their needs. We will also establish a new fund to help local authorities bring empty homes back into residential use.
We'll support housing development in rural and island areas, helping to prevent depopulation and enabling communities to thrive. And we'll review our plans, ensuring that we constantly adapt to meet the needs of a changing Scotland.
I have every faith that we will tackle the challenges that face us as a nation, and I want housing at the heart of our efforts, so we can ensure that absolutely everyone has a home that meets their needs.
Aileen Campbell is Communities Secretary and SNP MSP for Clydesdale
A message from the Editor:
Thank you for reading this article. We're more reliant on your support than ever as the shift in consumer habits brought about by coronavirus impacts our advertisers.
If you haven't already, please consider supporting our trusted, fact-checked journalism by taking out a digital subscription.