Scottish Election 2021: Why the battle between Labour and Tories may be starting to worry Boris Johnson – Kirsty Strickland
In the opening minutes of STV's election debate on Tuesday, it was already clear that we were in for a more engaging debate than the one hosted by the BBC last month.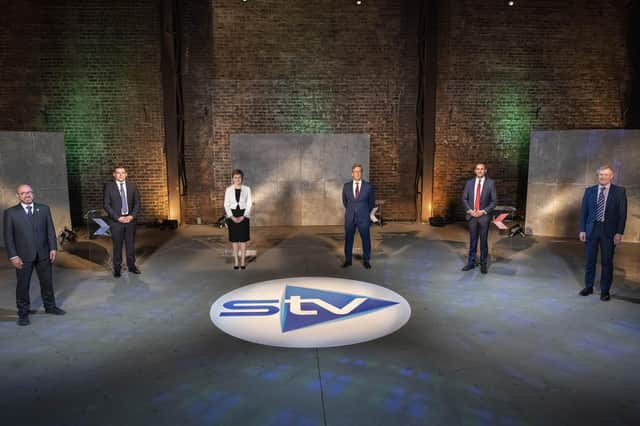 The circular set-up adopted by the BBC would have worked well for a prayer group but it was an odd choice for an adversarial discussion on Scotland's future.
STV wisely avoided The Weakest Link chic and instead chose to style their set like an underground hipster bar.
The debate's chair Colin Mackay played the role of a kindly barman who is always willing to listen to your problems, but won't hesitate to advise you to "dump him" if he thinks that's what's in your best interests.
In what has been a dry and uninspiring few weeks, the STV leaders' debate injected some life into the Holyrood election campaign.
The broadcaster played a blinder with the return of its beloved (in my house, anyway) "cross-examination" round, where party leaders get the chance to question their rivals.
In theory, it shouldn't work. You'd expect politicians to just scream at one other from across the room – all "Brexit!" this and "Attainment gap!" that, with a wee bit of "Indyref yaas!" or "Indyref boo" thrown in for good measure.
But as it happened, they were remarkably well behaved. Some of the exchanges even bordered on interesting.
We should probably thank Colin Mackay for that, rather than giving the politicians too much credit for their self-restraint. His no-nonsense style of chairing allowed everybody to be heard but left nobody in any doubt as to who was in charge.
Immediately after the debate, the party faithful rushed to crown their leader the winner. For once, I would like to see an official party Twitter account respond with an honest assessment of how their leader fared. "They weren't the best, but they weren't the worst either" would make a refreshing change from pre-scripted adulation.
In any case, it's impossible to say definitively who won. Any politician that emerges largely unscathed can justifiably claim that as a victory.
Going into the debate, Nicola Sturgeon was already so far ahead that it would have taken a lot for her to be harmed by it.
If she had worn a #TeamBoris t-shirt or revealed that she hates Line of Duty, some people may have switched their vote, but not enough to dent her chances of being returned as First Minister in May. With first place already in the bag, all eyes turned to second place.
The fight between Scottish Labour and the Scottish Tories to become the main party of opposition at Holyrood is anything but predictable. Recent polls show the two parties are only a few points apart.
Both Anas Sarwar and Douglas Ross are fighting their debut election campaigns as party leader.
For Douglas Ross, this will largely be a face-saving exercise. After the Game of Thrones-style takeover he mounted to become Scottish Tory leader, he has a lot to prove. And although she never actually won any election campaigns during her time as leader, Ruth Davidson is still loved by party members. Douglas Ross has to shine as brightly as she did. Which is probably why he decided to do a photoshoot on a big tank recently.
Anas Sarwar doesn't have that problem. He entered this contest with the benefit of low expectations.
Given Scottish Labour's long period of decline, nobody really expects Mr Sarwar to become First Minister or even to beat Douglas Ross to second place.
But what a boost it would be to the party's morale if he did.
After walking backwards for so long, a step forward – however small and tentative – would be seen as a great achievement for the new leader.
Of the two men, it seems as though Mr Sarwar is the most hungry for it. Which is remarkable when you consider that the Scottish Tories are once again telling the electorate that only a vote for their party can save the Union.
While Anas Sarwar has brought much-needed energy and optimism into the campaign, Mr Ross has at times given the impression that he is bored of what he is saying before he's even finished his pitch.
Although, to be fair to Douglas Ross, he is not only having to fight an election against his Holyrood opponents. He is also having to deal with a gaggle of unhelpful eejits in the UK government who don't realise that their interventions in the campaign aren't wanted, or that every time Boris Johnson mentions Scotland, at least one would-be Scottish Tory voter loses the will to fill in their postal ballot.
During the STV leaders debate on Tuesday, Douglas Ross was asked by Colin Mackay why we couldn't work on our recovery from the pandemic while also planning for a second independence referendum.
Can politicians not concentrate on more than one thing at a time? Apparently not. The Scottish Tory leader replied, "You just can't, Colin" and we all felt better informed.
It is that kind of razor-sharp analysis that Douglas Ross hopes will help get him elected as an MSP in May – a job he plans on doing in addition to the other jobs he already has as an MP, party leader and assistant referee.
As we enter into the final weeks of the campaign, there is all to play for in the battle for second place.
If Scottish Labour manage to leapfrog the Scottish Conservatives into second place, Anas Sarwar will be able to claim personal credit for starting the process of turning his party's fortunes around.
Such a scenario would be as much of a headache for the UK government as a resounding SNP victory would be.
An SNP win and a Scottish Tory humiliation would be a shoogly platform from which to proclaim that there is no appetite in Scotland for another independence referendum.
A message from the Editor:
Thank you for reading this article. We're more reliant on your support than ever as the shift in consumer habits brought about by coronavirus impacts our advertisers.
If you haven't already, please consider supporting our trusted, fact-checked journalism by taking out a digital subscription.
Comments
 0 comments
Want to join the conversation? Please or to comment on this article.