Scottish election 2021: Unionist parties must now work together to take on the SNP – Christine Jardine MP
The colour scheme on the new electoral chart of the Holyrood chamber may look almost identical to the past five years, but the real picture is completely different today.
The prism through which we all viewed Scottish politics has changed and it's time for our political parties to recognise that.
To be fair, I suspect the Scottish nationalists had already realised it and hoped that this would be the election in which their guiding principle swept all before it.
Certainly Nicola Sturgeon did achieve an election victory on which she is to be congratulated, but not on the scale she needed.
And what she presides over now is not just a parliament but a country which is divided right down the middle on a single issue.
It almost didn't matter in this election what the differences were in our various policies presented through endless hustings and media debates.
Education, health, the economy, mental health, climate change were all important, but all sadly relegated to also-rans in the race for public attention. And votes.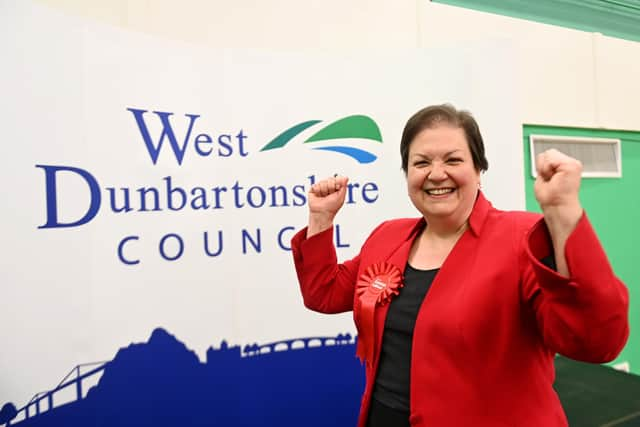 In the final analysis, it seems that it was only ever the Union that mattered.
Not simply the Union, of course, but what it represented. The commitment to put the constitutional argument aside and focus on recovery.
And in constituencies across the country, the electorate chose the strongest candidate – not party – to reflect their priority: the SNP and another referendum, or the UK and recovery.
My own colleague in Edinburgh Western, Alex Cole-Hamilton, secured the biggest vote in the history of the Scottish Parliament.
Both he and I are well used, and committed to, the understanding amongst pro-UK voters that we are the candidates who can beat the SNP, and harness that to working hard for our community. In this election, we saw the same thing across Scotland.
But this was not just a trend, this was something on a completely different scale. Almost an impromptu movement.
For two days, we saw the result of the pro-UK voters coming together for individuals from all three parties.
On the doorsteps and phone calls throughout the campaign, voters in various parts of the country told me consistently who they would support: "Anybody who can stop another referendum."
The Union and recovery seemed wrapped up in one package.
I felt it myself. I watched, for example, with baited-breath for Labour MSP Jackie Baillie's result from Dumbarton. There may be neighbours in Corstorphine who have been wondering what it was that made me cheer out loud when I looked at my phone while walking the dog.
Now they know. It was the message: "Jackie's won!"
And there were others that brought a huge sigh of relief. Labour's Daniel Johnson in Edinburgh Southern, the Conservatives' Oliver Mundell in Dumfriesshire and, perhaps most surprisingly, Alexander Burnett in Aberdeenshire West. No disrespect to Mr Burnett but he represents a part of the world where I spent much of my life and where my loyalty to the Liberal Democrats, and the Bruce family in particular, was forged.
But as it became clear that we were not going to recapture that seat, my hopes turned to who could defeat the SNP.
In that I am apparently in tune with approximately half of my country-people.
And that is the nub of the problem which unionist, pro-UK, federalist politicians – or whichever non-separatist label we choose for ourselves – must now address.
If we are to take our lead from the electorate, then the message they are sending is quite clear.
Those who want to pursue the break-up of the UK already have a coordinated movement.
The SNP is, of course, its central driving force, with the Greens offering a perhaps softer, more climate friendly, alternative.
But those of us who want to remain Scottish and British have to work out for ourselves who is best placed to carry that standard in our community.
The time for that has passed.
Liberals like me will always have differences with the Labour and Conservative colleagues.
My view of what I want for the future of this country is clear. I want to see Britain become a progressive federal, liberally minded, internationalist country. Pursuing social justice and equality at home. Working with its allies to support and develop democracy, human rights and climate protection across the globe. As a priority we have to address the pandemic.
But I have come to realise that those things can only be achieved if we work together to address that elephant in every political debate here in Scotland.
We have to put the constitutional issue to bed if we are to build that society. And we will not do it by continuing to fight our separate corners.
What we need in Scotland is a progressive force for unity. It doesn't need to be a single political party.
A major factor in achieving devolution was the Constitutional Convention which brought together political parties and civil society.
In the past few months, I have found myself in agreement on various aspects of the constitutional debate with figures as different as former Labour Prime Minister Gordon Brown and Scottish Tory MP Andrew Bowie.
The country, and by that I mean the UK, faces a historic challenge. Actually several of them.
The pandemic and climate change are going to take every ounce of energy, every scientific advance, every medical discovery we can muster.
But it's time we also recognised that unless we settle the constitutional argument once and for all it will suck vital oxygen from that effort.
It's time to work together. We have to find a way. The voters have told us so.
A message from the Editor:
Thank you for reading this article. We're more reliant on your support than ever as the shift in consumer habits brought about by coronavirus impacts our advertisers.
If you haven't already, please consider supporting our trusted, fact-checked journalism by taking out a digital subscription.
Comments
 0 comments
Want to join the conversation? Please or to comment on this article.