Scottish Election 2021: Trans rights issues are being debated without any actual trans people. All we want is fair treatment – Vic Valentine
Maybe you are excitedly following the election build-up. Or maybe not.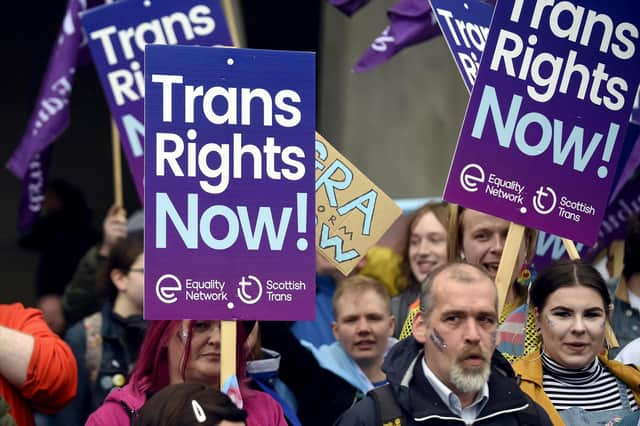 Trans rights demonstrators outside the Scottish Parliament (Picture: Lisa Ferguson)
For most, fears about our own and our friends' and family's health, and readjusting to something closer to normality, loom large. How we vote can feel disconnected from these daily worries, but who we put our trust in to take decisions will make a big difference.
For trans people – people who identify our gender differently from what we might expect based on the bodies we were born with – the outcome of the election could have a huge impact on decisions made about how we are treated in society.
Many people may have never met a trans person. You might feel confused about what language to use. Or not quite sure why anyone would feel so strongly that they need to take steps to change how they live their lives and ask others to see them as who they are. But we are your colleagues, your neighbours, the staff in your local supermarket.
We're concerned about many of the same things as everyone else ahead of the election. Concerned about our NHS and making sure it's properly funded. The clinics that provide healthcare to trans people already had waiting times of years before coronavirus; now the largest in Glasgow predicts people will wait over three years for their first appointment.