Scottish Election 2021: The SNP are backpedalling on independence as economic case falls apart and public wants focus on Covid recovery – Murdo Fraser
People are not being asked to vote on May 6 about whether or not Scotland should become independent, the First Minister told the BBC's Andrew Marr at the weekend.
It is quite a change from what we have heard from so many other SNP politicians over the past few weeks, claiming that the election result is all about seeking a mandate for another independence referendum.
It might be that the message is finally getting through that pursuit of another referendum at this point is not going down well with the public. In the election address which dropped though my letterbox from our local SNP candidate, Boris Johnson gets more mentions than does the "I" word. It has become the policy that the SNP seem scared to mention.
Certainly, opinion polling shows that support for independence is well and truly on the slide. All pollsters now show that support for independence has fallen below 50 per cent, and the trend is clearly downwards from the high point in the mid-50s in the autumn of last year. Nor is there much enthusiasm for another referendum in the near future, as Covid realities continue to bite.
Two issues around independence, in particular, have dogged the First Minister over the last few days. The first is the question of the creation of a border between Scotland and England, which was given legs in an astonishing interview by sitting SNP MSP Emma Harper, who must have made herself as popular in SNP HQ as Dominic Cummings currently is in 10 Downing Street, by talking in glowing terms about the jobs that would be created should a border be formed.
To be fair to Ms Harper, there would be a need for new employment at the border between two sovereign countries – customs officers, passport control and security guards. But the overall cost to the economy of creating such a border, with the barrier to business that it would entail, would be many, many times greater.
SNP politicians who raise the challenges that Brexit has caused for UK exporters to the EU simply highlight the even greater difficulties that would be occasioned by a new Scotland-England border, particularly if Scotland were to become an EU member and England were to remain outside.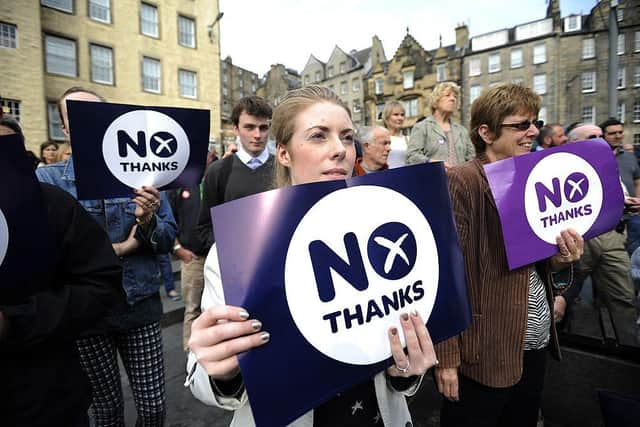 Asked at the weekend about the impact of a new border and whether this would cause problems, Nicola Sturgeon replied: "I'm not denying it." So there we have it from the horse's mouth: independence means trade barriers with our nearest neighbour and our biggest market.
It is not just in relation to the issue of borders that the independence argument faces a major challenge.
According to the Institute for Fiscal Studies' research published on Monday, the gap between Scottish public spending and tax revenues rose to between 22 and 25 per cent of GDP in 2020-21. This represents a black hole of more than £48 million, considerably higher than the equivalent UK figure. And it has to be set against the long-standing EU criterion that all new member states have to reduce budget deficits to three per cent of GDP or less.
In their commentary, the IFS are clear that it would not be possible to run structural deficits of this scale over the long run, and there would be a need to grow the economy, expand and change the tax base, increase tax rates, or cut spending. Of course, these challenges exist for the UK as a whole, but it is relatively much better placed to address them than would be a newly independent Scotland.
SNP politicians will claim that the deficit has a risen as a consequence of our place in the UK, but this ignores the fact that the gap is accounted for overwhelmingly by much higher expenditure per capita on public services in Scotland compared to the UK – as much as 27 per cent.
When challenged on how they would address the issue, those campaigning for separation make reference to the use of additional economic levers, without specifying any distinct policies that would make a difference.
To be fair to him, when Alex Salmond was leader of the SNP he at least had one policy which might have delivered higher economic growth for Scotland – cutting corporation tax by three per cent – but even this has been abandoned by his successor Nicola Sturgeon.
It is entirely unclear how an independent Scotland, carrying such a large fiscal deficit and facing economic pressures as a result of the creation of a new border with England, would be able to grow the economy faster.
To some people, this simply doesn't matter. The Scottish historian Neil Oliver wrote at the weekend of those "who would cheerfully, ecstatically, dress in rags, live in the shelter of a dry-stone wall and feed their children scavenged scraps if, and only if, they could lay their heads down in the knowledge that Scotland was independent of the UK".
I am sure we have all met emotional nationalists like that – people who simply do not care about the economics of independence, because "freedom" is worth any price. But I do not believe that that is where the vast majority of the Scottish people are on this issue, and the opinion polls are increasingly indicating that I am right in that respect.
We now know that there is no economic model for independence, we know that there would be a devastating black hole in the public finances, and we know that a border would be created between us and England.
It would be immensely damaging for Scotland, and yet that is the route we set ourselves on should the SNP be successful in next week's election. All those in Scotland who want to put Covid recovery ahead of constitutional battles need to use their votes to back the Scottish Conservatives to prevent us going down that route.
Murdo Fraser is the Scottish Conservative candidate for Perthshire North
A message from the Editor:
Thank you for reading this article. We're more reliant on your support than ever as the shift in consumer habits brought about by coronavirus impacts our advertisers.
If you haven't already, please consider supporting our trusted, fact-checked journalism by taking out a digital subscription.
Comments
 0 comments
Want to join the conversation? Please or to comment on this article.