Scottish election 2021: Independence referendum Nicola Sturgeon doesn't want and Boris Johnson won't allow set to spark long phony war – Euan McColm
For Nicola Sturgeon, winning an election is the easy bit. For as long as Scotland remains divided over the constitutional question, the SNP is bound to do well at the polls.
While the votes of pro-Union Scots split between Labour, the Conservatives and the Liberal Democrats, the SNP unites nationalists. If you want to break up the UK, then you vote SNP in your constituency and, perhaps, back the party's "taste the difference" range – or the Scottish Greens as they're better known – on your regional list.
Having led her party to victory, Sturgeon now faces the difficult bit of her particular mission: delivering on the promise she has made to hold a second referendum on independence.
Before most of us had had our porridge yesterday, Deputy First Minister John Swinney was on the BBC's Breakfast News explaining that the Scottish government would bring forward legislation to hold a legal referendum.
But the truth remains that the Scottish government does not have the authority to run a referendum. This is a fact that cannot be spun away. They only way to hold a legal referendum, as the law stands, is for the UK government to grant a section 30 order, transferring the power to do so to the Scottish government.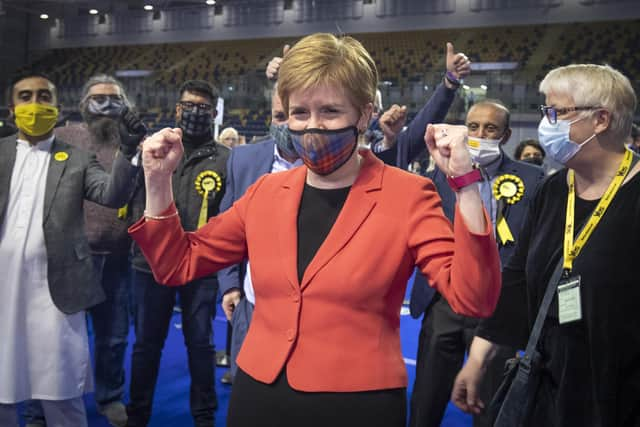 2014 is a foreign country
This is what happened before the 2014 referendum when then Prime Minister David Cameron acceded to then First Minister Alex Salmond's demand for the power to run it.
Crucially, the 2014 poll had the support of those on both sides of the argument. In a rare moment of Scottish unity, nationalists and unionists agreed that the question should be asked.
But 2014 is a foreign country. Even before Swinney had taken to the airwaves yesterday morning, Prime Minister Boris Johnson had given a interview to the Daily Telegraph in which he reiterated his position that there would be no Indyref2 on his watch.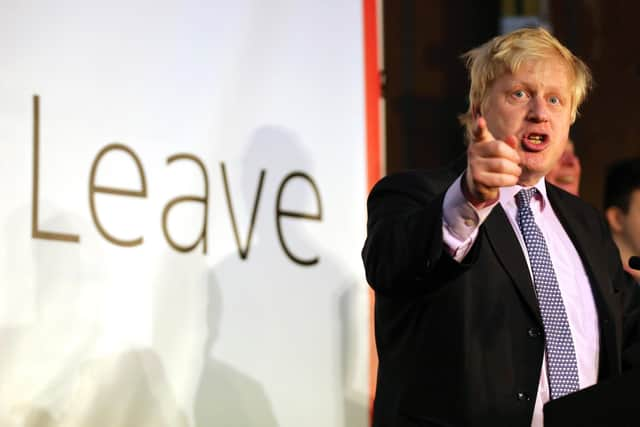 The SNP spin goes that opposition to a second referendum is a democratic outrage that will not be accepted even by those who favour the maintenance of the Union. I'm not sure I'm buying that.
For every Yes voter who declares that the 2014 campaign was a joyous celebration of democracy, there is a No voter who will remember the campaign as angry and unpleasant.
SNP campaign's change of focus
Prime Ministerial intransigence over the constitutional question is useful to Sturgeon, right now. It will give her cover behind which to hide at a time when she has no desire to actually run another referendum.
If the First Minister were serious about Indyref2 any time soon, she would have, at the very least, begun some of the legwork required. The SNP would have been working on answers to questions about currency and the border. There would have been some effort at producing some sort of plan for independence.
No such work has been done.
During the last days of the Holyrood election campaign, Sturgeon's campaign changed somewhat. Rather than talking about the need for another referendum, the SNP focus turned to the First Minister's leadership during the coronavirus pandemic.
If Scots wanted continued, experienced leadership during these difficult days, then only both votes SNP would do. Sturgeon, who had previously rejected accusations of politicising the pandemic, gave her blessing to SNP leaflets bearing the image of the podium from which she delivers her frequent updates on the coronavirus situation.
All things to all voters
The pandemic was politicised because there is only so much referendum talk Scots can bear. Polls and focus groups show that alongside more than half of Scots who don't want independence, a substantial number of nationalist voters don't think a referendum's a priority just now. Rather, they think Sturgeon should be focused on getting Scotland though the pandemic and then on working to repair the damage it has wrought upon the economy.
Sturgeon's current position is to try to be all things to all voters. Yes, she says, her priority is dealing with the pandemic and its effects but also, yes, she says, she is ready to move ahead with the referendum demanded by a minority of Scots.
There are some in the SNP who will tell you that the Prime Minister will not be able to sustain his opposition to a referendum. Continued refusal to allow another constitutional vote would be an outrage, they say.
Whether you agree that this would be so, do you really think Johnson is liable to be swayed by this line of attack? Do you really think Johnson is going to gamble on a referendum which he might well lose?
No, you do not think that because you are not an idiot.
So here we stand with a new parliament and the same old stand-off. The constitutional battle will go on, with Sturgeon insisting the people of Scotland demand the right to choose a future outside the United Kingdom and Johnson replying that now is not the time for another, divisive, referendum.
Perhaps, over time, this might see support for independence creep up but, for now, Scotland remains perfectly divided on the question of succession. A referendum might be a risky business for Johnson but it would be equally so for Sturgeon.
So, for now, we shall have to content ourselves with a grinding phoney war in which the Prime Minister refuses to grant a referendum that the First Minister doesn't actually want.
A message from the Editor:
Thank you for reading this article. We're more reliant on your support than ever as the shift in consumer habits brought about by coronavirus impacts our advertisers.
If you haven't already, please consider supporting our trusted, fact-checked journalism by taking out a digital subscription.
Comments
 0 comments
Want to join the conversation? Please or to comment on this article.