Scottish election 2021: Anas Sarwar forced Nicola Sturgeon to focus on Covid recovery but constitutional debate remains a problem for Labour – Susan Dalgety
There was a moment during the campaign when Scottish Labour activists remembered what it was like to be on the winning side.
But the momentary fillip of Sarwar's impromptu dance session could not mask the harsh reality of his task – pulling Scottish Labour out of third place and onto the official opposition benches. Yesterday's results saw him come up short. Labour remains in third spot behind the Tories, once the pariah party of Scotland.
Far from being despondent, Scottish Labour folk remain resolutely optimistic about their party's future.
"Anas ran a great campaign," says one very senior figure. "He made people look afresh at Scottish Labour, and he injected hope and energy into the party. His own popularity soared during the campaign – when was the last time a Labour leader actually cut through to people? It was a great start."
Successful politicians change the public debate, and Sarwar succeeded in forcing Nicola Sturgeon to start talking about the post-Covid recovery as well as her usual constitutional refrain.
He recognised that while many Scots are keen to re-run the 2014 referendum, the majority have more pressing things on their minds.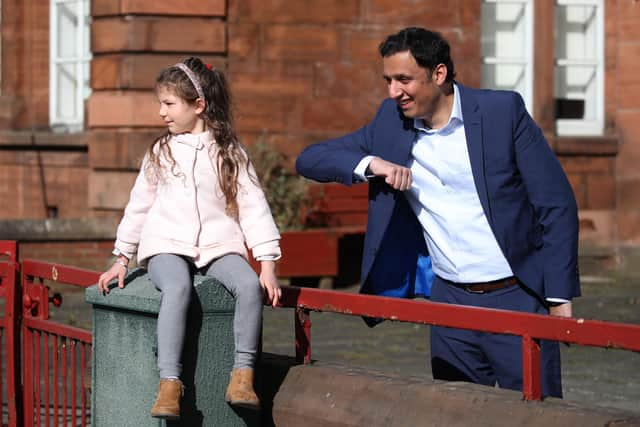 His National Recovery Plan, with its focus on jobs, the NHS, education and the environment was so well received that, in the last week of the campaign, Sturgeon was compelled to promise a cross-party group on Covid recovery. "I think perhaps she is a little late," suggested Sarwar.
The question now facing Sarwar and Scottish Labour is, did his leadership come a little too late to save the party from oblivion?
He has five years to succeed. In his favour is his team of MSPs, who represent a new generation of Labour politicians, people like Michael Marra, Pam Duncan-Glancy and Daniel Johnson.
There are many candidates, like councillor Kirsteen Sullivan, Katherine Sangster and Barry Black who, although they did not succeed this time, have brought a new energy and fresh thinking to the party. And his deputy, the legendary Jackie Baillie, will provide him with wise counsel as he begins the onerous task of reconstruction.
Everyone who encounters Sarwar talks of his charisma, his empathy, and his positive energy. He is a "genuine star" says one old-timer, "the real deal". But is his winning personality enough?
Sarwar himself does not underplay the challenges he faces. He knows he must build a new party from the ruins of a movement seemingly out of touch with most voters. And Labour is the unwilling victim of the constitutional battle that now passes for politics in Scotland, squeezed between the SNP and the Tories.
Ten weeks ago, Scottish Labour was on its knees. A 38-year-old former dentist with some good dance moves has given its loyal base reasons to be cheerful, even in the midst of another defeat. Things can only get better.
Susan Dalgety join ed the Labour Party in 1980 (with a sabbatical during the Corbyn years). She has been a Labour councillor, staffer and volunteer.
A message from the Editor:
Thank you for reading this article. We're more reliant on your support than ever as the shift in consumer habits brought about by coronavirus impacts our advertisers.
If you haven't already, please consider supporting our trusted, fact-checked journalism by taking out a digital subscription.
Comments
 0 comments
Want to join the conversation? Please or to comment on this article.