Scottish Conservatives' anti-SNP tactical voting scheme will dismay their own activists in urban Scotland – John McLellan
For someone seeking more anonymity to rebuild her private life, appearing to unburden herself in a jokey exchange with the BBC's Glenn Campbell was an interesting way for Nicola Sturgeon to go about it.
Apart from that segment opening up more questions than it answered, the Sturgeon farewell TV tour is making it more difficult for her successor to make an instant mark. Any expectation Humza Yousaf would experience some sort of honeymoon period was for the birds even before the rancorous leadership contest got underway simply because there was no great clamour amongst core SNP voters for Ms Sturgeon to go.
Recognition that there was no natural successor meant it would be hard for any of the candidates, but after his abilities were so effectively trashed by Kate Forbes, low expectations have only been confirmed by a new Cabinet dominated by well-kent figures like Shona Robison and Angela Constance whose track record of achievement is on a par with his.
Having dumped the uninspiring hard left approach of the Jeremy Corbyn-Richard Leonard years, Scottish Labour was always likely to be the main beneficiary in urban areas, and all the polls in recent days are predicting a leap from one seat to double figures at the next general election. That a third of SNP voters are opposed to the equally hard-left alliance with the anti-growth Greens, to which Mr Yousaf is wedded, is a warning sign he is happy to ignore.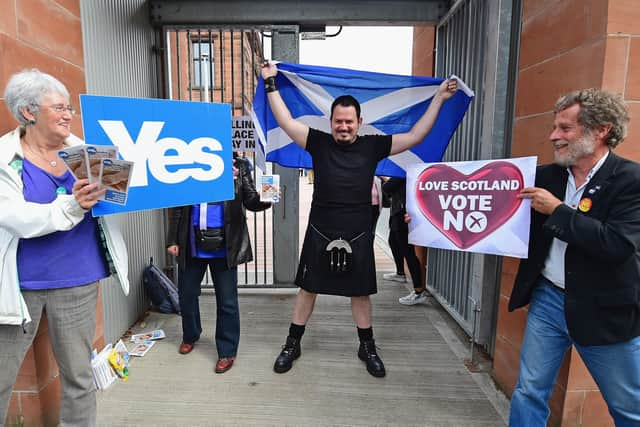 Perhaps he can take some comfort in the knowledge that the polls were heading that way anyway. A YouGov survey the week before Ms Sturgeon announced her resignation put Labour on 35 against the SNP's 38 for Westminster voting intentions, and the trend of all polls since the turn of the year shows Labour gradually climbing to average around 32, against the SNP's decline to 38-39. There is, however, no sense he can reverse the slide because the programme and the faces are essentially the same, with Ms Sturgeon's media rounds a constant reminder of what he is not.
It's against the background of the new political narrative focussing on Labour's resurgence that the Sunday Times was briefed about a Scottish Conservative plan to embrace tactical voting to inflict maximum damage on the SNP at the next general election. The so-called "Vote Smart" strategy aimed to shore up Conservative support in rural seats while lending support to Labour in urban constituencies. Without a denial, it became clear this was no kite-flying exercise or a misinterpreted unofficial steer until, entirely predictably, it was shot down in flames by Labour's insistence no such deal would be struck.
What was supposed to be a means to show that Conservatives were also benefitting from the Humza "reverse-bounce" in strong areas like the North-East, instead looked like capitulation in central Scotland. "In a host of seats, particularly in rural areas, the Scottish Conservatives are the only party who can defeat the SNP and we are confident voters, for whom the Union is the priority, understand that," said the official statement, which is true, but the effect on supporters elsewhere was less than enthusiastic. "Vote Anas Sarwar to stop Indyref2?" asked one of my erstwhile Edinburgh Council colleagues.
It's all very well recognising the sophistication of the electorate, but another thing spelling it out, especially where there is no agreement with the other sides needed to make it work. It was also a contradiction anyway, because if voters are that savvy, which they are in most cases, then tactical voting shouldn't need explaining, particularly in many of the Conservative bastions in the rural north where Labour is so weak they often can't put up candidates for all wards in council elections. But if every election is fought only on the threat posed by the SNP, the concept of lending votes risks becomes academic because the loan becomes permanent if there is no likelihood of the all-clear being sounded so all those supposedly covert Conservatives can return to the fold.
In some places, Conservative support is also strengthening, with some signs of an uptick in recent polls, and two weeks ago there was a notable success in the Stirling Council by-election for the affluent Bridge of Allan ward. There, the Conservative candidate was way ahead of both the Labour and Lib Dem candidates with 41 per cent of first preferences and picked up enough transfers from their voters to win the seat from the SNP.
But the risk of a formal "Vote Smart" approach is a tacit acceptance there is no right-of-centre alternative in urban Scotland, which is the last thing the activists out campaigning in all weathers believe, even if they know they are up against it as was the case two weeks earlier in equally affluent Murrayfield. There has been a Conservative councillor in the ward for as long as anyone can remember until the last year's elections in 2022, when the Lib Dems won 50 per cent of first preferences and two of the three seats. But in the by-election caused by the resignation of the SNP's ex-Lord Provost Frank Ross the Lib Dem candidate romped home with 55 per cent of the vote claiming, "only the Lib Dems can stop the SNP".
Around the few Lib Dem fiefdoms, they see defeating the Conservatives as much an imperative as stopping the SNP and they have an eye on more than just West Edinburgh, now a Lib Dem stronghold in Westminster, Holyrood and all council wards. It's the same in Edinburgh South where most Conservative members have their own stories of Conservative-supporting friends happily "lending" their vote to Labour's MP Ian Murray and MSP Daniel Johnson to keep out the nationalists.
Prioritising winnable seats is nothing new, but letting opponents know the party is prepared to step back in some circumstances certainly is. With Scottish politics more volatile than for 15 years there is no need for deals, but there is opportunity for vision.
Comments
 0 comments
Want to join the conversation? Please or to comment on this article.