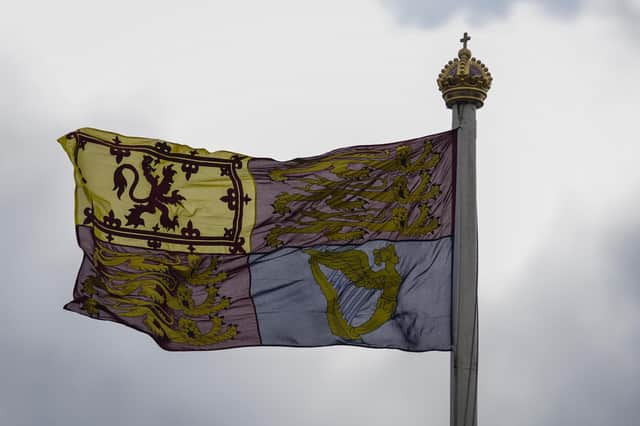 The Royal Standard of the United Kingdom flies at Buckingham Palace as King Charles III and Camilla, Queen Consort arrive for residence
To have to cope with the death of his beloved mother, while also ascending to the throne and its demands, would test anyone - even a man prepared by a lifetime of service.
The new King's first address was, properly, dominated by tributes to the late Queen – "an inspiration and example to me and to all my family".
"Queen Elizabeth was a life well-lived; a promise with destiny kept", he added.
The King's own vow – to be made more formally in the months ahead – also resonated: "That promise of lifelong service I renew to you all today".
What form will Charles's service take? There were only a few clues from last night's broadcast, but a careful look revealed the emerging contours of an evolving Royal purpose.
Unsurprisingly, the new King hinted at withdrawal from many of the charities and causes that he has espoused through hislife.
But he also nodded towardshis son and heir, William – newly-named Prince of Wales – taking on some of that work, continuing "to inspire and lead our national conversations, helping to bring the marginal to the centre ground where vital help can be given".
That reference could be toPrince William's work to spot-light the problem of homelessness, and a continuation of the Royal Family's deep interest in the environment, and the natural world.
Prince William's work with The Big Issue magazine in June showed his personal commitment to the issue of homelessness.
And June's Platinum Jubilee Party at the Palace – ostensibly a pop concert – carried higher purpose in drawing a green line from the environmental zeal of Charles's father, the late Duke of Edinburgh, through Charles, and on to his son William.
That night, an old speech of the Queen's was replayed to make the point clear.
"It is a source of great pride to me," she said, "that the leading role my husband played in encouraging people to protectour fragile planet lives on through the work of our eldest sonCharles and his eldest son William. I could not be more proud of them."
William would later appear on the stage, with his father, to tell the show's global audience that "the pressing need to protect and restore our planet has never been more urgent".
This carefully choreographed transition builds upon the new King's lifetime of commitment to environmental causes, and offers clear continuity through generations.
King Charles may have signalled, last night, that he will need to retreat into a more regal, distant role as monarch.
But the causes his Royal Family espouses will offer the vital purpose it needs as it continues its evolution through the 21st century.
All this, but especially an emphasis on the environment, would be a welcome and necessary addition to the traditional purpose of the Monarch as head of state.
It has long been our position that combating global warming is the most pressing matter facing civilisation.
The cost of failure would be ruinously high.
If the King could use theextraordinary convening powerof his new office to encourage fresh impetus around meeting environmental goals – especially in the face of global conflict andrecession – then his legacy would rank alongside anything that was achieved by this deeply-mourned mother.
We wish him, and his family, every success.