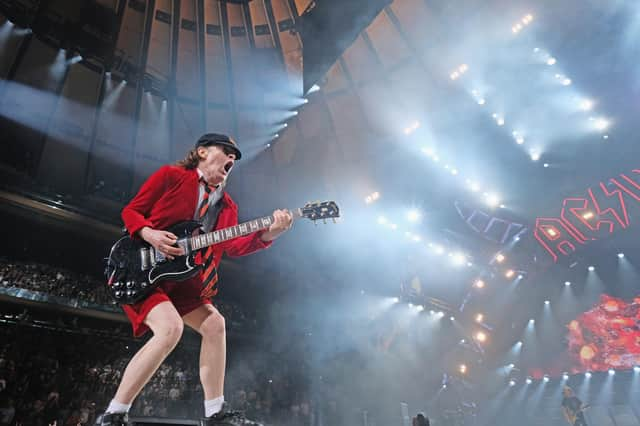 Whatever conduit allows for momentary respite from the coronavirus pandemic, and all its attendant stresses, is a blessing. These things offer calm, reassurance, and for a few hours, trick us into forgetting.
Yet it turned out that what we thought was respite was nothing of the sort, but merely fleeting distractions, designed to mask the horror of 2020. No, what we needed all along was something bolder in ambition, something louder in volume. An offering that would not just salve the sadness and the worry, but bring exhilaration and joy. No one knew what form such a thing would take, at least not until AC/DC, with only a few weeks' notice, released their new album.
Even if you have not yet heard it, it may sound familiar, and with good reason. Every time the band releases a new album, the same question is posed. "Why do they always sound the same?" The late Malcolm Young, its co-founder and rhythm guitarist, always had the same retort. "It's the same band!"
A jagged, raw power
And what a band, especially in these troubled times. If one of the hallmarks of rock and roll is its transformative power of escapism, there can be no exponents of the craft more skilled than AC/DC. For close to half a century now, a band formed by Scots émigrés on the other side of the world has honed the honeyed licks of Chicago bluesmen first repurposed and repackaged by John Mayall and the wave of bands spearheaded by the Stones.
Listen to an AC/DC song – any AC/DC song – and you will detect the DNA of Chuck Berry, Freddie King, Little Richard, and Muddy Waters. The layers of interlocked, zig-zagging guitar riffs would not be out of place in a Chess Records compilation, but Malcolm and his brother, Angus, the lead guitarist, made them their own, infusing them with a jagged, raw power and enlisting a rhythm section versed in blunderbuss drumbeats and blood-throbbing basslines. It was always rock and roll, but it was their rock and roll.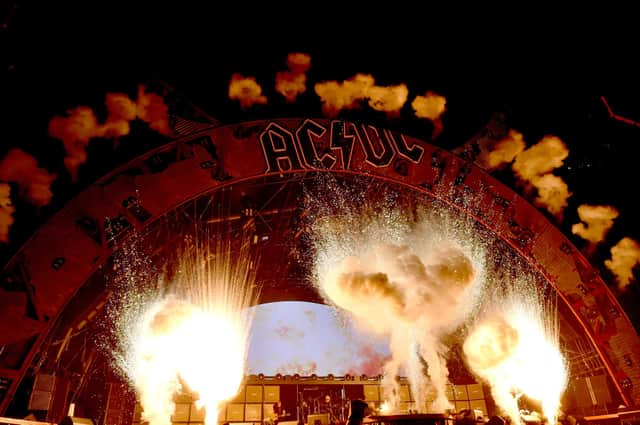 The surprise release of Power Up, their 17th studio album, adds a little spit and polish to the template, but no more. It requires only a cursory reading of the track listing (the song titles include Shot in the Dark, Kick You When You're Down, and Demon Fire) to know precisely what you are getting, and to appreciate that less is always more.
It is this unerring quest for simplicity, to distil everything that has gone before, which makes AC/DC one of the most misunderstood bands in history. Their first flush of success on these shores dovetailed with the rise of punk, and saw them lazily bracketed alongside the Pistols and the Clash, despite the fact the precision of their playing made such comparisons absurd. By the time they were gracing amphitheatres and stadiums a decade later, they were lumped in with the heavy metal crowd by critics with a deaf ear for the harmonies around which the chord progressions were built.
Committedly low-brow
Yet they have never belonged to any tribe other than their own, and it is that single-mindedness which has helped them shift more than 200 million albums around the world. No matter the record label or the producer, they have refused to compromise their sense of who they are and what they should sound like.
The concept of authenticity is an awkward and clumsily applied one, especially when it comes to music, an ever-shifting feast of influences and interpretations. But in the case of AC/DC, whose committedly low-brow members stubbornly refuse to submit to the cult of celebrity or the idea that their songs are art, it seems fitting.
With a lead singer who has just celebrated his 73rd birthday, Power Up will, in all probability, serve as the group's swansong, though hopefully they will be permitted to stalk their natural domain – the live stage – before long for a proper final farewell.
Whenever they take their leave, and Angus, now 65, hangs up the schoolboy uniform he has been wearing since he was 18, the world will be a quieter, duller place. But for now, as winter starts to bite, let's appreciate the fact they are still here, doing what they do best.
Highway from Hawick
Indeed, AC/DC's return is inspiring not just for the visceral thrill of their music. They are a band that has known tragedy more than most, and in 2020, offer living proof that seemingly insurmountable obstacles can be overcome with a spring in the step and a single entendre on the lips.
Since the release of the band's last album, Malcolm sadly lost his long battle with dementia, just weeks after the death of his eldest brother, George, the co-producer or producer of seven AC/DC albums; Johnson, the band's stalwart singer since 1980, was forced to step down after losing his hearing; Phil Rudd, the wiry drummer, was convicted of drug charges and threatening to kill his former assistant; and Cliff Williams, the bassist, felt such irreplaceable losses had left the band a "changed animal", and announced his retirement.
Yet somehow, through a series of minor medical miracles and hard-won rehabilitation, Johnson, Rudd, and Williams have come back to the fray, joining the ever-present Angus, along with his nephew, Stevie, who learned his craft playing in a succession of little-known bands in the Scottish Borders town of Hawick.
The amps have been turned up, the school tie has been loosely knotted, and a smile has been put back on millions of faces. What more can you ask for?
A message from the editor:
Thank you for reading this article. We're more reliant on your support than ever as the shift in consumer habits brought about by coronavirus impacts our advertisers. If you haven't already, please consider supporting our trusted, fact-checked journalism by taking out a digital subscription.