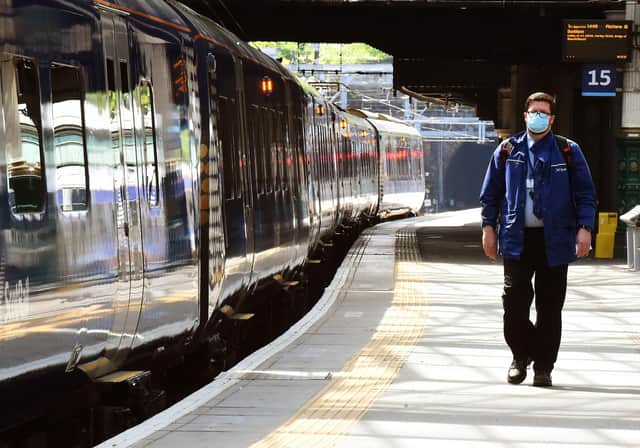 The latest dispute is over conductors not getting a pay rise this year. (Picture: Lisa Ferguson)
It is certainly big enough for the next squabble to be only just below the surface.
In industrial relations terms, there is no more strife-torn sector than transport in terms of stoppages, the latest official figures, for 2018, show.
And in terms of sheer industrial power, railway workers – especially drivers – are up there with the miners in their day in their ability to bring a vital national asset to a halt.
Differentials between ScotRail staff represented by separate unions have triggered disputes in the past. (Picture: John Devlin)
Prior to the Covid pandemic, there was one thing as certain as some new and unexpected cause of disruption – like new trains with the wrong type of windscreens (remember them?) – a dispute between ScotRail management and its workforce.
The coronavirus has helped achieve what a series of remedial plans have failed to do – to get the trains to run on time (by taking away most of the passengers).
But such improvements, gained while ScotRail has been performing a key role in transporting key workers, haven't translated across into more cordial relations within the company.
However, the age-old "them and us" disputes aren't just between bosses and workers, but more particularly the jostling for position of different unions within ScotRail, and specifically that between drivers and other "grades", such as conductors.
Two years ago, long-running industrial action by the Rail, Maritime and Transport union (RMT) was triggered by conductors and other staff being paid less than drivers for working on days off.
This time, the RMT is again balloting for a strike over not being offered a pay rise this year after drivers, represented by the Associated Society of Locomotive Engineers and Firemen (Aslef), which is a quarter of its size, benefited from an increase thanks to a two-year deal struck last year.
Once again, it's clear which union wields the most power, but the other one is desperate not to be left behind, especially when its muscle has been weakened by more conductors being replaced by drivers in the key role of controlling the opening and closing of train doors.
That is likely to be eventually extended further.
In the current dispute, ScotRail says its 5,200 staff have been fortunate in not suffering the pay cuts, furlough or redundancies which have afflicted many other industries, such as aviation.
It says pay rises are out of the question while the Scottish government support to keep the country's trains running has effectively doubled through extra emergency funding following the loss of 80 per cent of their passengers and fare revenue.
This has already led to plans for hundreds of services to be cut from next month, as The Scotsman has revealed.
But the RMT has argued its conductors are themselves frontline workers, putting their health at risk, and should be admired and respected just like the NHS and other key staff they have been transporting.
The union said times might be tough, but its members had a right to expect their current standard of living to not be diminished.
With a public sector pay freeze south being announced by the UK government this week, it will be interesting to see both the voting figures in the RMT ballot result in a couple of weeks and the public reaction to whatever happens next.
A message from the Editor:
Thank you for reading this article.
We're more reliant on your support than ever as the shift in consumer habits brought about by coronavirus impacts our advertisers.
If you haven't already, please consider supporting our trusted, fact-checked journalism by taking out a digital subscription.