Scotland's town centres are dying. Five simple steps could have a revolutionary effect – Gregor Poynton
Town centres should be the beating heart of our communities.
They should be places to meet friends, shop, eat, work, go to the bank, collect your pension, visit a GP, and drop your kids off at school. Yet, right across Scotland, bustling high streets are being replaced with boarded-up shops, poorly lit roads which don't feel safe at night, and hotspots for street drinking and other anti-social behaviour.
Shops and businesses were struggling even before the Covid pandemic: high street retail employment fell in more than three-quarters of local authorities between 2015 and 2018, according to the Office for National Statistics. But lockdown exacerbated long-term trends like internet shopping and the closure of local bank branches. Business rates for high street shops benefit online retail platforms, and both the Tory and SNP governments continue to look away as multinationals, like Amazon, game our tax system, avoiding paying millions into Treasury coffers.
There are communities across Scotland that are taking a fresh approach to reviving their local area. They are not returning to the broken models of the past, but instead using the tools available to them to bring people together to shape the places they call home. The Midsteeple Quarter in Dumfries is a community-benefit society breathing new life into their town centre by creating a 'mixed neighbourhood', with a broad range of activities and uses. As well as buying up empty retail premises through community share offers, they are also focusing on making space for creative industries to thrive, and building affordable town centre accommodation. This shows the decline of our town centres is not inevitable.
The SNP government should be doing much more to support these efforts and help similar projects flourish across Scotland. There has been no shortage of reports from the SNP, with various action plans and reviews during their 16 years in power but, with a few notable exceptions, most people can see for themselves that their town centres have gone backwards in this time.
There are some immediate steps the SNP government could take, working with organisations like the Cooperative Movement, who are championing better uses for our town centres and community-owned models to build thriving and healthy neighbourhoods. First, more must be done to create a level playing field between the small businesses based on our high streets and the global online retailers using low overheads and some questionable employment and operating practices to undercut them. That's why Scottish Labour has proposed an 'Amazon Tax', which would generate £20 million in the first year to help reinvigorate town centres.
Second, we need much more thought going into the housing stock being built in towns. With so many buildings left empty, it is right to relax planning rules to make it easier to convert shop fronts into flats.
However, these homes must be fit for purpose, serving the needs of the local community, rather than being driven by the desire to maximise profit for developers who care more about their bottom line than they do about creating vibrant and diverse places to live. In particular, we need more homes that families can live and grow in comfortably, not just more single units. This approach would enable many people who might otherwise struggle to visit a town centre to live within a stone's throw, keep wealth in the local community, and support retail workers and others to remain in the neighbourhoods in which they work without being priced out.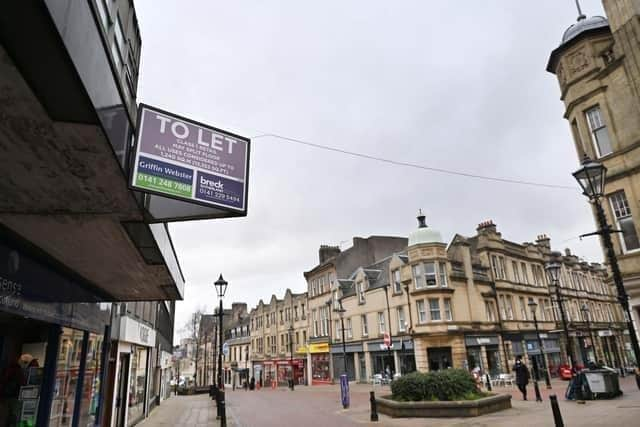 Third, as working practices evolve and change after Covid, so too must our ability to create the kind of places people want to be able to work in. Affordable co-operative workspaces can support those with flexible working arrangements, as well as nurturing new start-ups and self-employed workers.
Whilst finding the space to create these local 'work communities' may not be a huge challenge, delivering the social and physical infrastructure needed to make it a success is less straightforward. Town centres should be a priority in the rollout of superfast broadband, local plans should include provision for additional childcare spaces, and active travel should be promoted to encourage walking, wheeling and cycling wherever possible.
Fourth, councils should be encouraged to use the powers available to them to make any data they have on the ownership of high street properties public, so community groups seeking to buy empty shops through a community share offer have the information they need to do so. Councils and community groups can also then proactively contact landlords of vacant premises to discuss ways the unit could be utilised for community benefit; for example, as a home on the high street for new co-operatives, social enterprises, trade unions and community businesses, rather than lying empty.
Finally, our town centres will never thrive until people feel safe socialising in them, walking through them, and letting their children use them. Providing public toilets, ensuring reliable public transport, and focusing on tackling antisocial behaviour – particularly around vacant premises – would all contribute to making town centres a better place to spend time for everyone. In particular, bringing the issue of women's safety in our public places to the fore, to ensure women are and feel safe on high streets, is critical.
None of these steps would constitute a revolution, but the impact could be revolutionary for millions of people. For too long, town centres have been neglected. It is clear fresh thinking is needed, but the SNP are locked in increasingly brutal in-fighting and continue to fixate on constitutional issues instead of addressing the problems Scottish people are facing today. We can change this and build better communities for all of us to live in, but it will require leadership. It seems doubtful the current First Minister, who is mired in his party's growing scandals and divisions, can really provide this.
Gregor Poynton is a campaigns and communications consultant, a former UK and Scottish Labour party election strategist and Labour activist
Comments
 0 comments
Want to join the conversation? Please or to comment on this article.