What does Pride mean for LGBT+ people? It started as defiant protest, demanding basic rights for lesbian, gay, bi and trans people. When the first Pride marches were held, there was no legal recognition of same-sex relationships, LGBT+ families, or trans identities. It was commonplace to sack workers just for being LGBT+. Hate crimes, vilification in the media, and other discrimination were rife. Relatively few LGBT+ people were comfortable being out to more than just their friends.
Pride has therefore always been about public and unapologetic visibility: reclaiming streets and parks as places where LGBT+ people can be open and visible about our lives and identities. To be confident to hold hands with our partner, express ourselves no matter how far that may be from gender norms, and support each other to be true to ourselves without shame, rather than hiding away.
Pride is about community. An opportunity to come together, understanding that whilst we may have diverse lives, identities and experiences, there are points in common that connect us to one another. For many LGBT+ people, a Pride event is the first time they have been in the majority, surrounded by other people like themselves. Pride lets people who are still making peace with who they are see the possibility of a happy, healthy future they might not currently be able to imagine.
The first Pride event in Scotland was in Edinburgh in 1995. So much has changed since then, particularly when it comes to the law. Improved legal equality includes the repealing of section 28, an equal age of consent, gender recognition, equal marriage, and protections from discrimination. Pride events have played a part in creating a society where such change was possible.
The three things that Pride most means to me – protest, visibility and community – matter as much in 2023 as they did in 1995.
Hate crime against LGBT+ people is on the rise. LGBT+ people, and trans people in particular, face increasingly vehement denigration in parts of the media. The UK Government is blocking a Bill passed by a large majority of the Scottish Parliament that would improve trans men and women's ability to be recognised equally in law. LGBT+ people across Scotland continue to be at risk of serious harm from conversion practices – attempts to make us change because others don't like who we are or who we love.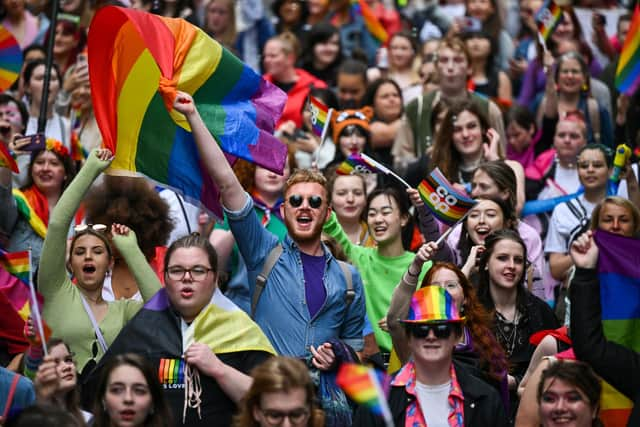 In rural and island parts of Scotland in particular, it can be harder for LGBT+ people to be confident about being themselves in their communities, and to see positive role models for their futures. It continues to be true that for those people, first coming out – at the age of 17 or 77 – they need to find others who're like them before they can imagine a future where they fit.
That's why I, and tens of thousands of other people, will be taking part in the more than 20 Prides this year, right across Scotland. Because while we have come so far, there's still so much more to do.
Vic Valentine is manager of Scottish Trans