Scotland's renewable energy revolution and net-zero ambitions in doubt with some wind-farm developers told to wait more than ten years for National Grid connection – Martyn McLaughlin
Gridlock poses a serious problem for efforts to shift away from fossil fuels
This morning, Humza Yousaf will speak at the opening of the "All-Energy and Dcarbonise" event in Glasgow, a large-scale gathering of low-carbon energy specialists and renewables firms. It is a sign of his government's commitment to such issues that no fewer than four other ministers – Gillian Martin, Kevin Stewart, Patrick Harvie, and Lorna Slater – will be participating in the two-day event.
In amongst the usual public affairs gristle and good old-fashioned greenwashing – the exhibitors include BP and Shell – the itinerary promises a few interesting discussions. Indeed, one which caught my eye might sound dry to casual observers, but it poses a question that will be fundamental to Scotland realising its net-zero ambitions: namely, how do we deliver a net-zero GB electricity system by 2035? The short answer is with considerable difficulty.
Last year, the UK Government unveiled what it described as a "major acceleration of homegrown power" to ensure Britain can become increasingly energy independent, while relying on cleaner and more affordable sources. The plan included an upscaled ambition for offshore wind, with a target of generating 50GW by 2030, and a fivefold increase in solar capacity. The Scottish Government, for its part, has its own lofty targets, including a goal of generating between eight and 11GW of offshore wind in Scottish waters by the end of this decade, and the deployment of 20GW of onshore wind by the same date.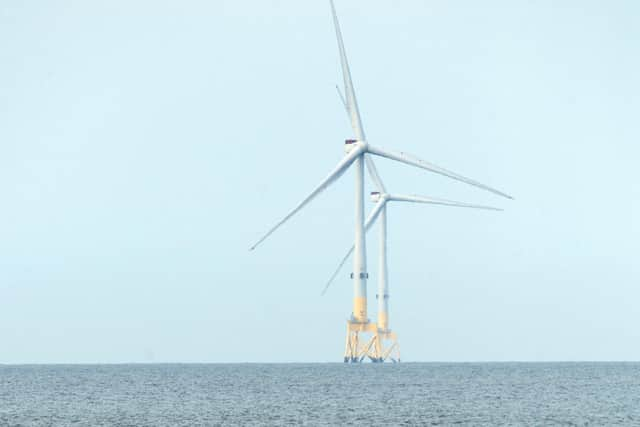 These are grand aspirations, but there is one glaring problem. Many of the developers actually constructing renewable energy projects are facing inordinately long waits in order to have them connected to the UK's electricity grid.
The backlog is staggering, with around 200GW worth of pending connections in what is known as the transmission entry capacity (TEC) register, a database maintained by National Grid ESO, the private company which operates the GB-wide electricity system. This pipeline grows increasingly clogged by the day. In the 12 months to October 2022, the cumulative potential capacity of new connection requests totalled around 164GW.
What this means, in practice, is that developers are stuck in queues. Waits of several years for connections are not uncommon, and some wind farms have been given dates of 2035. One contact I spoke to last week said they were expecting a connection date of 2037 for a project that has already received planning approval and financing.
All of this may sound like a dull transmission infrastructure issue, and that may explain why it does not generate headlines. Until it is solved, however, it not only poses a significant, and arguably fatal, impediment to our efforts to shift away from fossil fuels, it also jeopardises efforts to decarbonise our economy.
For example, look at ScotWind, a major offshore wind leasing initiative that has been hailed as a transformative step in Scotland's journey towards net zero. While the majority of its projects have initial connection agreements in place, only some have been given a target connection date of 2030, and even then, National Grid ESO has said that only "some of the capacity of certain projects" will be connected by that date. An update is expected soon on how and when the full portfolio of ScotWind renewable projects will be connected, but as things stand, progress is glacial.
Indeed, even if targets are met, and the projects earmarked for connection by 2030 are linked up by the start of the next decade, it will mean 11GW of offshore wind from the ScotWind leasing round will be surging through the grid. It is an impressive figure in isolation. Less so when you consider the fact that the total new generating capacity of ScotWind is 27.6GW.
Or how about another big-ticket project? Berwick Bank wind farm, currently being developed off the coast of East Lothian, is the largest such project anywhere in the UK. It has the potential for up to 4.1GW of installed capacity, and aims to begin delivering the first energy from 2027. But here's the rub – under its agreement with the grid, it won't be fully connected until 2031.
National Grid ESO has promised that things will improve through what it calls its holistic network design. It represents one of the largest investment plans in critical electricity transmission networks since the 1950s and 1960s. This is inarguably true, and the money being spent – £54 billion and counting – is considerable. Yet such a statement reveals more about the historic lack of investment in energy infrastructure than anything else.
In truth, the grid has been set up to allow for the connection of a few power plants every year, and those responsible for its operation have focused on the stability and security of supply. It is a system ill-equipped for the pace of acceleration we are seeing in the renewables sector, and the knock-on effect of every delay means that the cost of investment is higher than it should be.
According to Scottish Renewables, the scale of investment required is unprecedented. It has said the transmission network in the north of Scotland needs to double in size by the middle of this decade, triple by 2030, and increase by five to six times by 2050 if it is to support net-zero targets.
Given such issues are reserved, what is the UK Government planning? Well, Andrew Bowie, the parliamentary under-secretary of state for energy security and net zero (as well as the Conservative MP for West Aberdeenshire and Kincardine), has said that a "connections action plan" will be published this summer, setting out how the UK Government, Ofgem, and network companies will accelerate the connections for renewable energy.
Its proposals will have to be bold, far-reaching, and achievable, while acknowledging the urgency of the situation. Otherwise, those net-zero targets, which are already in doubt, will prove out of reach.
Comments
 0 comments
Want to join the conversation? Please or to comment on this article.