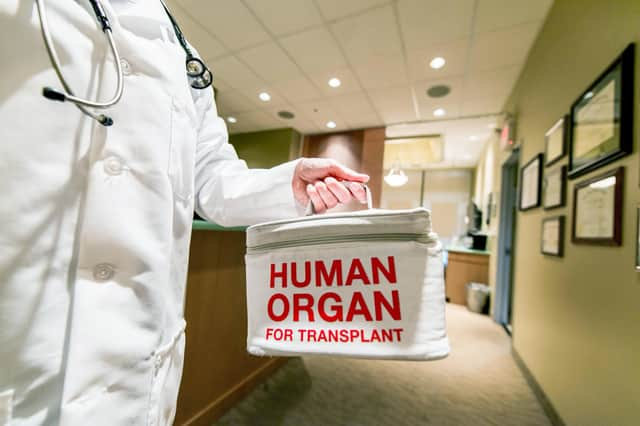 From March 26, a new organ donation law will introduce a system of deemed authorisation for organ and tissue donation for transplantation purposes, but people can still opt-out if they wish (Picture: Getty Images)
The statistics around organ donation are sobering: every day three people in the UK die waiting for a lifesaving transplant. You are five times more likely to need a transplant than be able to donate, and only one per cent of people die in circumstances in which they are able to donate their organs.
As a consultant in intensive care, I am very familiar with these stats and see the need for organ donation every day.
I became aware of the need to promote awareness about organ donation particularly in the black, Asian and minority ethnics (BAME) communities more than a decade ago and have been working with NHS Blood and Transplant, and Kidney Research UK, ever since to encourage conversations amongst diverse faith and ethnic groups about addressing the serious gap between the transplant waiting lists – a third of patients are from BAME communities – and the organ donation list, on which fewer than seven per cent are BAME.
I was organising the first Faith and Organ Donation seminar in Scotland when I noticed my own sight was failing. Within months, I was told my sight would progressively decline if I did not receive corneal transplants. The thought of losing my sight completely was harrowing, given my occupation.
I realised I had become one of the statistics I often quoted at outreach events. Thanks to the generosity of two extremely brave families, I received my sight-saving transplants in 2015.
There was a brief period when I felt uncomfortable continuing to participate in the outreach work because my motives seemed less altruistic. I was one of those people who needed a transplant.
However, it was staggeringly obvious that much work needed to be done to encourage conversations about donation so someone like me could continue to work in intensive care, drive and live normally.
That's why it's so important to be think about Scotland's new organ donation law. It will change on March 26 and will provide a system of deemed authorisation for organ and tissue donation for transplantation purposes.
People can formally "opt-out" of being organ donors if they wish, but it formalises conversations with family members and places a "duty to inquire" obligation on healthcare professionals to ascertain the patient's latest views on donation and ensure that donation does not proceed if it was against the latest views of the donor.
This new legislation is being put in place to protect the interests and wishes of the individual far more robustly than before, and it emphasises the importance for people to discuss their wishes on organ donation with their loved ones.
There is a gap between intent and action – more than 95 per cent of people in Scotland support organ donation but 50 per cent are on the organ-donor list. We want to see conversations around organ donation become the norm, to harness a sense of collaboration, forge new relationships and provide a deeper understanding of the views and needs of our ethnically diverse society to continue to save lives and give hope.
Dr Radha Sundaram is a consultant in intensive care, and clinical lead for organ donation with NHS Blood and Transplant in Scotland
A message from the Editor:
Thank you for reading this article. We're more reliant on your support than ever as the shift in consumer habits brought about by coronavirus impacts our advertisers.
If you haven't already, please consider supporting our trusted, fact-checked journalism by taking out a digital subscription.