Scotland's offshore wind scandal: Potential loss of billions of pounds in ScotWind licensing can never happen again – Brian Wilson
Around Scotland's coast, there should be a mood of optimism about an impending boom in offshore windfarms. Twenty licences have been granted and this could be our biggest growth industry since North Sea oil.
Their case is that these licences were sold far too cheaply and with inadequate safeguards against work being exported. Is the opportunity for a "second industrial revolution" slipping through Scotland's fingers? The current answer is "probably".
Devolution of the Crown Estate in 2018 meant that Crown Estate Scotland, effectively a branch of the Scottish Government, conducted its own auction. Their approach sounded virtuous – cap the cost of licences in return for supply chain commitments. The Crown Estate elsewhere adopted a highest bidder approach which secured far more than anticipated. The Scottish process was then paused for nine months, tae think again.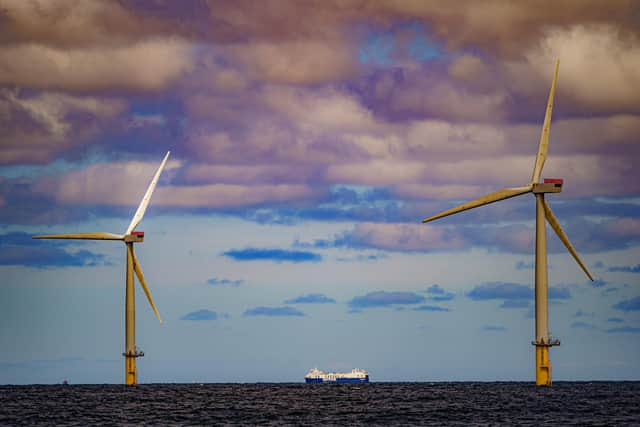 Roseanna Cunningham, then Scottish Government minister in charge, said: "In light of the significant changes that we are now seeing in the wider UK offshore wind market, ministers have agreed it would be sensible to review our leasing process." Indeed! The outcome was to multiply the "cap" ten-fold to £100,000 per square kilometre.
There has never been an explanation of who advised them to set the absurdly low figure to start with or indeed whether the revised one was much nearer the mark, compared to auctions elsewhere in the world. Common Weal says: "Had ScotWind raised as much on a per MW basis as New York Bight, Scotland would have raised £16.4 billion in a single payment. Had it matched the performance of the recent English auction, it may have raised up to £28 billion in annual payments across up to a decade."
The figures can be argued over and not all locations are the same but the comparisons are persuasive that Scotland got itself an extremely bad deal – unless the other side of the coin, about supply chain commitments, was set in stone. It wasn't and there is a distinct possibility of ending up with the worst of both worlds. We didn't maximise the money and the commitments are no more enforceable than elsewhere.
In April last year, the Scottish Government banked £750 million from the ScotWind leases. It is still a considerable sum, even if it might have been ten or 20 times more. It was a golden opportunity to do themselves what they love doing to local authorities by ring-fencing every penny of that £750 million for infrastructure investment to maximise the ScotWind opportunities.
They refused to do that and the £750 million windfall disappeared into general expenditure, never to emerge in any identifiable form. And of course, since devolution ends in Edinburgh, there was no prospect of Crown Estate revenues going direct to coastal communities where investment is needed if offshore wind is to be as transformational as it could be.
In short, it is another huge mess in the making. The place to debate that prospect is not in think-tank reports or even newspaper columns. What is the Scottish Parliament for if not a full-scale debate in which the current state of the ScotWind programme and its potential for Scotland can be probed in full public view and the government forced to spell out a coherent strategy?
What do they expect to happen and where? What investment is needed and where? What needs to be done to maximise the Scottish and UK content, as the Offshore Supplies Office did for the oil and gas supply chain in the 1970s?
This cannot be allowed to drift along with piecemeal "good news" announcements, while the big stuff goes abroad. It needs a strategy which only government can drive. What is it? Whether we were heavily short-changed for the licences is history, which should certainly be investigated, but the future matters more and Scotland must demand answers before it is once again too late.
Comments
 0 comments
Want to join the conversation? Please or to comment on this article.