Scotland's new football anthem Yes Sir, I can Boogie means the score is Eurodisco 1, Eurosceptics 0 – Aidan Smith
Suddenly the kids were wailing "Dad, can we have our tea?" and before I knew it this had turned to uncontrollable sobbing: "Dad, put us to bed, please!"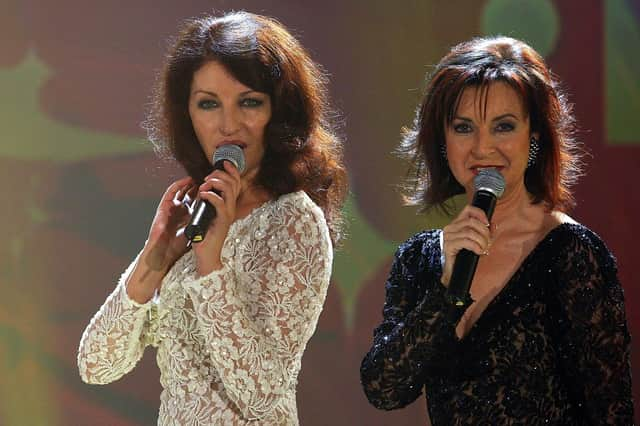 Where did all the time go? The thing is – and you know the sensation, I'm sure – I'd fallen down a YouTube rabbit-hole. Headfirst and at speed. One hundred and twenty beats per minute, to be precise. Thankfully there was a soft landing: chiffon and shimmery silk and a mountain of feather boas. I'd come round right back where I started: the Top of the Pops dressing-room of Baccara who were just about to go out and perform – one more time for the people – the hoary disco floor-filler Yes Sir, I Can Boogie.
How had I got there? A momentous Scottish victory at football, that's how. I didn't know there were so many versions of the song. But then I didn't know our national team were going to qualify for the finals of a major tournament for the first time in 22 years.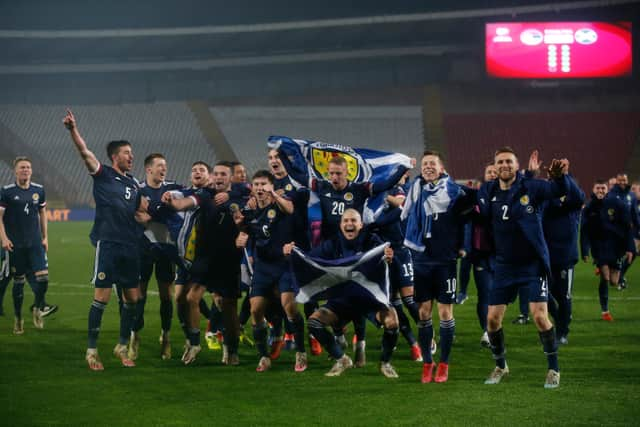 Bizarre and bonkers choice
Last Thursday after the dramatic penalty shootout against Serbia which clinched our place at next summer's European Championships, the Scotland team celebrated with a raucous rendition of Yes Sir, I Can Boogie. The players formed a huddle and bounced up and down. It was a beautiful moment – we don't get many in Scottish sport, so they're to be cherished – but also one of some strangeness. What a bizarre and bonkers choice of tune.
Well, bizarre and bonkers if you're a music snob, which I confess to have sometimes been. If there was such a thing as good disco – a moot point – this wasn't it. 1977's Yes Sir… was cheesily naff (and naffly cheesy). It was Spanish (and please sir, what exactly has been that country's contribution to pop?). It was a grab-a-granny ditty sung by two women who looked like your mum (though that can be read as a compliment – my mum was beautiful).
The song was the musical equivalent of the airport-shop donkey complete with sombrero, a bullfighting poster crumpled on the flight home or 200 duty-free Embassy Regal in a special sleeve, "Adios, Espana". Naturally, the lyrics rhymed boogie with "woogie", although this kind of came out as "voogie". Naffest of all was the breathy intro, suggestive of a knee-trembler round the back of a Torremolinos discotheque, not the desired image when you'd earlier been thinking about your mother.
Cummings and Cain
But Yes Sir... as performed by a bunch of sweaty, delirious footballers had a weird effect and it was easy to get carried away in the moment. Revelling in the celebrations after the final whistle in Zagreb, Pat Kane, the popster-turned-political activist, tweeted: "Scotland rejoins Europe. Stage 1." Then, just a few hours later, Dominic Cummings and Lee Cain quit Downing Street.
If you were to have asked passionate Remainers like Kane how Stage 2 might best be effected, then the break-up of No 10's Vote Leave lads' cabal and the departures of the two hardest Brexiteers would have been right up there. At the very least now, in the wake of all the bullet-headed aggro from this pair, the predictions are for the mood-music from Westminster to turn more mellow.
Can Ryan Christie, scorer of Scotland's goal on the night who gret most joyfully in his post-match interview, take any credit for this? Can penalty-stopper David Marshall? Can Mayte Mateos and Maria Mendiola, alias Baccara? Oh yes, I think so. One duo has eclipsed another. This score just in: Eurodisco 1, Eurosceptics 0.
I reckon that Cummings studied the algorithms, counted the sweat globules popping on Cain's napper, and decided: "Nah." Hairless like his accomplice, he feared them being engulfed by the Farrah Fawcett flicks of Mateos and Mendiola and the C U Jimmy wigs of the Tartan Army as both the Scotland support and the Spanish duo rode the wave of their surprise joint rejuvenation.
Cerebral historian a big fan
Before last Thursday, our footballers had wondered where their next elite tournament was coming from – just as Baccara, who actually went their separate ways a few years after hitting No 1 right across the continent, must have been anxiously checking their diaries for upcoming gigs. But any moment now I expect Mateos and Mendiola to reform and announce a full Scottish tour for 2021 culminating in a 14 June performance on the pitch at Hampden Park before Scotland's return to big-time football against the Czech Republic.
Eurodisco may have been easy to mock and Baccara among it's most mockable exponents but just don't tell that to Simon Sebag Montefiore. A journalist turned up at the home of this author of "fiercely cerebral works of history" and was surprised to hear Yes Sir, I Can Boogie belting out of the speakers. It turned out the song had been a favourite accompaniment during the completion of the epic studies of Stalin and Catherine the Great. And when the history of 1977 is written about, no one recalling how ex-beauty queen Joyce McKinney was accused of manacling a Mormon to a bed for sex can avoid mentioning that the tune topping the UK charts that week was you-know-what.
My lost night on YouTube turned up covers by Sooty's sidekick Sweep and Simon Cowell's glove puppet Louis Walsh, the latter for a chocolate commercial. Too-cool acts like Goldfrapp and M.I.A. have paid homage to the song. Sophie Ellis-Bextor performed it on a TV show called Guilty Pleasures and Johnny Rotten and Sid Vicious danced to it during their last-ever British gig, a benefit for striking firefighters.
But all of them pale next to the team wearing dark blue. It's the new unofficial Scottish anthem, and who knows, maybe a song for a new Europe as well.
A message from the Editor:
Thank you for reading this article. We're more reliant on your support than ever as the shift in consumer habits brought about by coronavirus impacts our advertisers.
If you haven't already, please consider supporting our trusted, fact-checked journalism by taking out a digital subscription.
Comments
 0 comments
Want to join the conversation? Please or to comment on this article.