Scotland's Gender Recognition Reform Bill row was more than 25 years in the making – Susan Dalgety
A life-size, black-and-white photograph of a middle-aged man, dressed casually in a button-down shirt and jeans, is on prominent display in the foyer of the Scottish Parliament.
There is no name attached to the image, simply the legend 'LGBT+ equality' and a button to press to find out more. The man is Dr Tim Hopkins, computer scientist, veteran gay campaigner – and, over the last three decades, one of the most influential people in Scotland. Yet he remains largely unknown.
His friends and associates describe him as a lovely person, and credit him with changing the lives of a generation of Scots, not without justification. He was a founding member of the Equality Network, Scotland's leading LGBT charity, in 1997 and remains its director today.
He was at the forefront of such major changes in policy as same-sex marriage, introduced in 2014, and the repeal of Section 2A – the Tory law that banned councils from "intentionally promoting homosexuality", a full three years before the ban was dropped in England and Wales.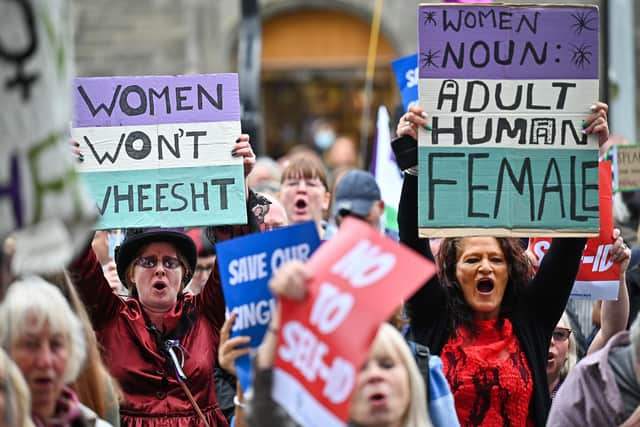 But his biggest legacy may be rather less positive. His influence on government policy – in particular on transgender rights – may be about to change the fortunes of a First Minister who, until a few weeks ago, was seen as indestructible. Long before Stonewall, arguably the UK's leading equalities charity, extended its remit to include the transgender community and began its campaign for gender self-ID in 2015, Hopkins and his colleagues were laying the groundwork for Scotland's controversial Gender Recognition Reform Bill.
The journey began in 1997 in the centre of Edinburgh, where Hopkins and fellow activists hosted a national conference on LGB equality, under the banner 'Equality for All'. That meeting – where transgender issues had equal billing with lesbian rights – was the first time a leading LGB group anywhere in the UK decided to be "trans inclusive in all its work".
Two years later, the Equality Network published its manifesto for the new Scottish Parliament, 'Equality at Holyrood', which, among other changes, called on all public bodies to "adopt effective non-discrimination policies which include… gender identity". A sentence that would, two decades later, result in the Scottish Prison Service policy that saw double rapist Adam Graham being sent to Scotland's only all-female prison. The 1999 manifesto also called on the new Scottish Parliament to legislate to allow transgender and transexual people to register their gender identity for legal purposes.
And so began Hopkins' charm offensive on behalf of the transgender community. He cemented close working relationships with a succession of civil servants, particularly those in the government's Equality Unit, and briefed many of Scotland's new parliamentarians on LGBT issues. His influence extended across the charity sector too, so when Stonewall set up its Scottish branch in 2000, it included the transgender community in its remit, 15 years before its parent body in London.
Scotland's first trans youth group was established in 2001 within the wider LGBT Youth Scotland campaign, while around the same time the Sandyford Clinic in Glasgow established its first structured service for transgender people. And the Equality Network worked closely with Scottish civil servants in the run-up to the UK-wide 2004 Gender Recognition Act, which allowed trans people to change their legal documents to reflect their new identity.
The following year, Hopkins and the Equality Network organised a dinner where they lobbied civil servants for "trans-specific" funding. And little more than year later,, Hopkins had secured cash for the Scottish Trans Alliance (STA), which to the this day remains part of the Equality Network. The Scottish Government made history by becoming the first national government in Europe to fund a trans organisation.
There followed a decade of behind-the-scenes lobbying, set out by James Morton, the first head of the Trans Alliance, in his essay in Trans Britain, a history of trans activism, published in 2018. As well as persuading the Scottish Prison Service to accept trans women prisoners as women, STA worked closely with women's organisations such as Engender to convince them to be trans inclusive. Today, the head of Edinburgh Rape Crisis is Mridul Wadhwa, born male, but who now identifies as a woman, and the First Minister points to Engender's support for self-ID as 'proof' that women back her on gender reform.
Following the 2016 election, the Scottish Government began work on its now controversial Gender Recognition Reform Bill, and Hopkins and the Trans Alliance were heavily involved in shaping the legislation. As a civil service document from February 2017 shows, the STA's key demands were self-ID, reducing the minimum age from 18, and legal recognition for non-binary people. They may not have won the argument on non-binary, but only 20 years after that first Equality for All conference, trans rights were mainstream. Hopkins had won, but at what price?
As the Bill lingers uselessly in the UK Government's in-tray, blocked because of its likely impact on the Equality Act and women's single-sex protections, public opinion has hardened against gender reform. And the First Minister's future suddenly looks shaky as she struggles to put forward a coherent argument for self-ID. Even a simple question such as "is a double rapist a man or a woman?" leaves her struggling for a coherent answer.
No doubt Hopkins is offering his civil service allies advice on how best to rescue the gender bill that he helped shape. He may even be offering support to ministers and backbench MSPs. But if Nicola Sturgeon wants to protect her position – and her legacy – perhaps it is time she started listening to the people of Scotland rather than powerful insiders.
She could do worse than start by talking to the grassroots women campaigners whose views she has studiously ignored and dismissed as "not valid". They may have had to protest outside the parliament instead of being lauded inside it, but as recent events have shown, they were right all along.
Comments
 0 comments
Want to join the conversation? Please or to comment on this article.