The irony of a clutch of dignitaries travelling to Turkey to celebrate a milestone in the building of a CalMac ferry will not be lost on islanders. The purpose of this mission was to offer reassurance that everything will be fine by 2026, or maybe 2025 if you live on Islay.
This came in a week when further routine disruption was visited upon the islands by breakdowns and maintenance delays. For good measure, Caledonian MacBrayne apologised for the chaos surrounding an £18 million booking system which has been ten years in the making.
To those at the sharp end, 2026 seems a long time away. While the efficiency of Turkish shipbuilders can be admired and envied, that scarcely addresses the question of what happens between now and them. Yet the same message was repeated by the latest waste-of-space transport minister, Kevin Stewart, on a day trip to Uist. Asked about compensation for businesses pushed to the edge of a financial cliff, he replied loftily that his focus is on providing "resilient ferry services for the future".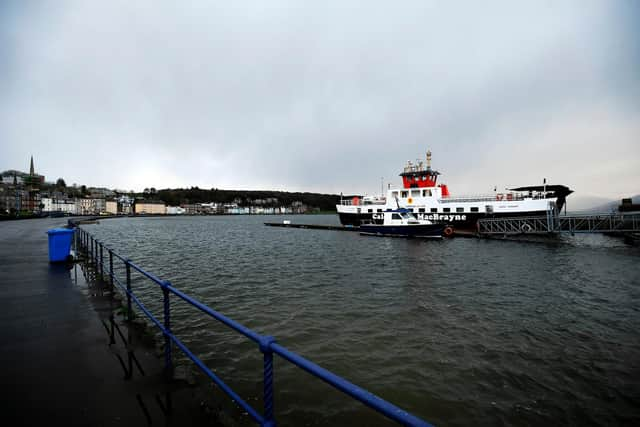 Mr Stewart added mysteriously: "I think folk understand that to a degree." Personally, I don't know any folk who see compensation for businesses that might never see 2026 as an alternative to providing ferries in the future, rather than as complementary to that obligation.
The plot thickened with the revelation that the Scottish Government has imposed fines on CalMac of £4.5 million over the past 18 months for failing to meet the terms of its contract with Transport Scotland. This is truly Kafkaesque.
When the SNP came into government in 2008, CalMac were obliged to pay just £35,000 in penalties for such breaches. By 2022, it was over £2 million a year. In other words, the figure has soared in correlation to the ageing of the fleet and inevitability of breakdowns.
The sole reason for this has been the failure of the Scottish Government (of which Transport Scotland is part) to provide the vessels required to run a reliable service. How can it possibly make sense to penalise the operator while those responsible remain entirely unscathed and the Scottish Government claws back £4.5 million?
The very least that can be done is to use that money as a resilience fund to support businesses which have suffered demonstrable losses due to failures which come right back to the door of the Scottish Government. This self-funding mechanism would offer modest recognition of just how damaging this saga continues to be for fragile island economies.
While there is no money for compensation, there is always plenty for consultants. So we learn that the Scottish Government is to spend £5 million on two firms who will design the contract to operate ferries once the current CalMac contract runs out in 18 months' time. This is another piece of profligate madness.
The fiction of competition to provide these services was supposedly created in order to satisfy EU regulations. This led to a separation of operations from infrastructure and the creation of a new quango, CMAL, to build and own the ferries and harbours. The legalistic theory was that anyone could then compete to become the operator.
I never believed the impetus for this disastrous structure came from Brussels rather than Edinburgh but the certainty is that we are no longer in the EU and there is no need to retain it. Indeed, the Scottish Government paid another lot of consultants, Ernst & Young, to offer alternatives, which will probably lead to the re-merger of CMAL and CalMac.
Why they are contributing another £5 million to the Edinburgh consultancy trough before that structure has even been confirmed is beyond comprehension and is, of course, utterly unexplained. By Transport Scotland standards, £5 million may be the merest drop in the bucket but that culture needs challenged.
Public interest in Scotland's ferries scandal has rightly focused on the debacle at Port Glasgow and the litany of distress to which it has contributed. However, these are also symptoms of something more fundamental – the staggering, sustained incompetence of Transport Scotland, without any political sanction or accountability.
As £1 billion shortfall looms, Scottish Government has a frightening lack of ideas to improve economic growth
The Scottish Fiscal Commission has warned the Scottish Government is heading for a £1 billion shortfall over the next year with worse to follow. This collision with reality will not be a pretty sight.
Already, all sorts of commitments are being quietly shelved. Capital spending will fall by 14 per cent in real terms within four years. The devolution of benefits will result in an additional spend of £1.3 billion a year. The Finance Secretary, Shona Robison, promises to put Scotland's finances "on a more sustainable path".
How is this to be done? Ms Robison advanced only one idea and it came as no surprise. "Scotland", she said, "already has the most progressive tax system in the UK. Ensuring that the burden of taxation is placed on those who have the broadest shoulders will continue to be the cornerstone of our approach."
That does beg the question: "How many shoulders and how broad are they expected to be?" Before standing down, John Swinney acknowledged that differential income tax rates in Scotland had been taken to their limits. So what has changed in a couple of months?
Scotland's fiscal problem lies in the stagnant economy which shows no sign of improving. The absence of ideas to face our challenges through economic growth, rather than higher taxes, is frightening for the future and nothing Ms Robison said brought optimism.
Without political leadership that changes the current script, taxes will go up but the spiral will continue to be downwards. We need something better than that to look forward to.