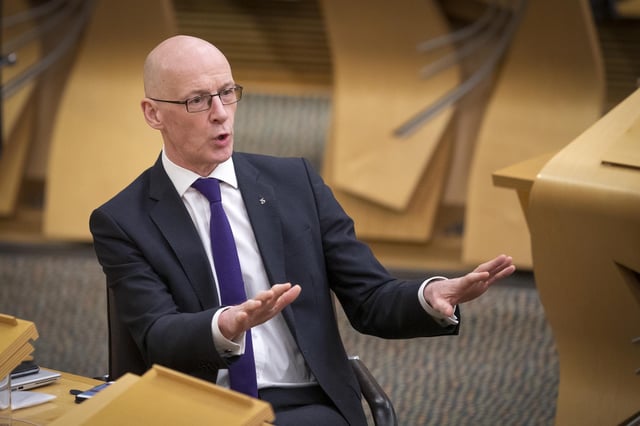 John Swinney knows what can be achieved if entrepreneurs are given the support they need, says Jim Duffy (Picture: Jane Barlow/PA)
That word is... entrepreneurship. And right now, Scotland is possibly at its lowest ebb in being an entrepreneurial nation, a nation that is pumped about new business creation, investment, mentoring and not silo-ed in little incubation centres across this small country.
I am failing to spot any real entrepreneurship policy emanating from the Scottish government that gets me jazzed up. Not even a few headline-grabbing punchlines.
It feels all washed out. A bit like an 80s' supergroup trying to make a comeback but the PR has fallen flat. The fans are just not there any more and the record label is pulling the plug.
But, as we emerge from our lockdown cocoons, there is always hope. Despite setbacks and inertia, Scotland could fast-track more exciting policies that give hope and a pathway to becoming a more entrepreneurial nation in the next 50 years, independent or not.
There was a period about five years ago when Scotland was truly on top of its game as it fostered, funded and promoted entrepreneurship. Looking back at that time, I felt that we had something special going on. I was part of it, albeit a small player.
We were on the precipice of truly creating a joined-up network of entrepreneurs, local authorities, Scottish government and big business. A great deal of stuff was created that was focused on entrepreneurs, business start-ups and, oh yes, the scale-ups too. But that has not worked so well, eh?
However, at least there was such a concerted effort by so many that we almost hit a tipping point, where entrepreneurship was being taught in schools, fostered in universities, supported by banks, mentored by top serial entrepreneurs and, most importantly, with the Scottish government right behind it – but not getting in the way.
I recall many chats with senior Scottish government ministers and officials on gearing up Scotland to be a top-notch entrepreneurial nation. I loved Deputy First Minister John Swinney's attitude to it all.
Ostensibly, government listens to the action-takers in the room, oils the wheels to let them loose on doing great stuff, and then gets out the way so they can make real progress.
In short, the policy was get 20 highly motivated, smart, high-energy, driven people from entrepreneurship, government, universities and business in a room who all wanted to make a difference and give them the support to crack on.
I witnessed amazing stuff happening with so many organisations taking part. Trust me when I tell you the energy was fever pitch with Scotland's start-ups and early stage ventures being put front and centre. So what went wrong?
Well, nothing that cannot be fixed. I have no doubt that personality, ego and politics got in the way. You know how it works right? But, while some vied for top spot and to try and own the "space", all that did was dampen enthusiasm. Why? Because the Scottish government then believed that all was OK, it was in safe hands and their policies would purr away.
Wrong. It simply faded away into obscurity. I think the language I would use to describe it today is "boring". And that is why perhaps now would be good time to put entrepreneurship back on the agenda.
But this time, do it right and with a ten-year plan to ensure sustainability. However, to do all of this and spark it back into a tornado of activity takes more than just a few folks working together. What we need is a leader, a firecracker, a whirlwind, a trailblazer, an individual to get it by the scruff of the neck, shake it and stand on a few toes.
It will not feel comfortable for many who have adopted entrenched positions. It might not even feel comfortable for guys like John Swinney, who knows exactly what I am talking about and also what could be achieved. The question is, who from the Scottish government wants to get back in the hot seat and who out there wants to rattle the entrepreneurship landscape cage?
Now let's move on a bit. What if Scotland does become independent? Whichever politician takes us into that new reality had better make sure that entrepreneurship is a big agenda item.
Why? Because if it is not, Scotland could lose a whole generation of talent and jobs to other countries that promote and support entrepreneurship. And don't just do it for a headline in the papers, but as part of a long-term strategy weaved into business creation, social impact, jobs and education. Perhaps an entrepreneurship tsar or something like that. I have many ideas and I bet you a Scottish pound that lots of other people do too.
In valediction, I wonder if the Scottish entrepreneurial landscape is simply moribund now. It just ticks along and every now and then someone at the coalface raises a hand to make a point, but the powers that be shut it down as they prefer the boring status quo.
In short, it's become mind-numbingly politically and operationally ceased up. Perhaps, we peaked a few years back and, like an ageing boxer, there is no motivation to go to training and work hard anymore in the gym. That's my perception anyway. I'm happy to be proven wrong.
A message from the Editor:
Thank you for reading this article. We're more reliant on your support than ever as the shift in consumer habits brought about by coronavirus impacts our advertisers.
If you haven't already, please consider supporting our trusted, fact-checked journalism by taking out a digital subscription.