The turning point for the country, or so it was claimed, was the decision by Wyeth – one of the world's largest, research-driven biopharmaceutical companies – to locate its new, multi-million-pound research centre in Aberdeen. And if that wasn't enough, Scotland's pavilion at the convention was said to be the same size as England's. Its networking reception at Soldier Field stadium – home to the Chicago Bears American football team – attracted more than 500 scientists, entrepreneurs, and financiers.
Earlier this month, the annual Scottish Life Sciences Dinner was held at the National Museum of Scotland and many of the veterans of Chicago would have been there, shaking the same hands, talking the same talk, planning the same assault on the world stage. Only today, the talk of Scotland as a life sciences beacon is a little more mute, the plans a little more modest, the scale of ambition, somewhat reduced. For, despite bold assertions that the industry, together with renewable energy, would be a future bulwark of the Scottish economy, it has never quite materialised.
When the then First Minister Alex Salmond officially opened the Wyeth Protein Therapeutics Laboratory at Aberdeen University's Foresterhill campus, he trumpeted a series of seemingly impressive statistics that would be repeated many times. "Life sciences is one of Scotland's key industries, employing more than 30,000 people and contributing £3 billion to our economy, and it is growing 15 per cent faster than the average European growth rate," he said.
But behind the rhetoric was a good deal of wafting of smoke and angling of mirrors. Ministers and agencies such as Scottish Enterprise – which funded the Wyeth lab to the tune of £1 million – were keen to push life sciences as a sector that would help to compensate for the decline of the oil industry. But the Scottish Government was never particularly well informed about its scale or potential.
Ministers repeatedly claimed there were 30,000 people employed in life sciences, but that figure referred to the number of payslips for everyone in the sector, from the chief executives of major companies to university janitors. The reality is that, at the time, there were only around 500 scientists working at a senior level on meaningful projects.
According to Scottish Development International, there are now 41,000 people working in 700 life sciences organisations, but still, those statistics are not quantified by seniority or by the value or quality of work being done. More meaningful is the number of high value-jobs in the sector, and the number of successful start-ups, launched either by Scots or people who came to Scotland to study and opted to stay, to launch life sciences businesses. While there are some notable exceptions, by neither measure has the reality matched the sunny upland promises of the early noughties.
Rishi Sunak believes the UK can become a life sciences "superpower" and, for that to happen, Scotland must play its part. But there continues to be limiting factors likely to frustrate that ambition north of the Border. Much of the talent continues to come from three universities – Glasgow, Strathclyde and Edinburgh – whose current output is commendable but there's a limit to the number of people they can pull through.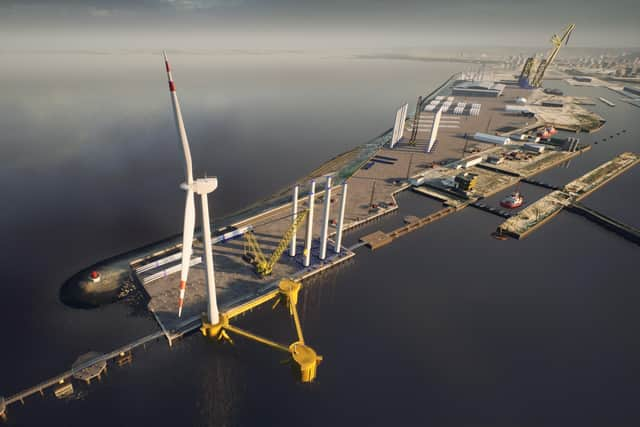 There is also the issue of how we retain skilled and talented people who come here to study, but opt to return to their home countries after graduating. Many are lured by more attractive and lucrative offers from companies located in the US and the Far East as well as in the UK 'golden triangle' of Oxford, Cambridge and London.
To compete globally, Scotland must do more to hothouse start-ups, as well as attracting established life sciences companies to locate parts of their operations here. A £1 million 'golden hello' from Scottish Enterprise might be enough to attract a research lab but what about the production facilities and manufacturing plants requiring skilled workforces in high numbers?
Already there is evidence that freeports will be the future stamping ground of life sciences companies, which need to import components from around the world but who don't want to have to jump through regulatory hoops every time they order a box of test tubes from overseas. England is already stealing a march on Scotland with plans for freeports, in various stages of planning, at East Midlands Airport, Felixstowe and Harwich, Thames, Teesside, Humber, Liverpool, Plymouth and South Devon, and Solent.
The Scottish Government long resisted the idea of freeports, fearing they would encourage tax avoidance and lower regulation, instead opting for a model of 'green freeports' for Inverness and Cromarty Firth, and the Firth of Forth, based around low-emission industries and fair work practices. Despite a promise of up to 75,000 high-quality jobs, along with £10.8 billion of private and public investment, there is disagreement between the SNP and the Greens over how the areas should be developed.
While the Scottish Government dithers, I know of at least one Scottish-based company that is looking to relocate to one of the proposed English freeports as a potential manufacturing base. I hope I am wrong, but I suspect that what we will see over the next year or so, is a number of quiet announcements that Scottish manufacturers are no longer Scottish manufacturers.
Unless Scotland takes advantage of the opportunities available, its life science sector appears destined to live in the past rather than looking to the future.
Ivor Campbell is chief executive of Callander-based Snedden Campbell, a specialist recruitment consultant for the medical technology industry