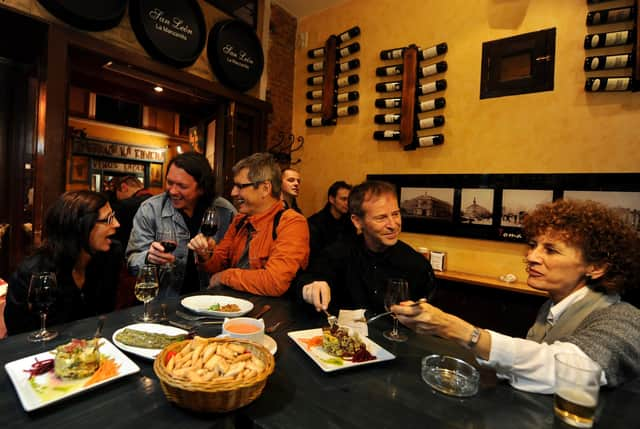 More often than not, the city looks like the last days of Rome, mucky and covered in last night's sick, with drunks urinating in any darkened space they can find. That joy is followed by crowds piling into a kebab shop, getting into a fight, and falling over each other into a taxi or, worse, shouting abuse at one another on the bus home.
All of that would be tolerable if not for it being a regular sight on an ordinary Friday and Saturday in the city centre. Edinburgh, like most other Scottish cities, is wrapped with a tangible fear factor that makes it impossible to walk anywhere comfortably on 'busy evenings' (a pleasant euphemism for bacchanalian takeovers).
This is not to indulge some Puritan streak or pioneer a revival of the Temperance movement. Scotland's drinking culture is killing us slowly, partly because there is nothing to mitigate or replace social drinking. You have limited options in the evening beyond pubs if you want to go out with friends and install yourself for hours to catch up. Even if you go for dinner, drinking is almost a depressing inevitability with the absence of late-night alternatives to bars.
Andalusia, Spain, may have part of the solution. While Spanish food in Edinburgh is on the pricey side, go to most bars in the south of Spain and drinks are accompanied by complimentary small plates or tapas. As the influx of British tourists has increased to resort towns like Almerimar, simple tapas of bread, olives, or mini 'ración de jamón serrano' have expanded to meat and fish of proportions we might consider a mini meal.
Alcohol consumption, like in Scotland, is a daily part of life in Spain. There is not the same subversive, machismo peer pressure to drink when out. The expectation of beer or wine with dinner makes it too ordinary to be rebellious. Bingeing is less of an issue, and the biggest difference is the chasm between drinking and drunkenness. Both countries love to eat, and tapas are best ordered for a table to share, helping to 'soak up the booze'.
When asked about the logic of serving food on the house, several bar owners in Almerimar, Spain, replied with a blunt truth worth keeping in mind. Tapas do not need to be good. There is an unspoken etiquette about sending it back or complaining; it is gratis, likely made in bulk, and usually from leftover ingredients. Like salty peanuts in UK bars, the promise of free food between or in lieu of big meals as you drink is a modest investment to keep bums on seats and customers ordering more.
The Spanish eat later; lunch usually kicks off between 2 and 3.30pm. In many places, shops close as the mid-afternoon siesta kicks in between 2 and 5pm, while dinner usually starts around 8.30pm and can go on until midnight. If there is an inclination to 'go out drinking', as there is here, tapas are the middle ground which means you can imbibe in greater moderation for longer with a delayed descent into the scenes we see in Scotland.
If nothing else, encouraging tapas-style culture would tackle food waste in bars and restaurants. Zero Waste Scotland estimates that around 53,500 tonnes of food are wasted from Scottish restaurants each year, costing the Scottish hospitality industry £64 million a year.
This is not to paint the Spanish way as a solution, but there is a comparable appreciation for alcohol. Scotland feels dangerously immature, something anyone who has experienced the fresh hell of A&E on a Friday night will attest to.
Decades ago, the idea of hugely popular mainstream vegetarian restaurants would be hard to imagine, almost as much as the rise of the non-alcoholic drinks market. If the onus is now on people to explain why they do not recycle or why they do not try and be more environmentally friendly, then there is plenty of scope to believe Scotland can beat the pernicious habit of expecting others to drink, whatever the occasion.
Europe, as a whole, is not without its drinking problems. In 2019, one in 12 people in the EU consumed alcohol daily. Liquor is the third leading risk factor for disease and mortality after tobacco and high blood pressure. However, according to one global survey, drinkers in the UK get drunk more than any other nation in the world.
A holistic change of attitudes is entirely possible. If not a wholesale introduction of tapas culture to Scotland, then an embrace of Europe's broader coffee culture would be welcome, too. Edinburgh is prime for the opening of evening and late-night sit-down coffee houses. It would provide precisely the alternative for people who want to sit and talk and enjoy each other's company without cramming into a pub and inevitably drinking.
Supply and demand is the biggest friend of these ideas. Eventually, something will stick that transforms nightlife in the country. Scotland's coffee culture has been expanding for years, but there is so much more which can be done to further integrate it into our future. Imagine a stroll along George Street or down the Royal Mile and instead of late-night mayhem, there are coffee houses and eateries open to the wee hours.
Organic change, while commercially diligent and competitive, could offer something new, radical and better. If and when it happens, we can only hope it receives the support and customer base that such innovations so richly deserve. The drunkenness that we, as a society, too often turn a blind eye to is unimaginative, stale, and a national embarrassment.