Scotland needs to sell itself as a good place to live to the record numbers of migrants in UK | Those responsible for ferries scandal must be held to account – Brian Wilson
Blaming Brexit for a shortage of migrants in Scotland is not good enough
Figures next week will show a record level of net in-migration to the United Kingdom. Just to be clear, that will be a record high, somewhere north of half a million, and not a record low.
Therein lies the biggest con trick in modern political history. Brexit was won on the back of a promise to control borders and reduce immigration. David Cameron and Theresa May vowed to bring it down to tens of thousands. Boris Johnson promised to turn the tide altogether.
Against that background, the actual statistics are a humiliation for the Tories but their problem is worse than that. While half of them fulminate about failure to cut immigration, the other half reconciles itself to the reality of needing more, not fewer, to keep the economy going.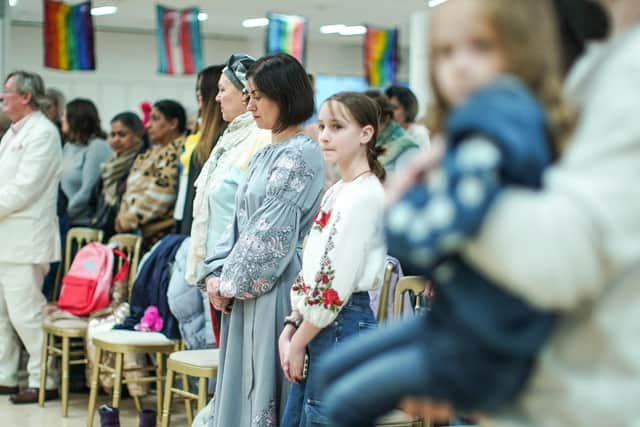 In Scotland, the problem is presented as being all about Brexit. No longer can farmers and hoteliers rely on Poles and Bulgarians to pick the fruit and turn down the beds. That is true and a consequence, which needs to be revisited, of the Brexit folly. However, it is by no means the full story.
If net immigration to the UK has soared since Brexit, why are we not getting our share of it? To employers, it doesn't matter where immigrants come from so long as they are available for work. So why do more of those armed with work visas not head north to our land of waiting welcomes?
Perhaps that is a question our minister for migration could address. I didn't know we had one, far less why, until I heard her interviewed on radio. It was embarrassing. Having recited the Brexit script, she was asked how many immigrants Scotland needs or wants. Ms Roddick hadn't a clue and the interviewer, John Beattie, promised to ask her back when she finds out.
The truth for all parties is that immigration is a tricky policy to get right. It has been a less emotive problem in Scotland mainly because we don't have a lot of them (though if you ask people of Irish descent or the Asian community, the self-image of a historically welcoming land might need revision).
In 2021, more than a third of people in London were foreign nationals. For the UK, the figure was 14 per cent and in Scotland just nine per cent. I suppose when she comes back with a figure, our migration minister might aspire to the 14 per cent average. Whether any consideration has been given to what happens next is doubtful.
As so often, I can illustrate the point through a Hebridean prism. Uist is exactly the kind of place that could do with an injection of inward-migration. In fact, it has been designated as a "repopulation action zone" though you could hardly tell from its treatment over ferries, fishing and sundry other non-joined-up policies.
A report this week (after three years' gestation) concluded that creating jobs is not a priority. What's needed are people to fill them and, crucially, houses to live in. For obvious reasons, nobody will settle where there are no houses. For Uist, read Scotland and think Ukrainian refugees stuck on ships for more than a year.
The islands alone could willingly absorb a few hundred workers, or better still families, if there was anywhere for them to live. There isn't and that is certainly not Brexit's fault. So if we are pinning our economic future on immigration, let's for once put the horse before the cart and start planning the necessary infrastructure.
The immigration statistics make one inescapable point. For most immigrants to the UK, the destination of choice is London and the south-east. That means any scintilla of difference between Scottish immigration rules and the rest of the UK would require internal border controls.
So let's just focus on securing a higher proportion of immigrants who, Brexit or no Brexit, Tories or no Tories, are coming to the UK in very large numbers. Instead of moaning, go out and sell Scotland as an attractive destination. Then make sure there is somewhere for them to live and work.
Ministers and civil servants responsible for ferry scandal must be held accountable
The suggestion that it could cost less to start again than complete hull 802 at Port Glasgow should not come as a shock. The true bill for the two ferries will, I'm sure, hit £400 million. The Cabinet Secretary, Neil Gray, assured us there is no "blank cheque" but that is exactly what there is. It is now inconceivable that future requests for more tens of millions will be rejected.
The story has run so long, with so many sub-plots, that it would be helpful to concentrate on key points in the narrative before the principal villains all slither into safety under cover of confusion and blame-shifting. First, the claim that the order saved shipbuilding on the Lower Clyde is untrue. That would have been done by giving the Ferguson Marine shipyard work it was capable of handling, after listening to the workers. Instead, it was treated by Nicola Sturgeon and her entourage as a political opportunity, ignoring well-signalled risks.
Second and worse, for years nothing was done to address the increasingly obvious implications for the islands. At crucial points, the policy decision was to allow matters to worsen, as they were bound to, as the CalMac fleet aged. This will continue for at least two more years.
These two charges should be prosecuted relentlessly until those responsible – a procession of SNP ministers and senior civil servants – are held to account for the vast sums squandered and damage done to fragile island communities. They must not be allowed to walk away unscathed from a despicable saga of political opportunism and criminal neglect.
Comments
 0 comments
Want to join the conversation? Please or to comment on this article.