Scotland must wake up to the threat posed by disinformation to democracy – Scotsman comment
The Intelligence and Security Committee's report into Russian interference in UK affairs warned last year that Vladimir Putin's regime was spreading disinformation in order to achieve a "general poisoning of the political narrative in the West by fomenting political extremism".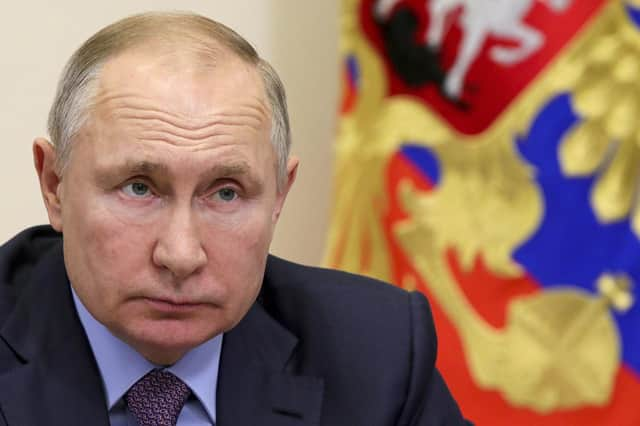 Unfortunately, Putin and co are not alone, with other hostile regimes seeking to undermine democratic society by spreading lies which, even if they are not believed, can still make it seem difficult to tell truth from fiction.
In a democracy, it is vital that people know what is happening so they can make an informed choice on election day, protest – either on the streets or by writing a stern letter to their MP – against things they believe are wrong, and campaign for ways to improve society.
If the facts on which we base our judgements become unclear, the system can break down and allow so-called 'populists' – largely distinguished by their tendency to tell lies and whip up hatred against 'outsiders' – to gain power. And as one populist, Donald Trump, demonstrated, they may try to destroy democracy itself.
The Intelligence and Security Committee's Russia report said rightly that a "foreign power seeking to interfere in our democratic processes – whether it is successful or not – cannot be taken lightly; our democracy is intrinsic to our country's success and well-being and any threat to it must be treated as a serious national security issue by those tasked with defending us".
It noted there were credible suggestions that Russia had carried out "influence campaigns" ahead of the 2014 independence referendum, so it may try again during the Scottish Parliament election campaign.
Now Stewart McDonald, the SNP defence spokesperson, has called for Scotland to start taking this problem seriously, with "democracies and tyrannies alike... spending millions of dollars worldwide on sophisticated disinformation campaigns both domestically and abroad".
"This is way beyond political spin. These are well financed, sophisticated efforts to manipulate electoral outcomes, harass political opponents and drive societal divisions to breaking point – the insurrection on Capitol Hill being one example of what happens when it succeeds," he writes in Scotland on Sunday.
"In Scotland we've been basking in a false sense of security that it couldn't happen here. It can.
"My fellow politicians will tell you that there's an uptick in bot activity on social media. Accounts that have been dormant for years with quite literally zero activity are all of a sudden passionate about Scotland's constitutional future – and they're on both sides of the nationalist and unionist divide, tweeting the same things word for word and sharing the same dubious articles. Who's behind them?"
And for anyone thinking Putin and others are trying to help their cause, McDonald points out that "instead, it's often to create as much chaos, distrust and poison as possible. The issue doesn't matter, it's just about exploiting existing divisions".
Clearly, there is work for our governments to do in preventing disinformation from wrecking our democracy.
But all of us can help provide an antidote to Putin's metaphorical – in this case – poison by being careful about the truth, by doing some basic checking before resharing a social media post that seems to support our arguments, and by refusing to hate our political opponents.
A message from the Editor:
Thank you for reading this article. We're more reliant on your support than ever as the shift in consumer habits brought about by coronavirus impacts our advertisers.
If you haven't already, please consider supporting our trusted, fact-checked journalism by taking out a digital subscription.
Comments
 0 comments
Want to join the conversation? Please or to comment on this article.