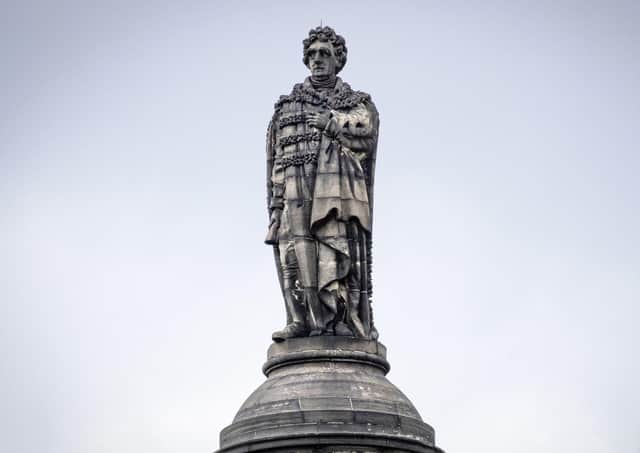 The statue of Henry Dundas 1st Viscount Melville on top of a 150ft column, known as the Melville Monument, stands in St Andrew Square, Edinburgh.
When hard facts and evidence can be so wilfully pushed aside to traduce reputations and historical records in the name of seeking power; when education can count for so little that it is dismissed without a care; when baying groupthink seeks to intimidate into silence those that seek to challenge the edicts of the powerful – then we know Scotland is reaching a new low of intolerance, ignorance and bigotry.
We are witnessing mob violence in Glasgow's George Square that, according to the Scottish Police Federation, is in part due to the failure of politicians to condemn unequivocally protesters breaking lockdown rules.
We are witnessing our school system turning towards a part-time blended learning system of one-and-a-half days a week that will cast a whole generation into educational disadvantage and poverty as a result.
We are witnessing monuments to historical figures across Scotland, from Robert the Bruce to Henry Dundas, being vandalised as any objective reasoning is abandoned for the emotive baying of ignorant mobs.
Last week I presented the evidence that demonstrated – far from delaying the abolition of the slave trade – Dundas first ensured slavery in Scotland was illegal then went on to have the first Bill to abolish the slave trade passed in the Commons. He supported the end of slavery but when a Bill came before the House in 1792 he could not see it gaining a majority for immediate abolition and brought forward amendments that would phase in the abolition by the end of 1799. The Bill was passed and he would have gone down in history as responsible for helping William Wilberforce achieve his goal – but it was defeated subsequently in the Lords and it was not until 1807 that a Bill passed both Commons and Lords to receive assent.
Dundas did not therefore obstruct the end of slavery and it is to stand history on its head to accuse him of such, yet that is exactly what many are doing in seeking to change the plaque on Edinburgh's Melville Column or, worse, have his statue on the top of it removed. Making a grotesque and typically obscene caricature, the Edinburgh author Irvine Welsh compared Dundas to Jimmy Savile, a self-demeaning slur that was an insult to the many victims of the broadcaster who preyed on both the dead and living.
All I see are the same lazy and exaggerated claims being repeated about Dundas with no supporting evidence that abolition could have been achieved any earlier than the Scot obtained. Such is the level of ignorance that now abounds and upon which our cities and our country will be governed by.
It is clear from the tenor of the debate being constructed around slavery that no historical context is to be allowed. Unfortunately, slavery has been the condition of the human species for most of our existence, be it from antiquity with the Sumerians, through ancient times of the Greeks, Persians and Romans, on to the medieval period to just over 200 years ago – and even after then it was still common around most of the world. Slavery existed throughout Africa before white traders arrived on the continent's western shores, enforced already by Arab marauders or by one tribe against another following the outcome of local wars. Also conveniently forgotten is the Barbary slave trade practised chiefly against Europeans by pirate raids from Tripoli, Tunis and Algiers resulting in an estimated 1-1.25 million slaves, before including Morocco – and another 2.5m taken as slaves in Istanbul under the Ottoman Empire. Likewise slavery existed in Asia since records began and more recently in the 20th century there was slavery on a massive scale by the Communist regimes of Lenin, Stalin and Mao.
All of this should researched, studied, discussed and debated so we might learn of past evils and seek to prevent them happening again. Today there are still slave markets to be found, for instance in Libya, which deserve our condemnation and intervention rather than the self-flagellation that dismisses the great strides we have ourselves made and rubbishes those who helped achieve change. Where are the protests about current slavery? How can we expect any examination of our past errors to be made and judgments to be taken if we do not value education and place it at the centre of our life? Scottish education once enjoyed a worldwide reputation for excellence but now the evidence is clear: our standards are regressing comparative to other countries and for many pupils that fall in standards is in absolute terms.
The response of John Swinney has been to delay the publication of an inquiry into Scottish education until after the Holyrood elections next May – a full ten months away – and abandoned the gathering of key figures for reading, writing and numeracy. Both interventions ensure there will be little chance of an informed debate on what is going wrong under his management.
Now, as the Scottish Government seeks to bring us out of the pandemic lockdown, education is not being given the priority it urgently requires. Our government has done little but offer empty platitudes while the children of other countries are getting back to school.
This need not be a partisan issue – both SNP ex-cabinet minister Alex Neil and former Labour first minister Lord McConnell, as well as Conservative leader Jackson Carlaw, have condemned the plans for so-called blended learning.
Criticising the proposals for part-time schooling, Mr Neil said: "That is not good quality education, it's not blending education, it's bleeding education."
Lord McConnell was similarly unequivocal: "This is a crisis every bit as serious as the threat to health in March and the threat to jobs from lockdown. The UK and Scottish governments mobilised on a scale never seen before to save lives and protect jobs. They must do the same now for full-time education."
It is time for our First Minister to stop tweeting about the latest books she is reading and ensure our children are able to read for themselves before we descend further into ignorance and the darkness that comes with it.
•Brian Monteith is editor of ThinkScotland.org