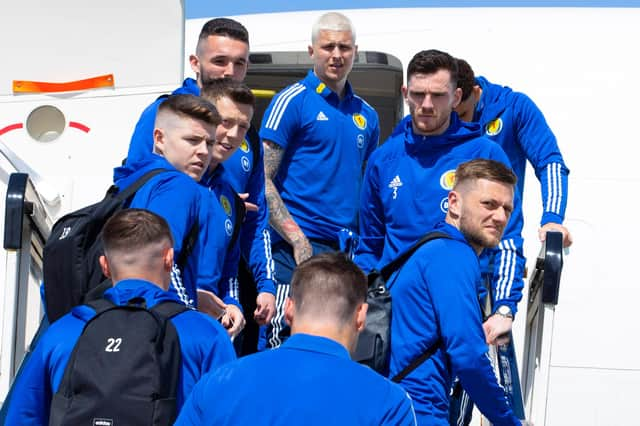 The Scotland squad departs for Spain for a training camp ahead of the delayed Euro 2020 tournament (Picture: Alan Harvey / SNS Group)
Not that we're in any way jealous. Heavens no. Our only concern is that things might get a bit out of hand. This is the men's team so they are all "lads" and "lads' trips" abroad do have a bit of a reputation for "high jinks".
Some readers may remember the England team's famous – or possibly infamous – "dentist's chair" drinking excess in Hong Kong before Euro 96, which the footballer known as Gazza later recreated as he celebrated scoring a goal against, er, Scotland
And even lads' staycations can go a bit awry. In 1974, shortly before Scotland were due to take on England, Jimmy Johnstone and some fellow internationals went out on the town in Largs after they were given a few hours to enjoy themselves.
As he returned to the beachfront hotel, Johnstone spied a rowing boat and decided to climb in. It was only after a teammate kicked the boat a bit further out to sea – perhaps in the spirit of 'high Jinkies' – that it was discovered there were no oars.
Cutting a long story short, Johnstone had to be rescued by the Coastguard and Scotland went on to beat England 2-0 a few days later.
Hang on a minute, we're starting to notice a pattern here... drunken escapades followed by victory… but, no, that's almost certainly wrong. Best behaviour, lads, and stay away from any pedalos.