With schools closed during lockdown, protecting vulnerable children from abuse is harder – NSPCC Scotland
If a child lives in a home that is not a safe place, who will see the signs?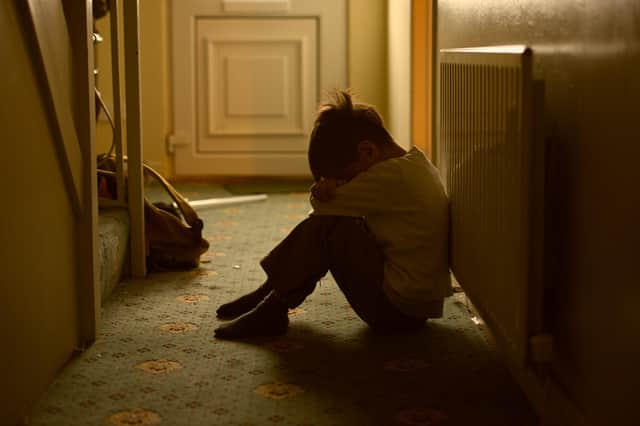 With no school, victims of child abuse may be more difficult to identify and help (Picture: Getty Images/iStockphoto)
Before the pandemic, alarm bells would have been raised if a child came to school showing signs of neglect or harm, or if they consistently didn't show up. Now, with the safety net of schools closed to most, can we be confident that children won't fall through the gaps?
Of course, we understand the Scottish government's decision to close schools and we very much support efforts to contain this pandemic. But, equally, there needs to be real and effective provisions in place to protect those children who are vulnerable.
Lockdown measures exacerbate risks to children already vulnerable to abuse and neglect because they are effectively hidden at home. Other children have become vulnerable because the pandemic has put added stress and pressure on their families, pushing some to crisis point.
Policy-makers are not oblivious to this risk; that's why during both lockdowns, schools have remained open to "vulnerable children", as well as those of key workers, in an attempt to ensure some continuity of support. But is this enough?
During the first lockdown, we voiced our deep concern that extremely few vulnerable children were attending education hubs. While schools were closed last year, official data shows no more than 4.5 per cent of an estimated 97,000 vulnerable children in Scotland attended a hub on any single day.
Surely, we have learnt lessons from last year when we know the risk of harm to children across the country increased, when schools were closed and access to support was hugely reduced.
Have we asked ourselves whether the 'hub' model has been effective in keeping children safe? Is there more that could be done to support vulnerable children? And are we content to repeat the same pattern as last time? We cannot allow thousands of children in our country to fall through the gaps once again.
School is a vital, safe place for children. As well as being a place to learn, it is an environment that allows interaction with friends and many different adults who play a crucial role in keeping children safe.
If these bonds are broken and children are out of sight, the risk of harm and the impact on their mental health increases. When children lack access to a trusted adult and are cut adrift from their friends and support networks, their vulnerability increases.
Evidence points to an increase in domestic abuse in lockdown, and child protection referrals and child attendance at A&E plummeted. We also saw the impact on our own services.
In the three months following lockdown measures first being introduced, our helpline for adults saw a surge in contacts about children experiencing abuse and neglect, with parental behaviour, neglect and physical and emotional abuse among the top concerns.
Also, during this period, we saw contacts to Childline from children in Scotland about mental health issues increase by almost 20 per cent.
The pandemic has also created a perfect storm of opportunity for online abuse and grooming – Police Scotland recorded an 18 per cent rise in all online child sexual abuse crimes between April and September last year compared to the same period in 2019. This was 36 per cent higher than the five-year average for this period.
And now, with the cold and short days and another period of lockdown, we are concerned that children will be spending more time indoors and online once again, and will be at a greater risk of coming to harm.
While school buildings may be closed to most pupils, you cannot shut the door on children's development and safety. The Scottish government, working with local agencies, needs to do all it can to ensure vulnerable children attend school and that there are processes in place to contact and support them when they do not. We must be confident that all children are safe and well.
We can each play a part in helping to keep children safe. Just as we prioritise checking on and looking out for elderly relatives, neighbours and friends, it's more important than ever that we are there for the children in our communities.
Anyone who has concerns about a child's well-being or safety should speak out. You can contact Police Scotland or your local social work office. Our NSPCC helpline is also there to give confidential advice and support to anyone who has concerns about a child's welfare.
Experiencing any kind of abuse can have long-lasting psychological effects on a child. They may go on to develop mental health issues or display challenging behaviour, and it can affect their developing brain.
And, while the Scottish government is acting to protect us all from this virus, we also want it to ensure this generation of children and young people is not defined by the pandemic.
In the short-term, this will mean ensuring that support is provided now for all those who are vulnerable and, in the long-term, providing sustainable investment in local services and specialist support for children and young people and their families.
The introduction of the UN Convention on the Rights of the Child (Incorporation) (Scotland) Bill in September set out clearly a vision to be a country that values and respects the rights of every child.
We recognise the pandemic has made this mission even more arduous. But we need to take the first step in showing our commitment to treating every child fairly and equally, and protecting them from abuse, by ensuring no child is left invisible during lockdown.
Joanna Barrett is NSPCC Scotland policy and public affairs manager
A message from the Editor:
Thank you for reading this article. We're more reliant on your support than ever as the shift in consumer habits brought about by coronavirus impacts our advertisers.
If you haven't already, please consider supporting our trusted, fact-checked journalism by taking out a digital subscription.
Want to join the conversation? Please or to comment on this article.