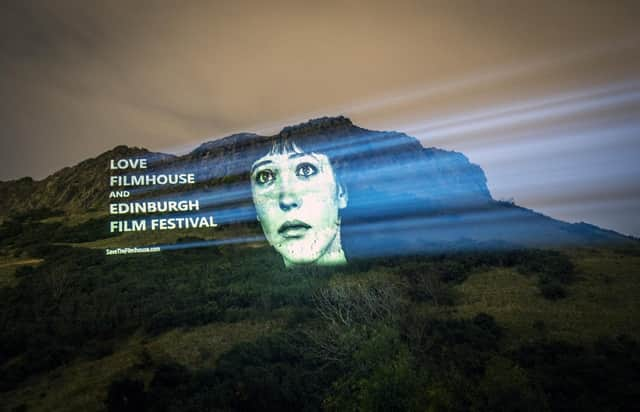 An image of actor Anna Karina from the film Vivre Sa Vie was projected on Salisbury Crags in Edinburgh as part of a campaign to save the Filmhouse cinema and the Edinburgh International Film Festival (Picture: Jane Barlow/PA)
However, the launch of a crowdfunding campaign to raise £2 million – by December 2 – to secure the cinema's future, enabling it to remain home to the Edinburgh International Film Festival, is a source of real hope.
The bid involves several senior Filmhouse staff, including former chief executive Ginnie Atkinson and head of programming Rod White, along with Jim Dunnigan, chair of the Edinburgh Film Guild, which launched the film festival, the world's oldest, in 1947.
"The loss of the building at 88 Lothian Road (and the specialist equipment within it...) is catastrophic, not only for Filmhouse but also for the provision of cultural cinema in Scotland's capital city," the Filmhouse Crowdfunder web page says. "The phrase 'when it's gone, it's gone' is chillingly pertinent."
Our current economic problems will only be temporary so allowing the loss of important cultural assets would be an act of folly that could reverberate for years. If there is any chance to save the Filmhouse, we should take it.
Clearly, many people who would normally be in a position to help will be feeling the pinch and, if anything, looking to make savings. However, people power, once mobilised, is a powerful thing. Small donations, when repeated many times over, will soon add up and there are still some who are able to make substantial contributions. We wish this rescue attempt all the best and urge our readers to give what they can. Let's make this happen!