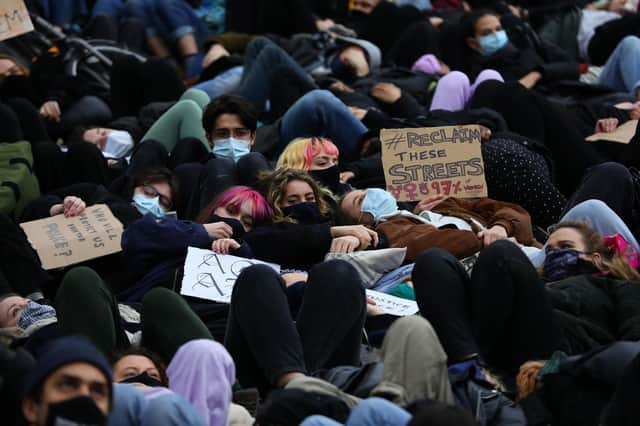 People take part in a minute's 'die-in' at Parliament Square in London on Sunday, the day after clashes between police and crowds who gathered on Clapham Common to remember Sarah Everard (Picture: Aaron Chown/PA)
Ninety-nine per cent of us did not know Sarah Everard. But when violence against women is in the news, it can feel personal. This case has chimed with many.
And while there is widespread sadness for the loss of this woman, I think many of us responding might be grieving something else we feel we have lost – the sense of justice, equality, or meaning.
For some, memories are surfacing of frightening experiences at different points in our lives – as teenagers, as young women, and as older women. How sexism, and a spectrum of behaviour ranging from dismissive to predatory, has tried to diminish or harm us. Long, leering looks. Unwanted touches. Unwanted pursuit. Anything that has made us think twice about walking freely. Or, for that matter, anything that has hardened our resolve.
When I first heard a friend say "that man keeps staring at you" I was a girl, younger than Britney Spears in the infamous Hit Me Baby One More Time video in which she is dressed as a schoolgirl. I feel almost maternal when I think of that younger self now, protective of that child on the cusp of realising some men are to be avoided, because they target girls and women.
But what was even more shocking than formative experiences of feeling conspicuous and vulnerable because of my gender, and has been much more damaging psychologically in the long run, was growing into a young woman who had to come to terms with how society averts its eyes.
It was a shock, electrifying and painful, to realise how often justifications are made for predatory, abusive, violent or misogynistic behaviour towards women. How many even gravitate towards such men, elevating them as rock stars, artists, and truth tellers, or excusing them for having had hard lives.
How are we meant to live alongside this knowledge? How do we cope knowing that something is wrong with how women are treated, something we feel in our gut, in our bones, in the goosebumps that rise on our skin, but that such behaviour is so often brushed off, or even encouraged, in the civilisation we are part of?
I have been asking myself how we should be reacting to each news story of violence against women. In the immediate aftermath of this tragedy, impulses have been scattered. The heavy handling of last week's Clapham Common vigil by the Met Police caused chaos.
In it she writes, "I can fully understand the reaction and response from concerned and frightened women nationwide. Of course I do. And it may be that in those first days the family were comforted to think so many were grieving with them. But now it has escalated into a media frenzy more representative of individual anger than of shared grief. I am very concerned that events have developed to such an extent that those who matter most, Sarah and her family, are being totally swamped and further traumatised by what is going on around them, adding trauma to trauma."
There were mixed views on whether events to mark Sarah's life should be a vigil or a protest. Reactions have come from all angles; it has also been hijacked for personal and political ends. Though the anger and sadness are distinct, there is also a fog of confusion and fatigue. How do we deal with this?
Who should be the target of women's ire? Should it be the politicians who backed (or like Starmer's Labour, shamefully abstained on) the immunity-granting Covert Human Intelligence Sources Act, nicknamed the Spycops Bill after the scandal in which undercover officers had relationships and even fathered children with women in the dark as to their true identities? Should we rage at those behind 'Project Vigilant', which plans to put plainclothes officers in bars as a response to calls for action?
Some are linking this event to those who've wronged them personally, in memories which periodically float up, like unwelcome ghosts only they can see. Some are raging at the man on the street, the man on Twitter, and men in general.
Some women have found it cathartic to tell their own stories of abusive behaviour, to point out how widespread such experiences are; others have voiced concerns about scaremongering.
But each experience is crushingly personal. Intimate and internal. Particular to one person's body and mind. Simultaneously, these experiences are replicated, woven into and across society. There is no 'wrong place' or 'wrong time' or 'wrong outfit' when millions of women have had harmful or frightening experiences caused by men.
When it feels like we're fighting the battle on so many fronts, no wonder it can be difficult to know how best to react to a developing news story. Even on subjects with a clear sense of right and wrong, it can take time for our own thoughts to crystalise; focusing only once a bit of light has shone through.
I have wondered if I should be wailing for this woman and all who have come before her, or railing instead, against the injustice and corruption behind patriarchy. I don't know whether to cry or to shout.
But the boundaries between the two often blur. We can feel both grief and anger at the same time. Mourning that turns into protest can often be the most powerful protest of all.
A message from the Editor:
Thank you for reading this article. We're more reliant on your support than ever as the shift in consumer habits brought about by coronavirus impacts our advertisers.
If you haven't already, please consider supporting our trusted, fact-checked journalism by taking out a digital subscription.