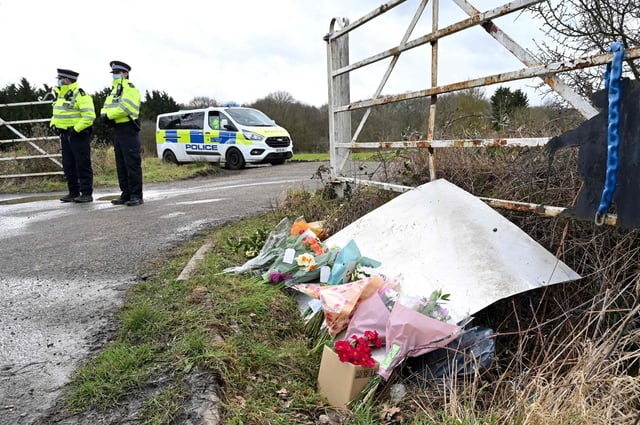 Flowers and messages of condolence for Sarah Everard left near the woodland where police officers found her remains near Ashford, southeast England (Picture: Glyn Kirk/AFP via Getty Images)
Sarah Everard was last seen alive over a week ago as she walked home from a friend's house in South London. On Wednesday, a serving police officer was arrested and later that day, Met Police Commissioner Cressida Dick announced that human remains, subsequently confirmed to be her body, had been found in woodland in Kent. The officer has now been charged with kidnap and murder.
In the days before police made the arrest, women local to the area were urged not to go out alone after dark.
On social media, some men wondered why Sarah walked home that night instead of getting a taxi. Others questioned if she was drunk or if she had been wearing headphones. It was suggested that Sarah didn't take proper "precautions" to avoid whatever violence was inflicted upon her.
While some men were doing that, many women were sharing their experiences of street harassment and assault.
What happened to Sarah is every woman's worst nightmare. You look at that last CCTV image of her and you see your friend or family member. You imagine the acute grief of all those who knew and loved her and you feel even less safe than you did before.
Sarah did everything we are told to do. She took a 'safe' route home that was busy with people. She wore bright clothing and she phoned her boyfriend on the way.
What happened to Sarah Everard is every woman's worst nightmare (Picture: Metropolitan Police/AFP via Getty Images)
Repugnant 'unlocked car' analogy
Her killing reminded us that it doesn't matter what modifications women make to their lives to avoid male violence. Some will always find a way to ignore the horror of a crime and instead focus on what they think a woman should have done differently to avoid it happening.
Again and again we see the deployment of the repugnant "unlocked car" analogy. Where the killing of a woman is somehow comparable to the theft of an inanimate object. Where a woman's murder is deemed as inevitable as a car being stolen or a house being burgled if left unlocked.
The "what do you expect to happen if you…" question has an infinite amount of possible endings. It is a template for victim-blaming: if you only did X then Y wouldn't have happened.
Women already know all this.
We learn ways to reduce our 'risk' when occupying public spaces. Head down, volume low, keys in hand and a real or fake call to a friend to signal to anybody watching that you aren't as vulnerable as you appear.
We're taught that passers-by are more likely to run to your aid if you shout "fire" instead of "help".
We're taught to diffuse potentially dangerous situations. So we don't shout back every time we're shouted at.
We seek out other women when travelling on public transport. Older women instinctively keep an eye on any younger ones that might be targeted. We stick to well-lit areas, we cross over to the other side of the road and in doing all this, we shrink ourselves.
The problem
So much is asked of women but we are often met with hostility when we simply try and name the problem.
To be absolutely clear: the problem is not women walking alone at night. It is not headphones, alcohol, short skirts or poor self-defence techniques.
The problem isn't caused by football, lockdown or flirting.
The problem isn't women exercising outdoors, walking down dark streets, wearing low-cut tops or being insufficiently aware of their surroundings.
The problem is not women.
The problem is male violence against women.
That I am required to caveat that factual, dispassionate statement with an acknowledgement that not *all* men are to blame is also part of the problem.
Especially when the 'bad' men are indistinguishable from the good ones.
And there are more than two categories of behaviour. We can't split men into murderers on one side and everybody else on the other.
Men who harass women in the street, grope them on public transport, expose themselves in parks or shout obscenities at girls wearing school uniforms are surely bad men too. And what about the men who turn a blind eye to their friends' ill-treatment of women but "would never dream" of harming a woman themselves. Are they the good guys, or the bad guys? Does it matter?
Where are the 'good' men?
A study from UN Women which was released last week shows that 80 per cent of all women have experienced sexual harassment in public spaces, rising to 97 per cent for women aged 18 to 24.
Thank God we have our homes as a place of safety. But wait – we don't even have that.
The Femicide census of 2009-2018 shows that, on average, a woman is killed by a man every three days in the UK. Sixty-two per cent of all women killed by men were killed by a current or former partner.
Those figures should speak for themselves but sadly, they don't. Women still bear the burden of sharing their own experiences of male violence in the hope that the 'good' men will finally recognise the magnitude of it.
At what point do we accept that we've explained enough? That maybe those who don't understand by now just don't care very much? The statistics are easily accessible. The problem is unambiguous and the deadly consequences of it couldn't be more clear.
A lot happened in a week. But when it comes to men's violence against women, it seems not enough has changed.
A message from the Editor:
Thank you for reading this article. We're more reliant on your support than ever as the shift in consumer habits brought about by coronavirus impacts our advertisers.
If you haven't already, please consider supporting our trusted, fact-checked journalism by taking out a digital subscription.