Saoil dè a-nis a tha fa near dha Ceit Fhoirbheis?
Chan eil fhios a'm a bheil e idir cothromach coimeas a tharraing eadar Humza Yousaf agus am fiolm ainmeil, an "Godfather", ach bha còir aige comhairle a' phrìomh charactair Mìcheal Corleone a leantainn: "Cùm do charaidean faisg agus do nàimhdean nas fhaisge buileach."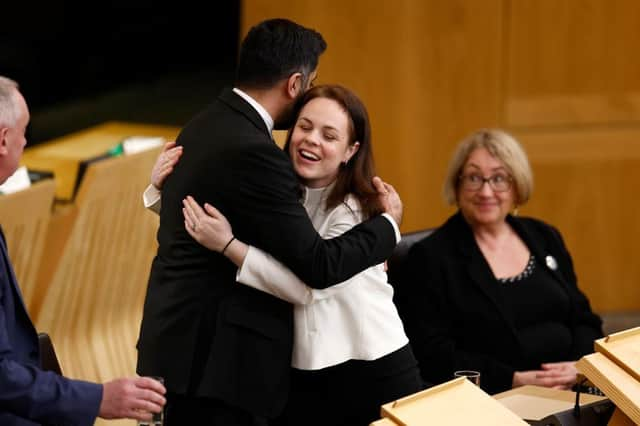 [English-language version below]
Cha robh e idir ciallach dha ceannard ùr an SNP suidheachadh a chruthachadh far nach robh an còrr a roghainn aig Ceit Fhoirbheis ach tilleadh air ais gu na cùl-bheingean, an dèidh dha dreuchd a thabhann dhi a bha gu math nas ìsle na bha aice ron a seo. Bha e caran tàireil.
Nam biodh e, mar eisimpleir, air dreuchd na h-ionmhais a thabhann dhi a-rithist, bhiodh e air a bhith gu math na bu duilghe dhi sin a dhiùltadh; bhon a bhiodh e a' coimhead ro choltach nach robh i ach air a ghabhail san t-sròin an dèidh dhi call a-mach air dreuchd a' cheannardais. Tha a' mhòr chuid a dhaoine a' smaoineachadh gun rinn i obair air leth anns an dreuchd sin bho chaidh a cur ann.
A bharrachd air an sin, nam biodh e air an obair a thabhann dhi a-rithist, bhiodh sin cuideachd air fhaicinn mar a bhith a' sìneadh a-mach làmh de chàirdeas chun na feadhna anns a' phàrtaidh a bha taobhachadh ri Ceit Fhoirbheis; dìreach beagan nas lugha na an dàrna leth. Tha àireamh mhòr de dhaoine ann an sin a tha a-nis an-fhoiseil agus mì-chinnteach.
Ach, chan eil duine, 's cinnteach, a chuireas càil a dh'umhail air Ceit Fhoirbheis airson dreuchd ministear nan cùisean dùthchail a dhiùltadh; rud a tha gu math nas ìsle a thaobh cliù na bha aice ron a seo, agus anns am biodh an t-uabhas dhuilgheadasan na chois, as dèidh dhi a dhèanamh soilleir nach robh i idir taiceil dha na molaidhean ùra air sgìrean mara glèidhteachais a chruthachadh.
Chan eil fhios a'm nach e tìde a ghabhail air na cùl-bheingean airson cnuasachadh a-rithist agus cumail air falbh bhon àmhghar phoileataigeach, a tha fhios a thig, an rud is fheàrr dhi fhèin co-dhiù.
Le h-aois, tha tìde gu leòr aice agus tha iomadach caibideil ann an sgeulachd an SNP agus poileataigs fhathast ma coinneimh, ma thogras i.
Chan eil mòran a tha idir dòchasach mu tha na fa-near dha Humza Yousaf agus iomadach èiginn mhòr ma choinneimh fhèin: na h-aiseagan, slàinte, drogaichean, foghlam is eile – agus sin uile le pàrtaidh a tha sgaraichte ann an dòigh nach robh iad a-riamh ron a seo.
A-rèir choltais, a' toirt sùil air na meadhan sòisealta, tha mòran dhan t-seann luchd-taice a' cur an cùlaibh ris an SNP. Tha e follaiseach dha mòran dhiubh gun robh iad ag iarraidh slighe ùr a bhiodh a' coinneachadh ri dòchasan a' mhòir-chuid de dh'Alba agus a bhiodh na bu dhualtaiche leantainn gu neo-eisimeileachd.
Dha-rìribh, tha fathannan ann a-nis gu bheileas a' beachdachadh air pàrtaidh ùr a stèidheachadh, a bhios a' riochdachadh iadsan air a' Ghàidhealtachd agus sna h-Eileanan a tha taiceil dha neo-eisimileachd.
Chan eil e idir soilleir ciamar a dh'obraicheadh sin gu practaigeach agus tha fhios g'eil Ceit Fhoirbheis fada ro ghlic airson leum air bòrd soithich ùir sam bith a thig timcheall, ach bidh mòran a' coimhead ri dè nì i air na cùl-bheingean a-nis agus dè cho fad 's a dh'fhuiricheas i ann, gun guth a ràdh air dè a nì an iomadach neach-taice a tha aice.
Anns an "Godfather", thug an sgeulachd sónraichte seo trì filmichean fada, iargalta mus tàinig cùisean gu crìch – agus cha b'ann ann an dòigh a bha idir ro mhath.
Bidh Humza bochd deamhnaidh fhein fortanach ma mhaireas e cho fada sin.
English-language version:
Any comparisons between Humza Yousaf and Francis Ford Coppola's "The Godfather" may seem fanciful in the extreme, but the new leader of the SNP might have been wise to heed the words of the Michael Corleone character when he famously declared: "Keep your friends close and your enemies closer."
Creating a situation where his rival Kate Forbes had little real option but to retreat to the back benches – or accept the humiliation of a demotion – simply heightens a sense of betrayal in an already divided party. That kind of thing runs deep, as Corleone might have said. Had the new First Minister, for example, offered to retain her in the finance brief, it would have been a lot more difficult for her to refuse as walking away from a job she held just weeks previously would likely have been seen as sour grapes for losing out on the leadership bid.
Furthermore, handing her back her old brief, in which the general consensus was that she performed very well, would also have been seen as a symbolic reaching across the divide to her many supporters, just under half of the membership. That's a lot of foot soldiers looking for a way to turn. However, no one can blame Kate Forbes for rejecting the much less high-profile portfolio of rural affairs, particularly as it would have brought her into sharp conflict with her stated opposition to marine environmental protection expansion and the Green coalition.
A quiet period on the back benches to reassess and to watch from a distance as the inevitable political bloodbath ensues will do her no harm, particularly given that time is very much on her side. Kate Forbes has many more chapters of the SNP's story to witness, if not to shape. The predictions for Humza Yousaf's period in charge are not promising, given an in-tray full of major issues, all of which could be described to varying degrees as being in crisis – ferries, health, drug deaths, education – and all while overseeing a party more divided than ever before.
Anecdotally, judging by social media reaction over the last few days, a lot of the party's support is deserting it – certainly in the rural areas – as it is clear that, for many, the hope was for a new direction more in tune with majority appeal. Indeed, there are now whispers of a new party being formed, one that will represent independence supporters in the Highlands and Islands and feed into the wider Yes movement. How practical and realistic that will be remains to be seen, but it is a further reflection of how the current SNP administration is seen as one which has abandoned rural areas and its rural vote.
Kate Forbes is far too astute to simply jump on the next bandwagon that comes along in the shape of a narrow-interest marginal new entity. But she will form a very formidable presence on the back benches.
In the Godfather, it took three gripping instalments of a trilogy for things to finally unravel. Humza Yousaf will be lucky if he has anything like that long.
Comments
 0 comments
Want to join the conversation? Please or to comment on this article.