Consider the reaction to Smith's new song, I'm Not Here To Make Friends. In the music video, they arrive at an old castle before provocatively dressed dancers undulate suggestively. Smith, tassels on their nipples in a corset and tiara, gyrates as streams of water bounce off their face and leather-clad BDSMers thrust on beds. Predictably the video has some calling it "pornography", with Smith apparently the only pop star to have ever created a sexually loaded pop video and style.
By the reaction of some puritans, you'd think the Bond singer was on par with Elvis Presley. Social guardians in the 1950s also blasted anyone responsible for exposing impressionable teenagers to his "gyrating figure and suggestive gestures". Before one notorious Elvis performance, the Louisville chief of police called for a no-wiggle rule to halt "any lewd, lascivious contortions that would excite the crowd".
Certain corners of the press have even scrambled to pull the "won't someone please think of the children?" alarm. Social media is one cesspit the King never had to contend with.
Whereas you might typically need to make a well-evidenced case for bigotry, it's barely even disguised with Smith. Those detractors going after their explicit video are doing it with such venom that they ignore the general state of music today. Smith has done nothing out of the ordinary, and the song and video are just another generic pop track.
The conflation we see between Smith, Smith's music, and Smith's public confidence in their gender and sexuality is painfully apparent. There is nothing in the video to raise eyebrows which is different to any other song that seeks to infer, play and titillate. The in-your-face, body-positive sexual themes are dull next to other more gratuitous music videos.
Calls for age restrictions are a parochial targetting of what Smith represents. There are broader discussions to be had about children exposed to violence, sex, drugs and alcohol through music, but they are not new. The accusations against Smith are a mainly British type of homophobia. Instead of flat-out saying they hate them for what they are, everyone's now a music critic, questioning the appropriateness of Smith's choices. They would unlikely receive the same backlash if Smith were a chiselled cis-man.
One can condemn more of the same poptastic drivel without being a bigot towards Smith. But the hyper-hypocritical calling out of Smith is a disturbing vehicle for mainstream hate and a standard tactic in our culture wars. The mere suggestion of sexuality does not equate to porn, and the suggestion it is a risk to children has flagrantly homophobic undertones.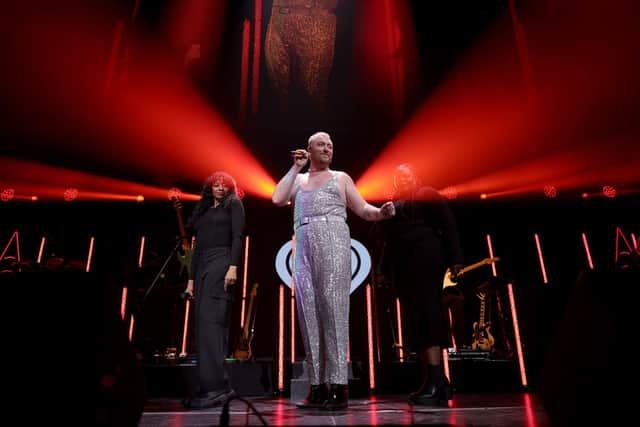 Sexually explicit nonsense which distracts from another mind-numbing disco song destined to become background music in a busy pub is nothing new. There is infinitely worse on TV and the internet that does not come with a warning for under-18s. Parents have bigger fish to concern themselves with than a randy thirty-something with suggestive dance moves.
The raunchy lyrics, the decidedly less-than-subtle insinuations and the dancing are hardly new. Mick Jagger, Madonna, and David Bowie are a tip of a massive iceberg of musicians who have innovated and pushed boundaries. And that's before you get to every singer-songwriter who has ever turned their hand to political, social commentary and sexual politics.
There is a presumption that Smith is tokenistic and, therefore, devoid of talent: because they are 'woke' that their message is one of entitlement, not equality.
If your feeling throughout this piece is to focus on using Smith's they/them pronouns, then we come to the rub of the issue. Whatever the creative merit of Smith's work, most of the criticism is hyperbolic nonsense. The debate of whether they produced a music video appropriate for children is fair. But that does not operate in a bubble, and to pretend it does is where social concern ends, and bigotry starts.
Few would dispute the uphill battle parents and teachers have to control the content anyone under 18 sees. Even the most innocuous adverts can have a suggestive or explicit element. An insurance ad on Facebook took its time to get to the point with an actor appearing to masturbate while on the phone before the camera reveals he is washing the dishes. Memorable but hardly kids-friendly.
There are complicated and necessary restrictions, but whether they have caught up with the omniscience of web access still needs to be solved. That is a world away from honing in on Smith. To do so exclusively ignores far more significant issues than one singer and music video.
The incident reveals an uncomfortable chasm between laissez-faire free speech, respect and tolerance, and artistry. Some are now so afraid to say what they think, while those with awful views can hide behind a guise of legitimacy scrutiny and critique. Smith is hurting no one, and if you do not like them, switch off. There are much larger, much uglier things that children need to be protected from than one mainstream song and a body-confident singer.