Salmond inquiry, Covid and Brexit may be combining to undermine support for SNP – Scotsman comment
It's not long ago that it seemed the stars were aligned for Scottish independence.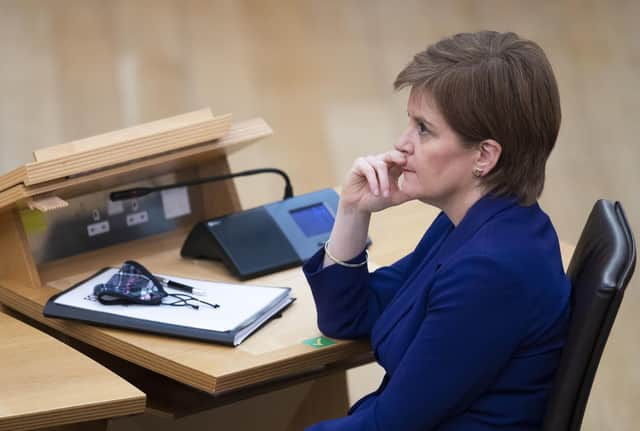 Nicola Sturgeon's approval ratings may have slipped but she still has a positive score and a commanding lead over Boris Johnson (Picture: Jane Barlow/PA Wire)
Amid anger over Brexit and Nicola Sturgeon's well-regarded handling of the Covid crisis, support for leaving the UK began to poll above 50 per cent persistently.
But now, in the aftermath of the dramatic Salmond inquiry hearings, comes fresh poll evidence that May's Scottish Parliament election could be closer than expected.
The survey, by SavantaComRes for The Scotsman, suggests SNP could fail to gain an outright majority, although they could still form a government with support from the pro-independence Scottish Greens.
And, on independence, the poll found 47 per cent would vote No in a referendum, with 45 per cent for Yes and "don't knows" making up the remaining eight per cent.
Approval ratings for the First Minister have fallen 11 per cent since December, with Boris Johnson's numbers rising by 14 per cent over the same period (although the former is still on plus 17, with the latter on minus 30).
This suggests that the fallout from the Salmond inquiry and the related civil war within the SNP has damaged the party's standing to a degree. Even if the Scottish government has done nothing wrong, at times it has looked and acted as though it had something to hide.
But Johnson's rising popularity points to other issues on the voters' minds. His government's handling of Covid was once nothing to boast about, but its ability to secure vaccine supplies and quickly begin mass inoculation has been impressive. It could be that some voters are recognising the value of being part of one of the world's largest economies in a crisis.
And the disruption caused by Brexit, such as the Scottish fishing fleet's export woes following the end of the transition period, may have turned a political positive for the SNP into a negative. If it is this bad, would independence be even worse? According to a recent study by the London School of Economics, the economic costs of independence would be two or three times greater than Brexit.
Such practical questions are not the be all and end all of the independence debate, but we should seek answers to them before we cast our ballots in what is set to be a most important election in May.
A message from the Editor:
Thank you for reading this article. We're more reliant on your support than ever as the shift in consumer habits brought about by coronavirus impacts our advertisers.
If you haven't already, please consider supporting our trusted, fact-checked journalism by taking out a digital subscription.
Want to join the conversation? Please or to comment on this article.